Wakefield teacher drives away in Motorpoint's 21st anniversary giveaway
03 June 2019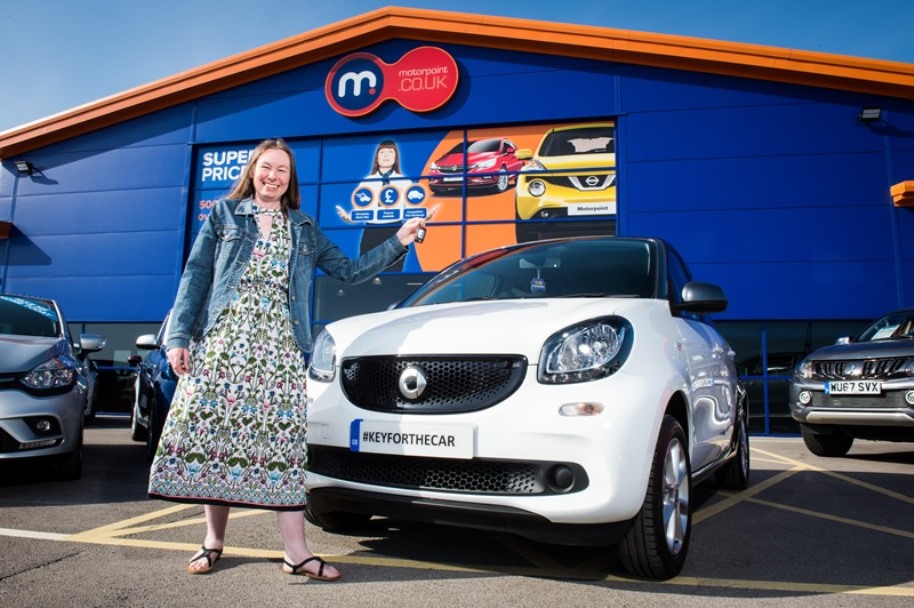 Photos © 2021 Motorpoint
An Assistant Head Teacher from Wakefield has driven away with Motorpoint's 21st birthday star prize.
Mother of three Helen Boutle, who works at the St Michael's CE Academy in Wakefield, was chosen at random from hundreds of people from across England, Scotland and Wales, to win the top of the range 1.0 Smart Forfour Passion.
We ran a national competition throughout April to celebrate its 21st anniversary. And, to be in with a chance of winning, entrants had to visit their nearest Motorpoint branch between 5th and 22nd April to search for the hidden key. Once they had located the key, they needed to upload a photo of themselves with the key onto either their Facebook or Instagram page with the hashtag - #KeyForTheCar. The winner of the car was announced live on Facebook.
"I still can't believe I've won," explained a delighted Helen, who has worked in teaching in West Yorkshire for the last 25 years. "I had popped into Motorpoint in Castleford with my Dad over the Easter Bank Holiday to look for a new car and while I was there I decided to enter the competition as I'd just won a competition at my local WI and thought my luck might still be in. It definitely was as I've won myself a Smart Forfour. They always say good things come in threes so you never know what might happen next."
Mick Martin-Roebuck, General Manager, added: "We couldn't be happier for Helen. She is absolutely over the moon to have won the Smart Forfour in our 21st anniversary giveaway. We would also like to thank the hundreds of other people who came to our network of branches to enter our competition last month. We really appreciate everyone's time and effort. Together, you helped us to make our anniversary one to truly remember."
The Smart Forfour wasn't the only prize available to win during the 21st anniversary celebrations. Customers from Burnley to Birtley and Castleford to Chingford also won prizes including hotel vouchers, spa breaks, Amazon and Love2Shop vouchers together with the opportunity to win use of the entire Motorpoint Suite for a show at either the Motorpoint Arena Cardiff or the Motorpoint Arena Nottingham during 2019.
Press releases
For all media enquiries please contact Stephen Wright, PR Manager on 01332 227239 or 07825 308326. Alternatively by email.