Peruvian teacher wins coveted Motorpoint Arena Cardiff season ticket
12 January 2018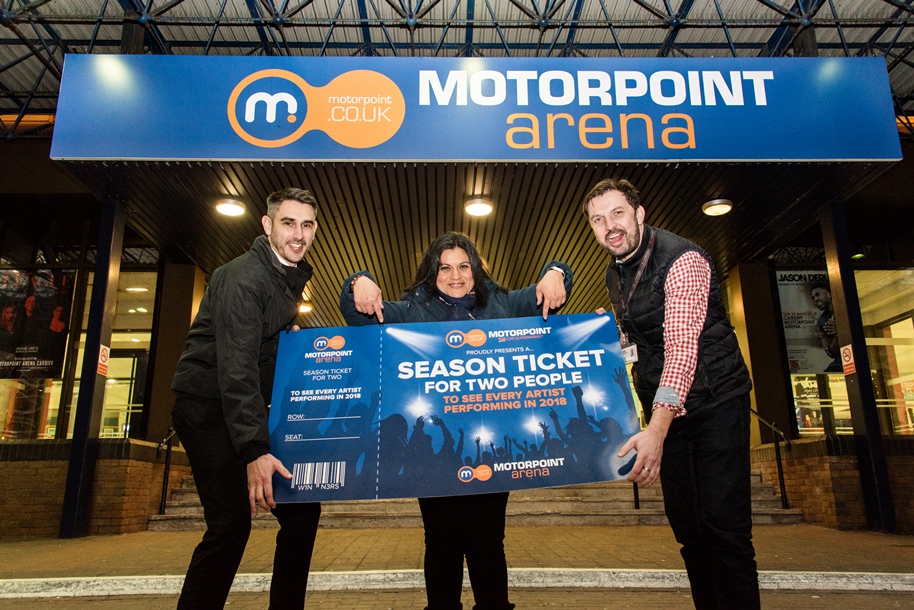 Photos © 2020 Motorpoint
Jenny Córdova De Lindell has been chosen from thousands of other people from across South Wales to win a Season Ticket to the Motorpoint Arena Cardiff worth over £10,000 – courtesy of Motorpoint
"I can't believe it. It's all a bit surreal to be honest. We had been living in Australia for the last seven years and only decided to return to Wales after my mother-in-law sadly passed away. We'd heard about Motorpoint through a friend and we went t"
The UK's leading independent car retailer partnered with the Motorpoint Arena Cardiff last year to give one person the opportunity to win a Season Ticket for two people for 2018 to a performance by every artist at one of the venues to which it holds the naming rights.
And Jenny, who relocated to Port Talbot in November with her husband Matthew, and two children Sion, 5, and Trystan, 2, after seven years living in Australia, was chosen at random in the New Year after both the Motorpoint Arena Cardiff and the Newport branch of Motorpoint were flooded with entries by music lovers throughout November and December.
"I can't believe it," explained the 40 year-old former Spanish teacher, who is originally from Lima in Peru. "It's all a bit surreal to be honest. We had been living in Australia for the last seven years and only decided to return to Wales after my mother-in-law sadly passed away. We'd heard about Motorpoint through a friend and we went to their branch in Newport to look at a car in early December (they purchased a Renault Kadjar), and that's where we found out about the competition. The rest as they say is history."
The pair, who were living in the small town of Whyalla near Adelaide until three months ago, originally met in their twenties when Matt was travelling around Peru. Jenny returned shortly afterwards to South Wales with Matt where she went back to University to train as a teacher before supply teaching at secondary level for a number of years in Bridgend and Port Talbot.
"Both Matt (who works as an Operations Manager in the Steel industry) and myself can't believe our luck as we're both huge music fans and have been talking about coming to see shows at the Arena this year," added Jenny, who is hoping to go back to teaching once Trystan starts pre-school.
As part of her prize Jenny and her family will get the opportunity to see international best-selling artists already confirmed to appear at the Motorpoint Arena Cardiff such as Paloma Faith, Paul Weller, The Script and Thirty Second to Mars from the comfort of some of the best seats in the auditorium.
Said Jenny: "Neither of us can wait to starting going to gigs at the Arena. We both love our music. We're looking forward to going to see Il Divo in particular, as my mother in law, Linda, who sadly passed away was a huge fan and we would have been going together.
"The dream would be for Bon Jovi to perform at the Motorpoint Arena Cardiff. I had tickets to go and see them for my 15th birthday in Peru but the day before they were scheduled to appear in Lima the show was cancelled because of security fears. I've got my fingers crossed that they will tour this year so I finally get to see them.
Christopher Brown, General Manager of Motorpoint Newport, added: "Congratulations to Jenny. The season ticket couldn't have gone to a nicer family. They all love their music, and the prize, a chance to see some of the world's best artists live free of charge, courtesy of Motorpoint, will definitely be appreciated. I look forward to seeing them at the Motorpoint Arena Cardiff very soon."
Motorpoint took the naming rights for South Wales' premier entertainment venue in 2010 as part of an on-going drive to increase its brand awareness. The 8,000-capacity Motorpoint Arena Cardiff has played host to artists such as Kasabian, Iron Maiden, Liam Gallagher, Little Mix and Olly Murs among others in the last 12 months alone.
Press releases
For all media enquiries please contact Stephen Wright, PR Manager on 01332 227239 or 07825 308326. Alternatively by email.