Motorpoint to open this Friday in Sheffield
25 April 2017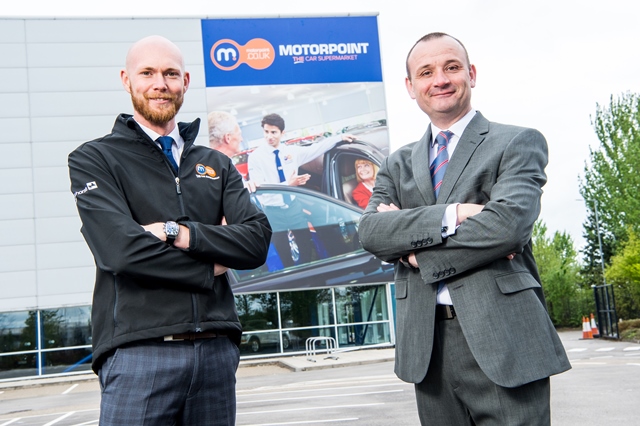 Photos © 2020 Motorpoint
Motorpoint is set to open its first site in Sheffield this Friday
"The Motorpoint brand is already well-established in Sheffield thanks to our successful naming rights partnership with the Sheffield Arena and we're looking to build on that awareness with the opening of our site in the city"
The UK's leading car supermarket, and former naming rights holder of the Sheffield Arena, has invested over £5m in recent months transforming the former 10-acre Car Craft site on the Sheffield Business Park, creating 50 new jobs in the process. The team ise led by Jason Hurt, General Manager together with Adam Braithwaite, Sales Manager.
The Sheffield site, which is located minutes from both J33 and J34 of the M1, will stock 500 new and low mileage nearly new cars from 30 different vehicle manufacturers together with access to a further 6,000 plus cars in group stock when it opens on Friday, April 28.
The opening of Motorpoint in Sheffield will complement the company's network of existing branches across England, Scotland and Wales. It will be open seven days a week, including until 8pm weekdays. Motorpoint in Sheffield will also come with ample customer parking as well as free Wi-Fi and a customer café serving a selection of hot and cold food and drinks.
Jason Hurt, General Manager of Motorpoint Sheffield, said: "The Motorpoint brand is already well-established in Sheffield thanks to our successful naming rights partnership with the Sheffield Arena and we're looking to build on that awareness with the opening of our site in the city.
"It's no secret that we've been looking for a suitable location and it's great to finally to have a site in the city so that customers have the opportunity to experience first hand our award-winning combination of choice, value and service."
Motorpoint currently has a network of twelve sites encompassing Birmingham, Birtley, Burnley, Castleford, Chingford, Derby, Glasgow, Newport, Oldbury, Peterborough, Sheffield and Widnes. Its latest branch can be found at Europa Link, Sheffield Business Park, Sheffield, S9 1XU.
Press releases
For all media enquiries please contact Stephen Wright, PR Manager on 01332 227239 or 07825 308326. Alternatively by email.