Motorpoint staff raise over £1,200 for Sue Ryder by cycling to Monaco
04 October 2017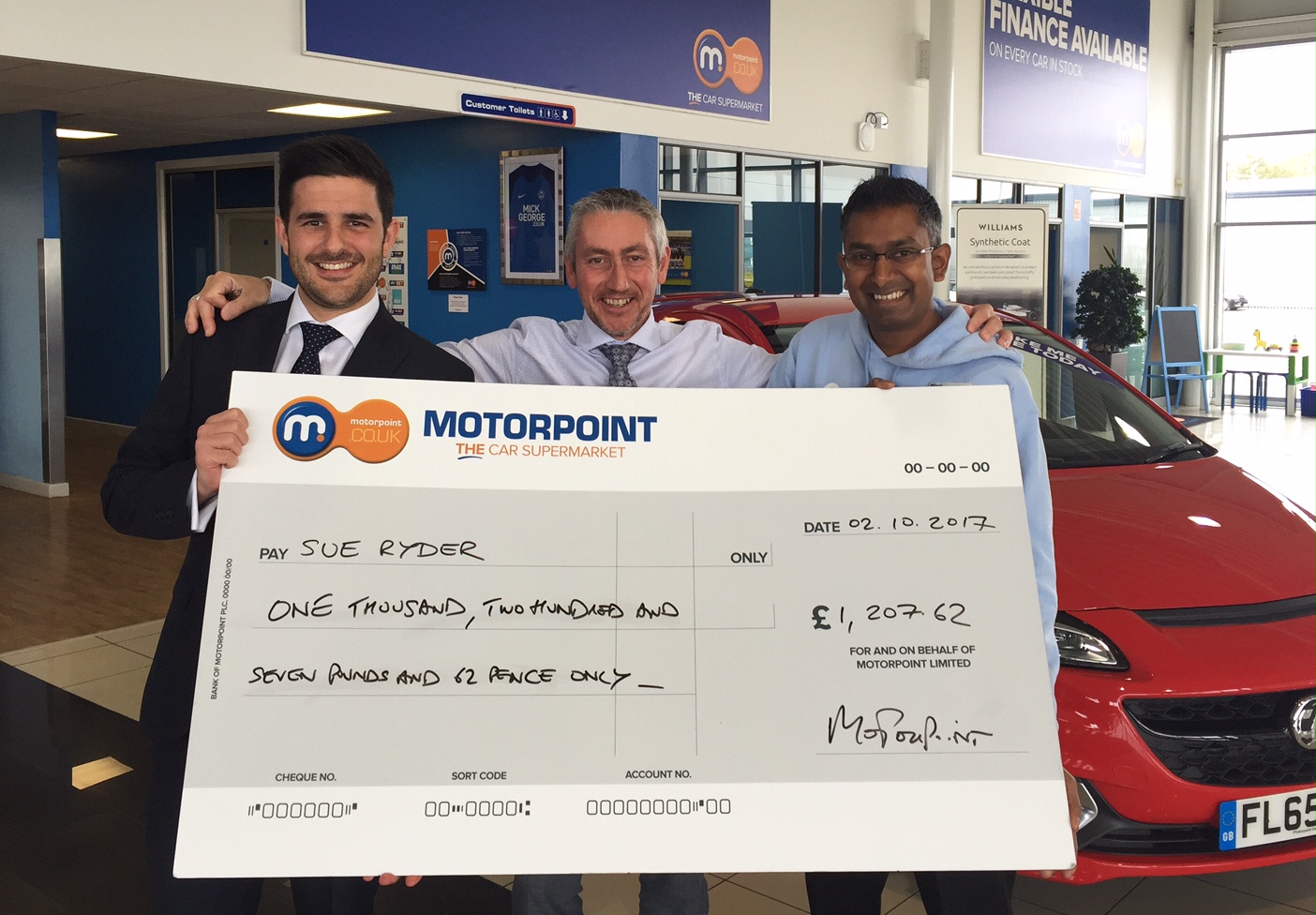 Photos © 2021 Motorpoint
Staff at Motorpoint in Peterborough have raised over £1,200 for Sue Ryder Thorpe Hall by cycling to Monaco – albeit with a difference
"We are extremely grateful to the whole team at Motorpoint for everything they are doing for us. They definitely deserved a rest after their efforts cycling their way to Monaco"
Tom Stanton, General Manager at Motorpoint in Peterborough and the 50-strong team took a break from selling cars to take turns in the saddle of a state-of-the-art special exercise bike from Bannatyne as they clocked up 852 miles in the showroom of the branch on Edgerley Drain Road. A total of £1,207.62 was raised during the week.
Among the visitors to pop into Motorpoint to give the staff some moral support was Peterborough United Captain Jack Baldwin, who took time out from the busy Sky Bet League One schedule to do his turn on the bike. He was joined on the bike afterwards by Nilesh Patel, Community Fundraiser at Sue Ryder Thorpe Hall and lifelong Peterborough United fan.
"We're extremely grateful to Jack for popping into Motorpoint to see us," explained Tom Stanton. "He's a busy guy at the moment with the fixtures coming thick and fast so it was great to see him doing a few miles on the bike for Sue Ryder Thorpe Hall."
Motorpoint in Peterborough officially adopted Sue Ryder Thorpe Hall as its charity partner earlier this year. The 20-bed facility, which is based in Longthorpe, cares for people over the age of 18 from in and around the city who are living with a variety of life-limiting illnesses.
Nilesh Patel, Community Fundraiser at Sue Ryder Thorpe Hall, added: "We are extremely grateful to the whole team at Motorpoint for everything they are doing for us. They definitely deserved a rest after their efforts cycling their way to Monaco."
Press releases
For all media enquiries please contact Stephen Wright, PR Manager on 01332 227239 or 07825 308326. Alternatively by email.