Motorpoint rises to the challenge to raise funds for Sir Bobby Robson Foundation
07 October 2019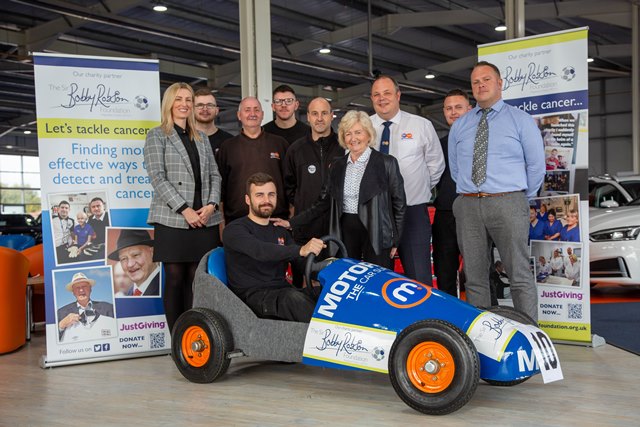 Photos © 2022 Motorpoint
Motorpoint Birtley staff have raised £1,500 to help the fight against cancer in the North East
"I am extremely proud of the whole team for their efforts in raising so much money for The Sir Bobby Robson Foundation in such a short space of time"
The UK's largest independent car retailer, which is based in Birtley, recently adopted the Sir Bobby Robson Foundation as its charitable partner. Launched by Sir Bobby in 2008, the Foundation has raised over £13.5 million to find more effective ways to detect and treat cancer and directly benefits cancer patients in the North East and Cumbria.
And, staff at the branch, which opened in late 2015, have been busy playing their part organising various fundraisers to support The Sir Bobby Robson Foundation. These have included building a Soapbox to compete in the North East Soapbox Challenge in Herrington County Park near Sunderland as well several of the team running in The Great North Run.
Richard Start, General Manager of Motorpoint Birtley, said: "I am extremely proud of the whole team for their efforts in raising so much money for The Sir Bobby Robson Foundation in such a short space of time. Everyone single person has really gone above and beyond to help make a difference and support people with cancer in the North East. I can't wait to see what the next few months has in store at Motorpoint in Birtley and to have the chance to raise even more money for The Sir Bobby Robson Foundation."
As a fund within the Newcastle Hospitals NHS Charity, The Sir Bobby Robson Foundation does not employ professional fundraisers to proactively raise money, and relies completely on third party, volunteer fundraisers and the incredible generosity of the general public.
Most recently, The Sir Bobby Robson Foundation made a contribution of £895,000 to fund a ground-breaking bowel cancer project, COLO-SPEED, which will recruit up to 5,000 patients a year and £892,000 to fund the cutting-edge PROSPECT-NE genome sequencing project in Newcastle.
Sir Bobby's widow, Lady Elsie visited Motorpoint to find out more about the fundraising the team there has been doing. Lady Elsie added: "It was a pleasure to visit Motorpoint and to thank the staff there for their fundraising efforts. Everyone was so enthusiastic about helping us continue our work and it's greatly appreciated."
Motorpoint has 500 low mileage nearly new cars from over 30 manufacturers available on site with access to thousands more cars in group stock to drive away the same day backed by the Motorpoint Price Pledge. Launched last year, Motorpoint will refund the difference to any customer within seven days of their order if they find the same car from a competitor. As an added bonus, it will also give the customer £50 worth of Amazon vouchers to spend.