Motorpoint partners with Teens Unite in the fight against cancer
05 March 2017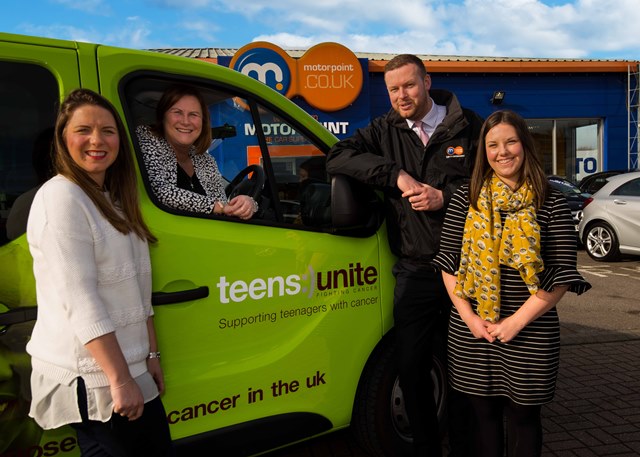 Photos © 2021 Motorpoint
A roller disco is just one the many fundraising ideas planned with new charity partner Teens Unite at Motorpoint in Chingford
"We're delighted to have teamed up with Teens Unite in their 10th anniversary year to support the important work they do as a charity helping teens and their families across London and the South East cope with the impact that cancer has on their lives"
The UK's leading car supermarket, which is based on Lea Valley Road in Chingford, has agreed to adopt the multi-award winning charity for a minimum of 12 months. Co-founded in 2007 by Karen Millen OBE and Debbie Pezzani, Teens Unite provides ongoing support to anyone between the ages of 13-24 who is either undergoing treatment or in remission for cancer.
Based in Broxbourne in Hertfordshire, Teens Unite runs a series of regular workshops for teens affected by cancer from across London and the South East. It is also hoping to open its own Respite Home in the near future where teens can come when they need respite care.
Charles Faulkner, General Manager of Motorpoint in Chingford, said: "We're delighted to have teamed up with Teens Unite in their 10th anniversary year to support the important work they do as a charity helping teens and their families across London and the South East cope with the impact that cancer has on their lives."
Motorpoint is planning a series of fundraising events throughout 2017 at its five acre site on Lea Valley Road in Chingford. These include a Roller Disco together with a Barn Dance and a Celebrity Charity Car Wash. It is also providing Teens Unite with promotional space at both the Chingford Summer Fayre and Chingford Christmas Fayre.
Debbie Pezzani, CEO and Co-Founder of Teens Unite, added: "We are incredibly proud to be working with Motorpoint to raise funding and awareness for Teens Unite. Seven young people are diagnosed with cancer every day in the UK and we are committed to uniting them from diagnosis, through treatment and beyond. With the support of Motorpoint we will be able to reach out to even more young people during their fight against cancer."
Press releases
For all media enquiries please contact Stephen Wright, PR Manager on 01332 227239 or 07825 308326. Alternatively by email.