Motorpoint partners with Solan Connor Fawcett Family Cancer Trust
05 May 2017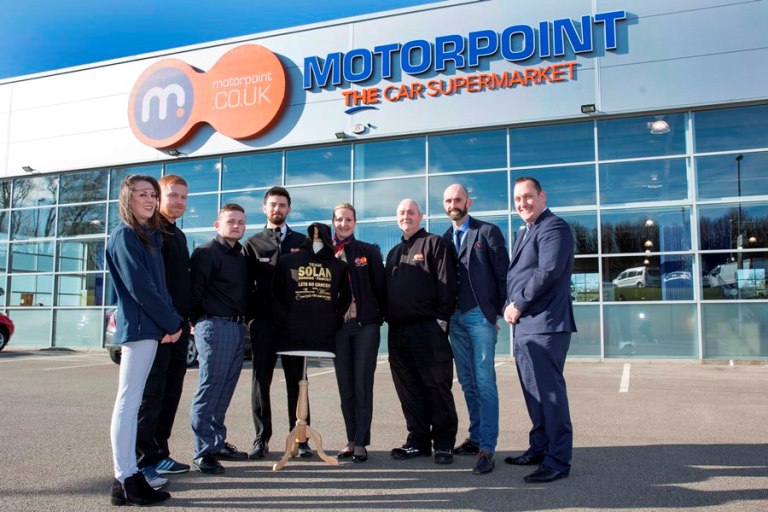 Photos © 2021 Motorpoint
Motorpoint in Birtley has chosen the Solan Connor Fawcett Family Cancer Trust as its official charity partner
"The Trust is doing a remarkable job supporting families affected by cancer and we're looking forward to working with Mark and the team to raise as much money as possible to support their efforts"
The UK's largest car supermarket, which has an eight acre super site in Birtley, County Durham, has decided to support the work of the charity over the next 12 months.
Founded in 2015 by Mark Solan, a former Retail Store Manager and Pride of Britain Award nominee, the Trust provides support for families who have been affected by cancer. To date, it has helped over 250 families in the region from its base in Spennymoor.
Motorpoint staff have already been busy fundraising for the Trust, hosting a series of events in recent weeks, including an Easter Egg Hunt. Collectively they have raised over £500.
Gavin Morgans, General Manager of Motorpoint in Birtley, explained: "We're delighted to adopt the Solan Connor Fawcett Family Cancer Trust as our official charity partner. The Trust is doing a remarkable job supporting families affected by cancer and we're looking forward to working with Mark and the team to raise as much money as possible to support their efforts."
Mark Solan, Founder of the Solan Connor Fawcett Family Cancer Trust, added: "I am extremely grateful to Motorpoint for adopting us as their official charity partner in the North East and at the same time helping to raise greater awareness of the work we do as an organisation among the Motorpoint customer base."
Motorpoint is based on Durham Road in Birtley. The site, which was officially opened in November 2015, is only a short drive from both J63 and J64 of the A1.
Press releases
For all media enquiries please contact Stephen Wright, PR Manager on 01332 227239 or 07825 308326. Alternatively by email.