Motorpoint opens for business in Swansea
01 February 2020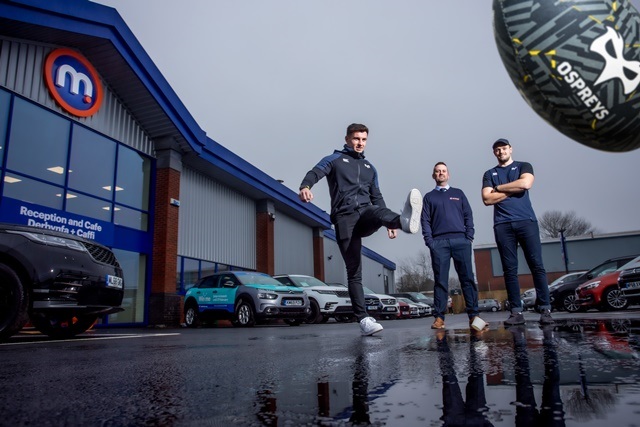 Photos © 2022 Motorpoint
Motorpoint has officially opened for business in Swansea
"The Motorpoint brand is already well-established in South West Wales thanks to our long-running naming rights partnership with the Motorpoint Arena Cardiff and we're looking to build on that awareness with our drive to make car buying easy in Swansea"
And Scrumhalf Matthew Aubrey & Centre Cory Allen took time out of training ahead of the Osprey's forthcoming Guinness Pro-14 v Ulster to help kick off the arrival of the award-winning company in South West Wales.
Motorpoint, a Sunday Times Top 100 Company to Work For, has created 25 new roles in Swansea as part of its multi-million pound investment in the five acre branch minutes from the Swansea Enterprise Park."It's brilliant to finally open our doors to the public with Olly and the guys from the Ospreys,"
xplained Chris Brown, General Manager of Motorpoint Swansea, "and be able to give customers the opportunity to experience for themselves our award-winning combination of choice, value and service. "
The Motorpoint brand is already well-established in South West Wales thanks to our long-running naming rights partnership with the Motorpoint Arena Cardiff and we're looking to build on that awareness with our drive to make car buying easy in Swansea."
The opening of Motorpoint Swansea will complement the company's network of existing branches in Birmingham, Birtley, Burnley, Castleford, Chingford, Derby, Glasgow, Newport, Oldbury, Peterborough, Sheffield and Widnes. It is open seven days a week, including 8pm weekdays. It also offers free parking as well as free Wi-Fi and a customer café serving a selection of hot and cold food and drinks.
It has also recently partnered with Swansea Sound and The Wave, South West Wales' most popular commercial radio stations, to give one listener the opportunity over the coming weeks to drive away in a Citroen C4 Cactus 1.2 Feel worth £11,599 on St David's Day.Chris Brown added: "We're regular l
isteners to Swansea Sound and The Wave and we thought what better way to celebrate the arrival of Motorpoint than by teaming up with the stations' to give one lucky person the chance to be the proud
new vehicles, all under three years old and with less than 25,000 miles, from 30 different manufacturers, with a further 6,500 vehicles available in group stock. Every vehicle will come with the balance of manufacturer's warranty and be available to drive away the same day.Motorpoint are committed to making car buying easy which is why, backed by the Motorpoint Price Promise, Motorpoint will also refund the difference to any customer within seven days of their order if they find the same car from a competitor. As an added bonus, it will also give the customer £50 worth of Amazon vouchers to spend.