Motorpoint names Sir Bobby Robson Foundation as charitable partner in Stockton-on-Tees
08 July 2021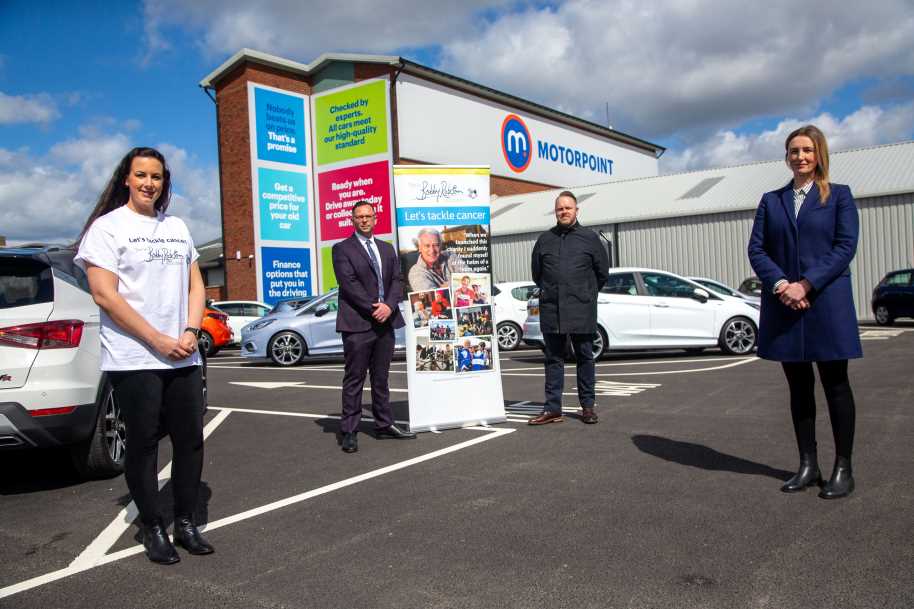 Photos © 2022 Tom Banks Photography
Motorpoint Stockton-on-Tees has adopted The Sir Bobby Robson Foundation as its charitable partner
"We're extremely proud to have also teamed up with The Sir Bobby Robson Foundation in Stockton-on-Tees to support the amazing work that they do for cancer patients across this region"
The Teesside-based branch of the UK's leading independent car retailer, which is based on Yarm Road in the town, will support the work of the popular North East charity for a minimum of 12 months.
The 30-strong workforce at the Motorpoint branch recently voted overwhelmingly to give their backing to the Foundation, which funds projects that help to find more effective ways to detect and treat cancer among patients in the region.
Motorpoint Stockton-on-Tees' sister site in Birtley, Tyne and Wear, adopted the Foundation a couple of years ago as part of their Corporate Social Responsibility strategy. Staff are busy finalising plans for several fundraisers to take place across both locations later this summer. Together, they are aiming to raise £10,000.
Richard Start, Head of Retail Operations in the North East, explained: "We're extremely proud to have also teamed up with The Sir Bobby Robson Foundation in Stockton-on-Tees to support the amazing work that they do for cancer patients across this region.
"The pandemic had a dramatic impact on our ability to fundraise, particularly with the forced closure of our branches for several months, but with the end of lockdown now on the horizon, the teams in Birtley and Stockton-on-Tees are busy working on fundraisers that we can drive forward over the coming weeks and months to help raise as much money as possible for this much-loved charity."
Sonia Graham, Fundraising Manager at Newcastle Hospitals Charity, added: "We are extremely grateful to the staff at Birtley and now Stockton-on-Tees for agreeing to adopt the Foundation as their charitable partner. Their fundraising will be extremely welcome, especially after we've had such a challenging last year and a half due to COVID, and we're looking forward to raising greater awareness of our work among the Motorpoint customer base."
Motorpoint opened its branch in Stockton-on-Tees shortly before Christmas last year following a million-pound investment in the five-acre site, two minutes from Preston Farm. A former Jennings Ford dealership, it stocks hundreds of low mileage, nearly new cars and light commercial vehicles from 30 different manufacturers', most of which are under three years old and with less than 30,000 miles.
Every vehicle from Motorpoint comes with the balance of manufacturer's warranty backed by the Motorpoint Price Promise. This means Motorpoint will refund the difference to any customer within seven days of their order if they find the same car cheaper from a competitor. As a bonus, it will also give the customer £50 worth of Amazon vouchers to spend.
Plus, as part of the company's on-going COVID-19 safeguarding processes, all vehicle collections will be completed in specially designated areas to always guarantee social distancing while an online portal means the car buying experience is completely paperless with customers able to sign for their new car using their mobile phone. Furthermore, every purchase, whether it is instore or online, is backed by a 14-day money back guarantee.