Motorpoint named Best Company to Work For in North East
23 July 2018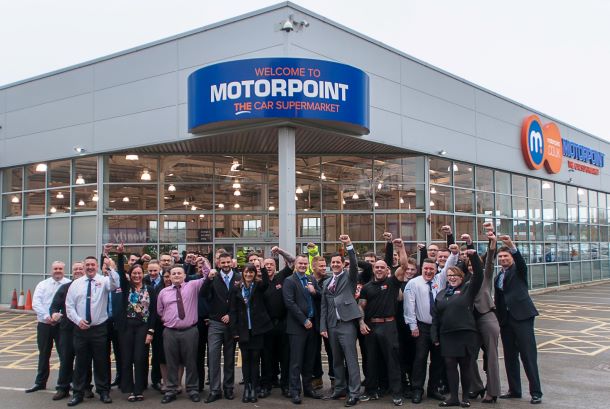 Photos © 2022 Motorpoint
It is an honour to top the list for 2018 and it's all thanks to the Motorpoint Birtley team.
Motorpoint has recently been named the Best Company to Work For in the North East of England by The Sunday Times. After staff at our five-acre branch in Birtley, County Durham filled in a comprehensive survey, we are grateful to learn that the team have been pleased with our long-standing commitment to employee engagement.
Thousands of companies were measured using the Regional Best Company Index (RBCI) scores, with only those businesses with the very highest levels of staff satisfaction qualifying for the top spots.
All employees working at Motorpoint currently benefit from private healthcare, shareholder options, life assurance and staff discounts. They also receive benefits that support their personal life, such as additional holiday for their birthday, enhanced maternity and paternity leave as well as extra paid time off if they are moving house or getting married.
"We're absolutely delighted to have been named the region's top employer," explained Chris Megginson, General Manager of Motorpoint Birtley. "Engaged employees have been pivotal to the success of the Motorpoint brand in the North East since we opened the branch in November 2015 enabling us to deliver award-winning levels of choice, value and service to our customers.
"We are continually reviewing our employee benefits and actively work with the team to ensure that we are offering the most comprehensive system of reward and recognition available to employees within our sector."
Motorpoint employees have been equally engaged on the charitable front and have hosted a number of fundraising events at the branch in the last 12 months as part of their support for Solan Connor Fawcett Family Cancer Trust – raising over £1,000 in the process. They have also donated gifts to Shelter in Newcastle both at Christmas and Easter.
Motorpoint is based on Durham Road in Birtley and is easily accessible from both J63 and J64 of the A1. The car supermarket has over 500 low mileage nearly new cars from over 30 manufacturers available, with access to a further 7,000 cars in group stock. Motorpoint Birtley is open seven days a week, with experienced advisors to take you through our finance options and part exchange service.
For more information, visit motorpoint.co.uk or browse our range of nearly new and used cars.