Motorpoint forms unique sporting partnership with Northumbria University
16 November 2016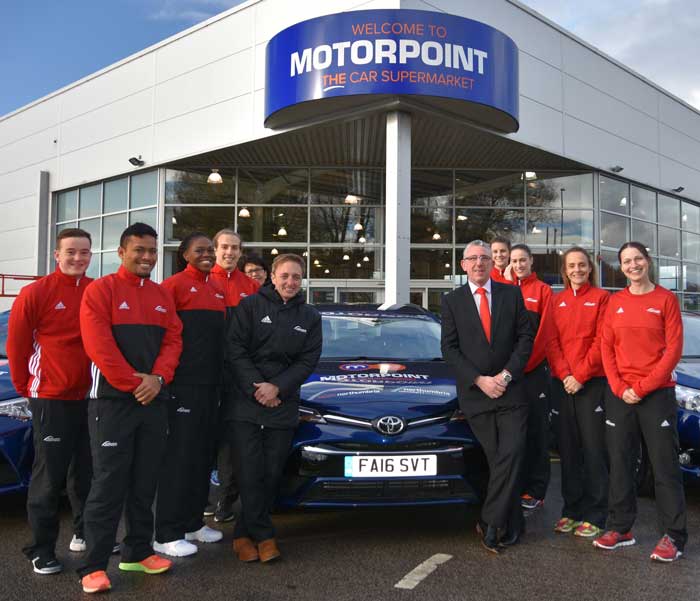 Photos © 2021 Motorpoint
Motorpoint has formed a unique sporting partnership with Northumbria University
"We're delighted to have teamed up with Northumbria University to help drive forward the University's elite sports programme at all levels"
The UK's leading car supermarket, which is based on Durham Road in Birtley, has agreed to provide the Northumbria Sport programme with a number of branded vehicles to help its elite athletes travel to tournaments throughout the country over the coming year. As part of the partnership, Motorpoint will once again team up with the region's only Netball Superleague outfit for the 2017 season.
Team Northumbria are one of the major players in Netball competing in both the Netball Performance League and Netball Superleague competitions - both of which run between February and June. Team Northumbria play all of their home games at Sport Central Arena on the Northumbria University campus. A number of the games will be broadcast live on Sky Sports – including the team's Super 10 Weekend clash against Wasps on February 25.
Under the terms of the agreement the Motorpoint logo will feature on both the home and away Netball Superleague dresses while two Motorpoint branded advertising boards will also on show at the Sport Central Arena. It will also have a dedicated area in the team's 'Fan Zone'. The Motorpoint logo will also feature prominently on the home and away kits of the University's basketball, rugby union and volleyball teams.
The news comes only a matter of days after Motorpoint celebrated the first anniversary of its nine acre site in Birtley. Located near the Angel of the North, Motorpoint Birtley is home to 500 new and nearly new low mileage cars from 30 different manufacturers. Conveniently located close to J63 of the A1, Motorpoint Birtley features extensive free parking, free Wi-Fi and a café open seven days a week.
Mark Carpenter, Managing Director of Motorpoint, said: "We're delighted to have teamed up with Northumbria University to create a unique sporting partnership that we are confident will help drive forward the University's elite sports programme at all levels."
Colin Stromsoy, Director of Sport at Northumbria University, added: "We are thrilled that a company of the calibre of Motorpoint has chosen to partner with Northumbria University for a second successive year and we look forward to working with them over the coming weeks and months to help further develop Northumbria Sport."
Press releases
For all media enquiries please contact Stephen Wright, PR Manager on 01332 227239 or 07825 308326. Alternatively by email.