Motorpoint back on air with new TV advert
01 August 2018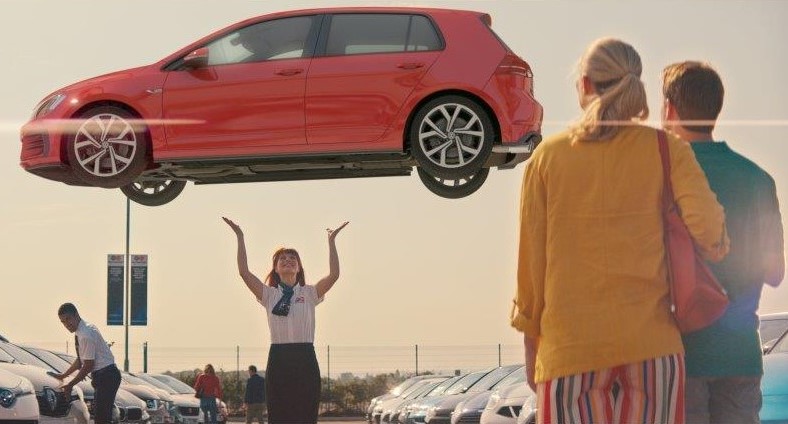 Photos © 2021 Motorpoint
Motorpoint is putting the super into car supermarket with its new national TV campaign.
Launching on 1st August, Motorpoint is officially back on the air with a new TV commercial for the first time in two years.
We have partnered with Manchester-based agencies Equinox and Running Total to create the 30 second commercial for broadcast throughout August and early September across regional ITV, Channel 4, Sky and ITV Hub on-demand, as well as taking to the big screen at the cinema. The advert plays out across peak airtime slots so make sure you watch out for it during soaps, sporting events and dramas.
Filmed at the Motorpoint Castleford site, the advert showcases the everyday superhuman efforts put in by Motorpoint staff to deliver the company's award-winning choice, value and service. Featuring Telekinesis Woman and X-Ray Man amongst others, our amazing team have been coupled with a sprinkling of CGI-generated special effects for maximum impact. It is very much of the moment as the superhero Motorpoint team help a family find their ideal car.
Mark Carpenter, Managing Director of Motorpoint, explained: "We are extremely excited to be back on TV with our new commercial. The strapline 'We put the Super into Car Supermarket' sums us up perfectly and confirms Motorpoint as the place to go for the best value, excellent customer service and a great choice of low mileage, nearly new cars. "
To coincide with the TV commercial, Motorpoint is asking people to nominate their very own superhero. Using the hashtag #MySuperHero, we are looking to recognise everyday superheroes – the people who friends and family believe have gone above and beyond and who deserve some recognition. Simply go to Facebook (#Motorpoint) or Twitter (@Motorpoint) to share your story using #MySuperHero.
To view the new Motorpoint TV advert visit https://www.youtube.com/watch?v=KPCcX52dH2s
Press releases
For all media enquiries please contact Stephen Wright, PR Manager on 01332 227239 or 07825 308326. Alternatively by email.