Motorpoint adopts Birmingham Children's Hospital Charity
06 October 2016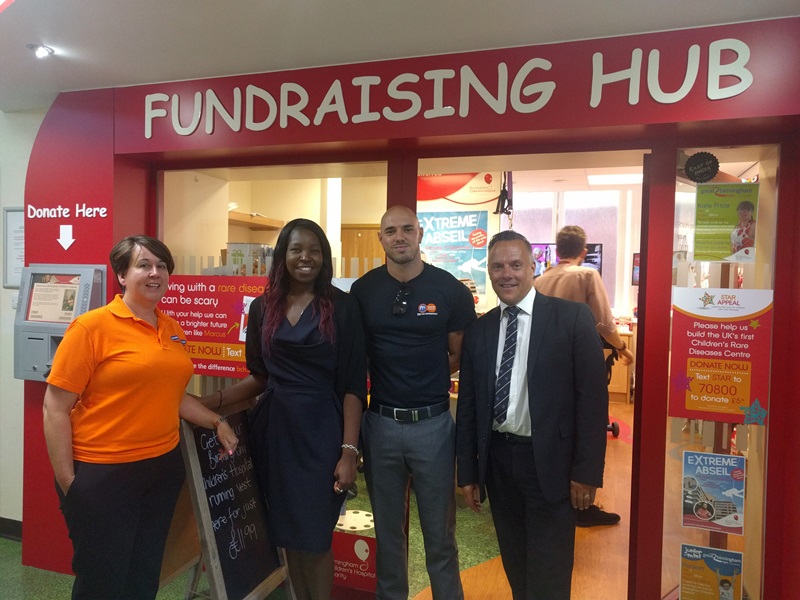 Photos © 2022 Motorpoint
Motorpoint has chosen Birmingham Children's Hospital Charity as its official Charity Partner
"The money Motorpoint hopes to raise will go a long way to making a huge difference to the lives of our brave children and their families "
The UK's largest car supermarket, which has two supersites in the West Midlands, has decided to support the work of the world renowned hospital and its charity over the next 12 months. Staff at the Motorpoint branches in Aston and Oldbury have already begun a series of fundraisers as part of their plan to raise upwards of £10,000 for the country's leading specialist paediatric centre.
Birmingham Children's Hospital, which opened its doors in 1862, provides expert care to 90,000 children, delivering treatment for the most complex heart conditions, chronic liver and kidney disease as well as cancer. It also houses a ground breaking new mental health service for 0-25 year olds.
John Hood, General Manager of Motorpoint Birmingham, explained: "We're thrilled to have adopted Birmingham Children's Hospital Charity as our official charity partner and look forward to working with our Oldbury site to raise as much money as possible over the coming weeks and months."
Saranne Moreno, New Business Manager at Birmingham Children's Hospital Charity, added: "We are extremely grateful to both of the Motorpoint sites in the West Midlands for adopting us as their official charity partner and at the same time raising greater awareness of the work we do among their combined customer bases.
"The money Motorpoint hopes to raise will go a long way to making a huge difference to the lives of our brave children and their families as we continue our plans to improve our facilities – enabling us to treat even more children from Birmingham, the West Midlands and around the country."
Motorpoint launched its first base in the West Midlands on Lichfield Road in Aston Cross in August 2013. This was followed earlier this summer with a second site on Churchbridge Road in Oldbury. Together they have enabled Motorpoint to sell a car to every postal code area across the region.
In the community
Motorpoint is proud to work with Birmingham Children's Hospital Charity. For more info on the work they do, please visit www.bch.org.uk.