Kathleen Saul explains why she chose to buy her car from Motorpoint
22 June 2020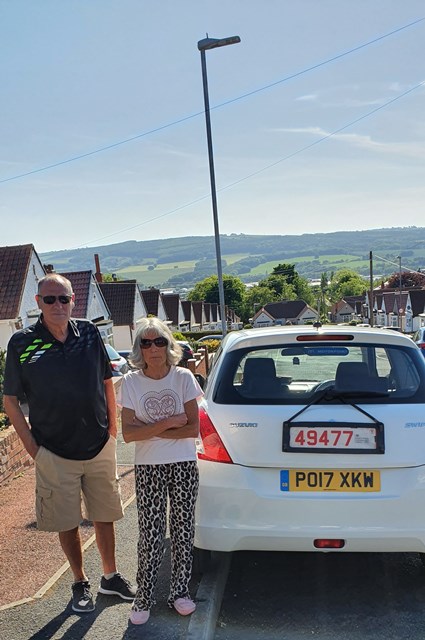 Photos © 2021 Motorpoint
Kathleen and her husband Raymond are among more than a 1,000 people around the UK who've taken advantage of Motorpoint's Home Delivery Service since it was launched during the lockdown
"It's really handy Motorpoint bringing (your car) to you as Raymond likes his golf and it meant he could fit everything around his tee time"
"We only change our car every 10 or so years," explained Kathleen Saul, "so when we do we want to make sure it's the right car at the right price for us – that why we came to Motorpoint."
The retirees, who live in Low Fell near Gateshead, have owned a Suzuki Swift since 2011 but thought now was the right time for a change.
"We're both in our late sixties and we decided that this was probably going to be our last car. We've loved our Suzuki Swift so we thought why not get another one," added Kathleen.
"The one we saw was actually in Burnley so we arranged for it to be transferred to Birtley and then delivered to our home in Low Fell," which is about four miles from the Motorpoint branch. Even though this is the first time we've ever bought a car without physically seeing it first I have to say the whole experience was brilliant from start to finish. Plus, it's really handy Motorpoint bringing it to you as Raymond likes his golf and it meant he could fit everything around his tee time."
Now they have their new car on their driveway do they have any road trips planned once the lockdown eases? "The funny thing is," added Kathleen, "we're not really car people. We don't really use it that much. We use our bus passes more (although not at the moment for obvious reasons during lockdown). Saying that we are really happy with our Suzuki Swift and if we ever did decide to buy another car, we definitely will be getting it delivered to our home from Motorpoint, of course. It's so much more convenient."
Press releases
For all media enquiries please contact Stephen Wright, PR Manager on 01332 227239 or 07825 308326. Alternatively by email.