Head shave at Motorpoint Peterborough raises over £1,500 for the Sue Ryder Thorpe Hall Hospice
23 February 2018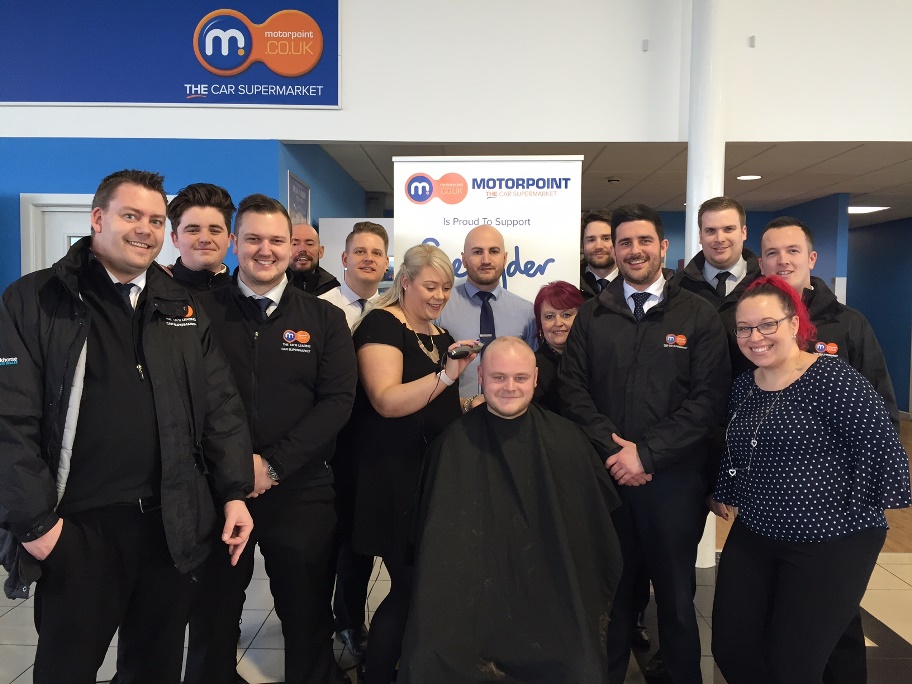 Photos © 2021 Motorpoint
Motorpoint Peterborough's Daniel Woodward has generated a hair-raising £1,500 for Sue Ryder Thorpe Hall Hospice having his head shaven
"Well done to Daniel for raising so much money for Sue Ryder Thorpe Hall. A few of us had our doubts that he would go through with it on the day but I'm really glad that he proved us all wrong!"
The 25 year-old, who has worked as a sales executive at the branch on Edgerley Drain Road for nearly six years, originally agreed to loose his hair for the site's charitable partner as a bet during the weekly sales meeting.
However, once word of the challenge got out, and friends, family and colleagues quickly made donations, the former semi-professional footballer, who played a couple of seasons as a centre back for Yaxley Football Club, quickly realised that he would definitely have to go through with it.
"It's something I'd been talking about for a while as my hair was thinning anyway," explained Daniel, "so when the pledges started coming in and we'd raised over £300 in one day alone, I knew I had to go and 'brave the shave' courtesy of Hair by Jess Whiting.
"It felt strange at first having my head shaved but since then I've got used to it and to be honest I prefer it now. The best thing about the whole experience is how much we've raised, £1,560, which is amazing. The guys have been really good to me though in the branch and have bought me a woolly hat just in case I get cold."
Motorpoint teamed up with Sue Ryder Thorpe Hall last year to help raise money for the hospice, which is based in Longthorpe in Peterbrough. It has been busy supporting a whole raft of fundraising initiatives, including sponsoring this year's Peterborough Dragon Boat Race at the Peterborough Rowing Lake in June.
Tom Stanton, General Manager at Motorpoint Peterborough, added: "Well done to Daniel for raising so much money for Sue Ryder Thorpe Hall. A few of us had our doubts that he would go through with it on the day but I'm really glad that he proved us all wrong!"
Motorpoint Peterborough stocks 500 low mileage nearly new cars from 30 different manufacturers – all available to drive away same day. Located on Edgerley Drain Road on the Boongate Industrial Estate, it is open seven days a week including until 8pm weekdays.
Press releases
For all media enquiries please contact Stephen Wright, PR Manager on 01332 227239 or 07825 308326. Alternatively by email.