Ex-World Champion Carl Froch officially opens Motorpoint Arena Nottingham
26 January 2016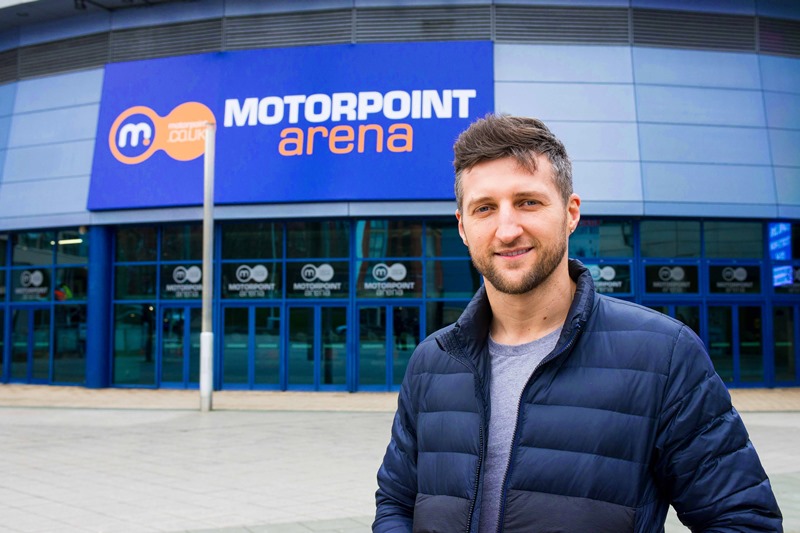 Photos © 2021 Motorpoint
Former super-middleweight World Champion Carl Froch MBE has officially opened the new Motorpoint Arena Nottingham
"The new Motorpoint Arena Nottingham will form the centre-piece of our plans to raise our profile in the East Midlands"
The four times WBC, WBA and IBF title winner returned to the scene of his legendary title defence against Lucian Bute to help celebrate the seven figure investment by Motorpoint over the next five years in the East Midlands' premier entertainment venue.
Motorpoint, the UK's leading car supermarket, took the naming rights for the Arena as part of an on-going drive to increase its brand awareness across the region. As part of the agreement Motorpoint undertook earlier this month a dramatic re-branding of the building in the heart of Nottingham city centre, including the installation of high-profile outdoor LED signage in Bellar Gate, Bolero Square and Lower Parliament Street. The partnership also saw the Motorpoint logo feature on all concert tickets, concert advertising, social media channels together with the launch of a brand new adaptive website – www.motorpointarenanottingham.com.
The hugely popular 10,000 capacity Arena, which first opened its doors in 2000, is a multi-use indoor arena located within the National Ice Centre. It has attracted artists such as Beyoncé, Kasabian, Katy Perry, Lady Ga Ga, Metallica, One Direction, The Killers and The Who among others in recent years.
David Shelton, Founder of Motorpoint, said: "The new Motorpoint Arena Nottingham will form the centre-piece of our plans to raise our profile in the region as we look to further establish ourselves as the UK's largest independent car retailer underpinned by an award-winning level of choice, value and service. We are also equally looking forward to working with the team at the Arena over the next five year to deliver an unrivalled experience for the 700,000 plus people that come through its' doors every year."
Geoff Huckstep, Chief Executive of the Motorpoint Arena Nottingham, added: "We are delighted to be working with such a dynamic company as Motorpoint. We are both passionate about our products and believe in delivering quality, service and value in equal measure. The launch of our naming rights agreement will definitely help the Arena to continue to be at the centre of the East Midlands' live entertainment market."
One of the Sunday Times Top 100 Companies to Work For in 2015, Motorpoint already has considerable experience of developing successful naming rights partnerships with Arena's in Cardiff and Sheffield. Its agreement with the Sheffield Arena ended last July.