For family SUV buyers, the BMW X1 and Audi Q3 are two of the best in the business. These premium options get outstanding grades in nearly every category – they're practical, comfortable and stacked with on-board technology – all without sacrificing the premium touches and confidence-inspiring driving experience their smaller hatchback siblings are known for.
But which should you choose? We compare these two popular choices side by side to help you pick the one that'll suit you best.
BMW X1 vs Audi Q3 compared
BMW X1
Audi Q3

Pros:

More fun to drive
Larger cabin

Pros:

More comfortable
Chunkier, more traditional SUV looks

Cons:

Dashboard design is a little dull
Firmer suspension

Cons:

Slightly more expensive
Not as agile
Styling and design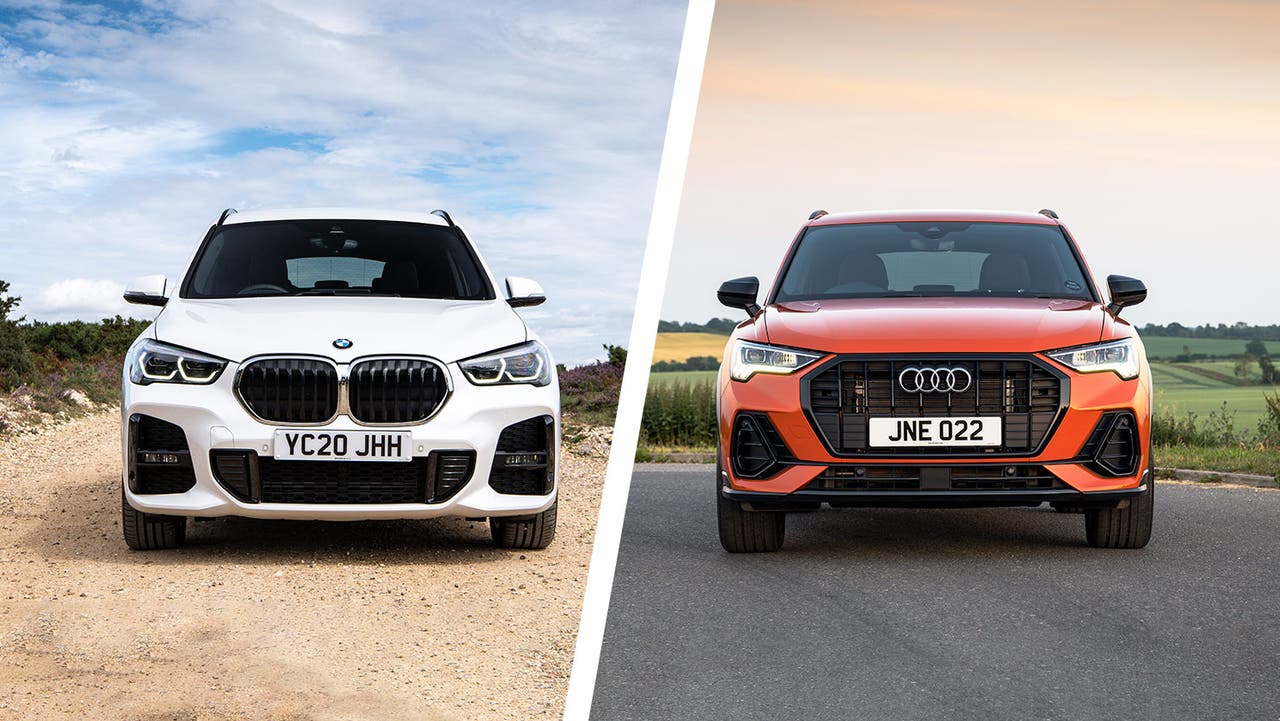 This one's really going to come down to personal preference. BMW and Audi have spent years carefully cultivating their brand image, so both the X1 and Q3 are very obviously descended from each brand's family tree. Of course, that means the BMW has prominent 'kidney' grilles at the front with mean-looking headlights either side, and sculpted bodywork down the side to help the X1 look more athletic. Cars in SE trim look a little plain but xLine models gain a little extra silver detailing to help them stand out. For maximum impact, range-topping M Sport models get a much sportier looking body kit and bigger wheels.
The Audi, in comparison, looks a little chunkier thanks to its more angular styling, despite being more-or-less the same size by the numbers. At the front, the imposing eight-sided grille echoes those fitted to the larger Q5 and Q7, and helps mark it out from the smaller, more affordable Q2, to which BMW doesn't offer a direct competitor. The styling down the sides and at the rear is, to our eyes, a little more chiselled than the BMW, again helping the Q3 look a little more tough in the metal.
Interior and practicality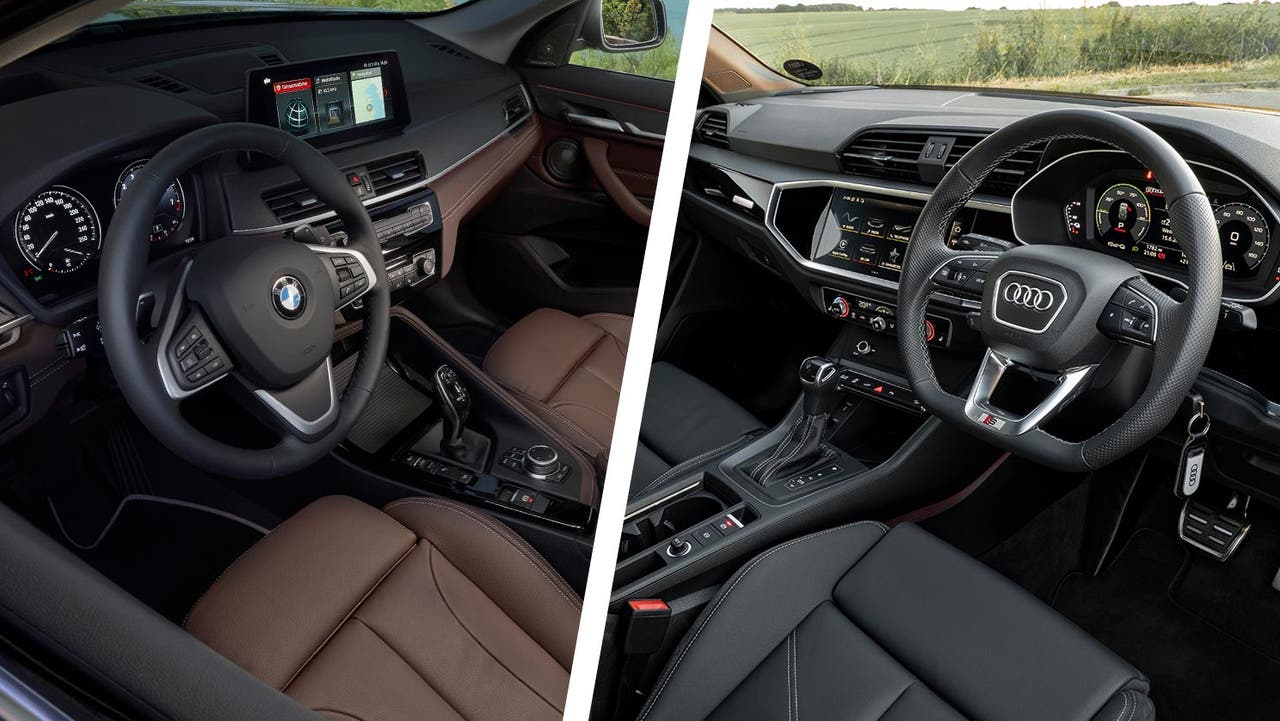 Drivers already familiar with BMW or Audi cabin designs will find few surprises when they step inside. Both cars use dashboards, controls and switchgear borrowed from the rest of their respective lineups. For the X1, that means you get a cockpit-like seating position, with a high centre console and switches slightly angled towards you – it feels great when you're driving quickly but lacks the airy feel of some SUVs. We can't fault the quality of the materials, nor the fit and finish, but the overall design has been used in small BMWs for several years now and is starting to feel a little tired.
The Q3, in comparison, looks more up to date when you step inside. Its infotainment screen is more elegantly incorporated into the dashboard, and you get fully digital driver's dials as standard against the BMW's semi-digital setup. The centre screen is a bit easier to use than the BMW's thanks to being a little larger in every dimension, allowing for bigger touch buttons. As with the X1, the Q3's materials and build quality are faultless, especially in the places you regularly touch – although some of the plastics in hard-to-reach spots do feel a little cheap on closer inspection.
Audi has done an impressive job with the Q3's cabin, giving it plenty of passenger space and a big boot. BMW, on the other hand, has performed a minor miracle with the X1, bestowing it with a colossal amount of rear legroom that would be competitive in the class above. Adult passengers will be more comfortable in the back of the X1 and parents will also appreciate the extra room to manoeuvre kids into their car seats. Neither boot will struggle with a family's holiday luggage, but the BMW's less steeply raked rear windscreen means the cargo area is a little taller in practice. Buyers looking for the most storage space should avoid plug-in hybrid versions of both cars as the battery packs eat into the boot.
Engines and performance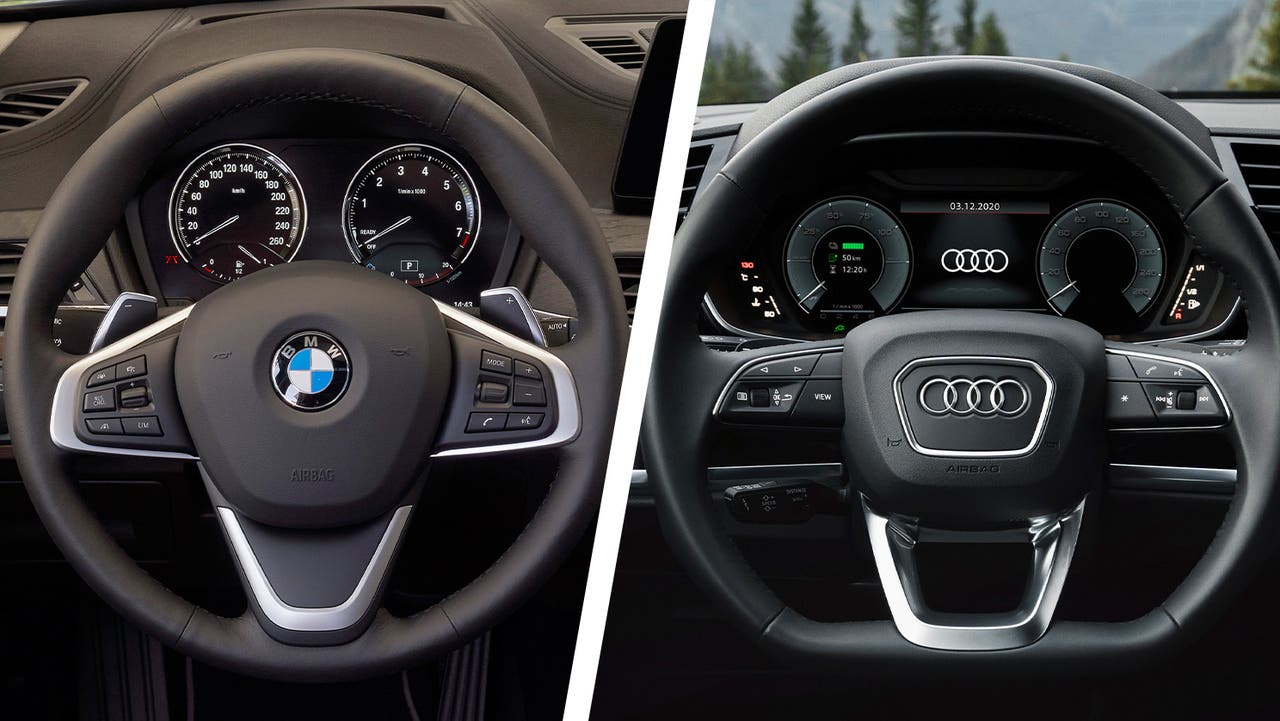 X1 shoppers can choose between sDrive and xDrive cars with two and four-wheel drive respectively. While you will see a slight traction benefit in the xDrive if you do happen to drive off road, most buyers will be perfectly well served by the front-wheel drive sDrive and its slightly better fuel economy. For engine choices, there are 140hp 18i and 192hp 20i petrols, and 150hp 18d or 190hp 20d diesel options. Most X1s come with an eight-speed auto gearbox, which we'd recommend. You can also pick the potent xDrive 25e plug-in hybrid, which blends a 1.5-litre turbo petrol engine with an electric motor on the rear axle – you get a total of 220hp, hot-hatch-like performance and average fuel economy north of 140mpg if you use both power sources effectively.
Audi still insists on giving its engines names that have no obvious bearing on their size or power level. Petrol choices include the 150hp 35 TFSI, the 190hp 40 TFSI and the 245hp 45 TFSI. Diesel power comes in either 150hp 35 TDI form or the punchy 200hp 40 TDI. Most of these engines come paired with Audi's S-tronic dual-clutch automatic gearbox and, while it's not quite as buttery smooth as the BMW's auto, it's still the best option for the Q3. Like the X1, there's also a plug-in hybrid option – the Q3 45 TFSI e mixes a 1.4-litre turbo petrol engine with an electric motor for a total of 245hp, meaning rapid acceleration and the possibility of 160mpg.
Driving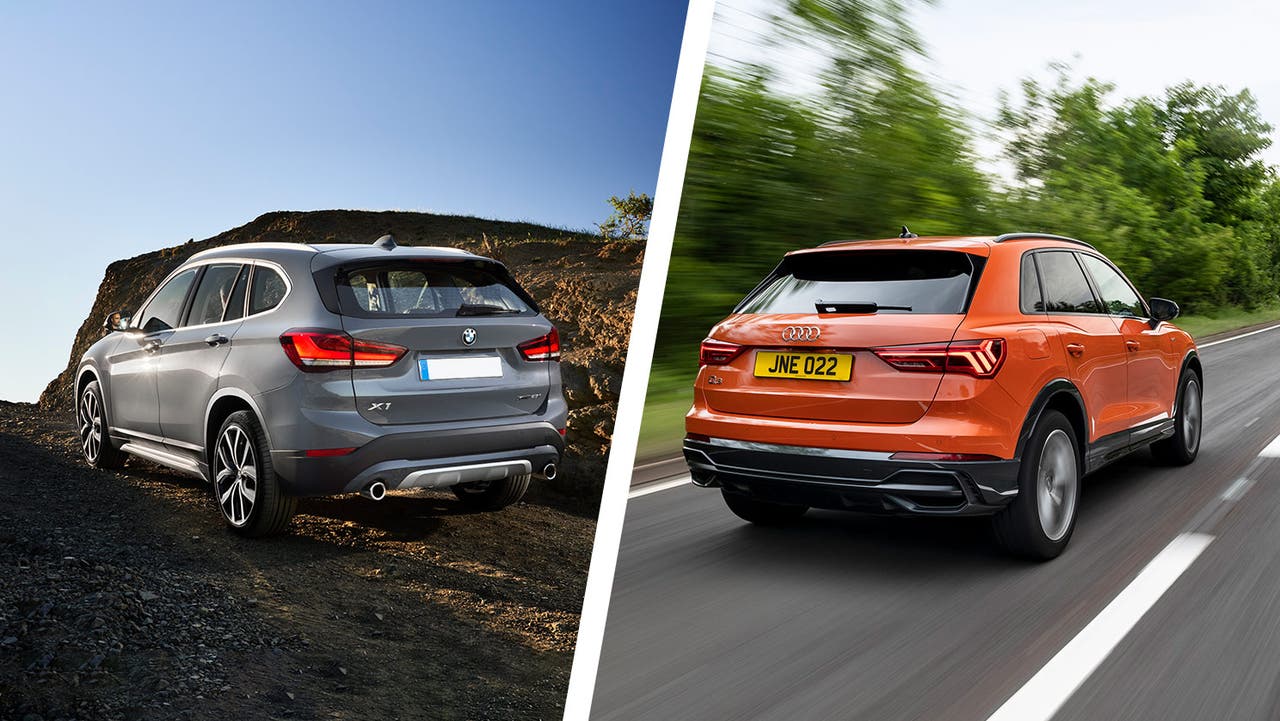 Starting with the X1, it immediately has that tied-down feeling you get from other BMW models. The suspension is firm but doesn't crash over ridges in the road and, in return, means you have sensational body control over big bumps. The agile front end, powerful brakes and level cornering can easily egg you into driving the X1 quite a bit faster than your passengers might appreciate, so make sure you only savour the handling when you're on your own. Despite the fairly sporty driving experience, refinement is strong, with good insulation from wind and road noise at speed, and only a minimal ruckus under the bonnet if you floor it.
The Audi is no less impressive to drive than the BMW, with huge amounts of grip and light, accurate controls, but it doesn't offer the same sense of fun when you start to hustle it. The payoff here, however, is a generally more comfortable ride with better cabin isolation over large bumps which, we suspect, will pay dividends on long road trips. It's a little annoying, then, that the Audi's refinement is fractionally worse than the BMW's, with more audible thuds and tyre roar heard in the cabin, somewhat offsetting the long-haul advantage gained the Q3's softer springs.
Value and reliability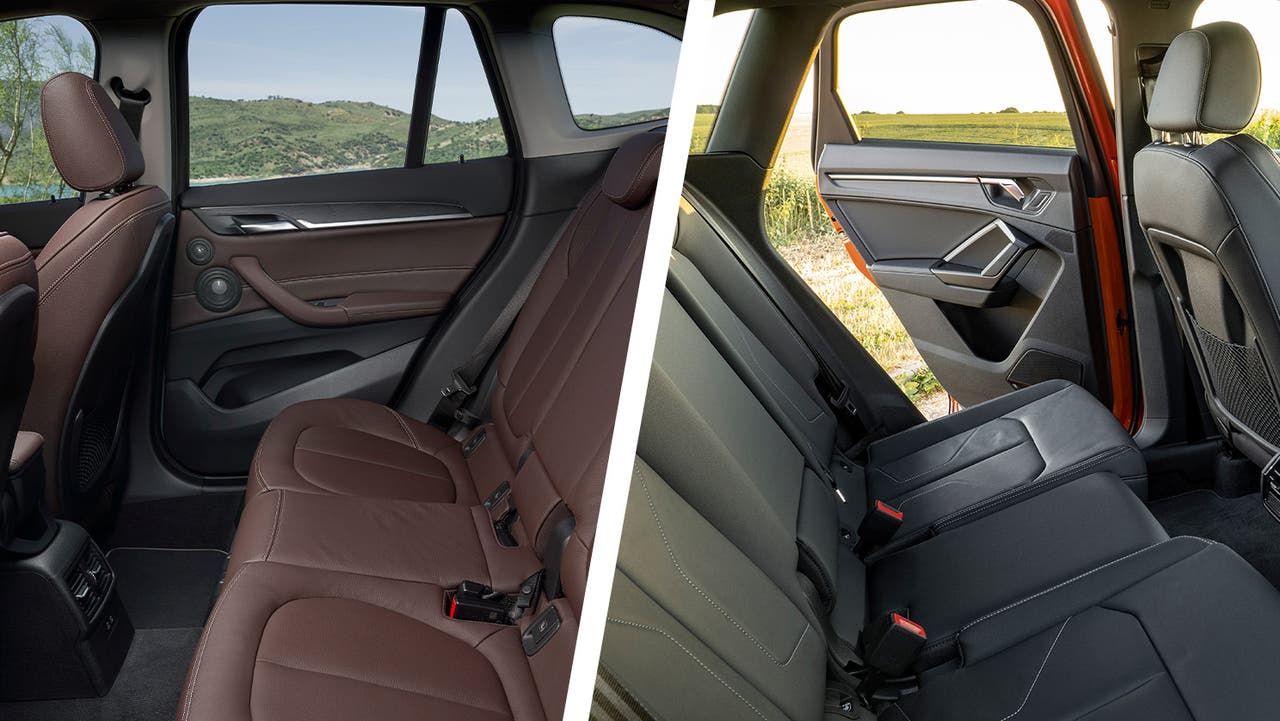 Both the X1 and Q3 are so close in many ways that there's no clear value-for-money winner here. Buyers who prefer the look or feel of one model over the other are unlikely to drive away feeling like they made the wrong choice. Given the breadth of the trim, engine and drivetrain options available for both models, it's tough to directly compare pre-owned values like-for-like. However, as a guideline, used X1s seem to come up a few hundred pounds cheaper than used Q3s of a similar spec, age and mileage. This might be partially influenced by the fact the X1's replacement arrived in the UK in early 2023, while nearly new Q3s are still the current model.
Despite their reputation for quality, none of the 'big three' German premium brands enjoys a great reputation for reliability. This is common for carmakers in this segment because they often load their vehicles with more equipment, thus introducing more potential points of failure. For ultimate peace of mind, nearly new buyers should consider adding an extended warranty to their purchase.
Which is best?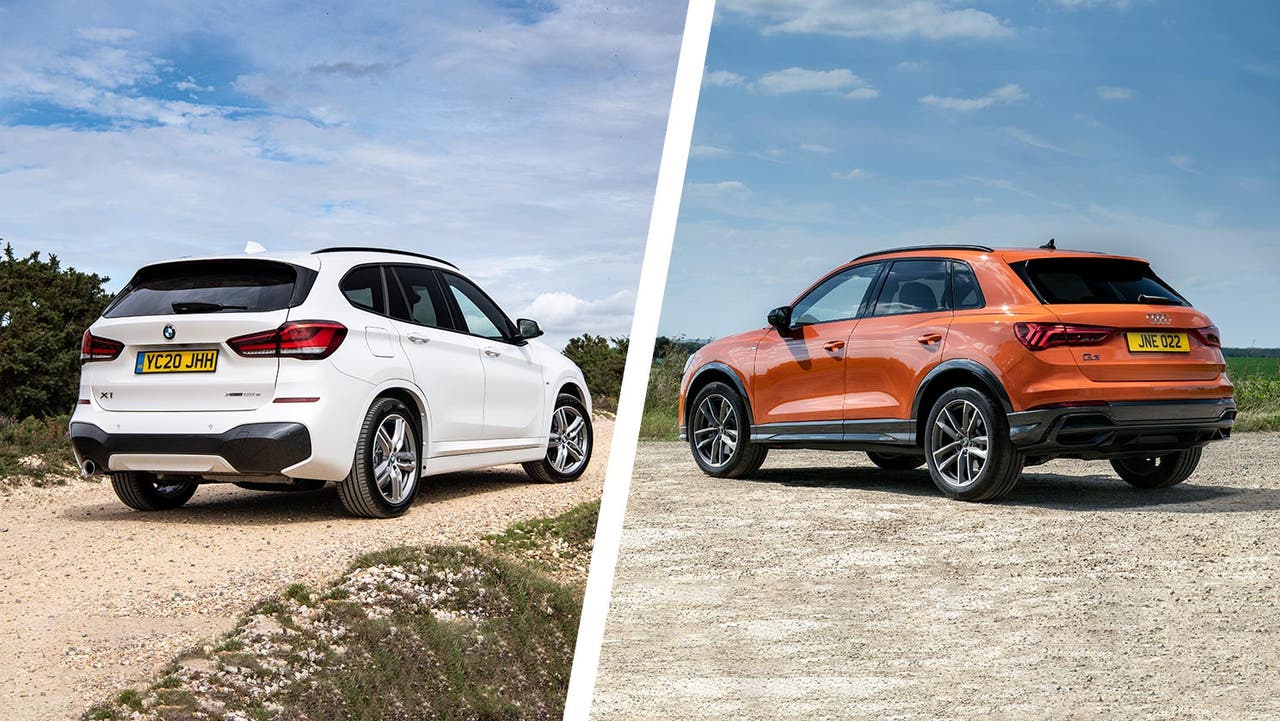 Because the objective differences between the X1 and Q3 are so small, there's no harm in simply picking the one you prefer the look of as there's no weak choice here. The BMW has so many of the tempting qualities that makes its stablemates so popular on the UK's motorways – it's great to drive with punchy engines, feels high quality inside and out, and is extremely practical considering its relatively small footprint.
You might prefer the Q3, however, for its tougher SUV-like appearance, for its more modern looking dashboard, or for its more comfortable ride quality. And, while the Q3 can't quite match the outright practicality of the X1, it's close enough that you're never going to notice the difference in day-to-day use, with the Audi still comfortably able to haul a family of tall adults and their luggage.
Shop nearly new BMWs and Audis
Browse Motorpoint's huge selection of nearly new BMW and nearly new Audi cars or check out our great savings on used BMW X1 and used Audi Q3 models. See how the Q3 gets on against its little brother in our matchup between the Audi Q2 and Audi Q3.