Motorpoint Asset Protection
Driving away your perfect car is exciting, and we want to help make sure the years spent with your car bring nothing but happy motoring.
However, the situation is sometimes taken out of your control. Imagine your car is written off because of an accident, fire or theft. What's more the normal reduction in your vehicle's value over time leads them to pay out less than the car was originally worth, leaving you out of pocket and having to find additional cash to fund a replacement vehicle or pay off your car's finance. How can you protect yourself against this potential loss?
This is where Motorpoint Asset Protection can help.
Motorpoint Asset Protection guarantees you'll recoup the original purchase cost of your car, so you can clear outstanding finance without losing out – for complete peace of mind.
How Does Asset Protection Work?
We offer Asset Protection to all our customers as an optional add-on. It's a convenient way to safeguard against the unexpected, with the option to claim up to the original cost of the car. Plus, you can cancel at any time* or transfer the cover to a new vehicle**.
Buying A Car On Finance
If you're financing your car and you purchase the vehicle for, let's say, £18,999 then the current finance settlement for your vehicle would be £19,200.
Your motor insurance company pay-out would be £12,000. That would leave £7,200 left to pay out of your pocket. If you have Asset Protection with Motorpoint, that's all covered so you wouldn't have to worry about clearing the rest of your outstanding finance.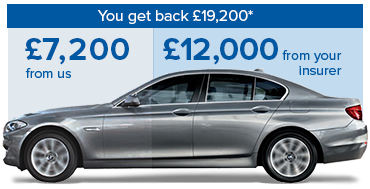 Buying A Car Outright
If you're buying your car with cash, it works almost exactly the same way. If you paid £18,999 for your car and it's written off for any reason, your motor insurance company pay-out would be £12,000. An Asset Protection pay-out of £6,999 tops it up to the price you originally paid.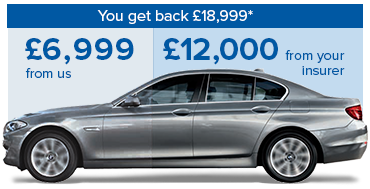 Asset Protection FAQs
Is There A Maximum Amount Motorpoint Asset Protection Will Pay-out?
Yes. The original purchase price of your car is the maximum amount you can claim. (Policy includes up to £250 of your insurance excess and £1500 of dealer fitted, manufacturer approved accessories).
Car hire contribution for up to14 days
Can I Cancel My Motorpoint Asset Protection Policy In The Future?
We're confident that you'll want to continue these policy benefits for the entire term of the agreement. However, if, for any reason, you wish to cancel your policy and you do so within 30 days, and no claim has been registered with Fortegra during this time, we'll give you a full refund. After that, you may still cancel at any point, subject to a £35 administration fee. You will receive a pro-rata refund reflecting the length of the term remaining.
Costs:
| Vehicle Cost | 3 Years |
| --- | --- |
| Under £15,000 | £329 |
| Over £15,001 to £50,000 | £399 |
Asset Protection is subject to terms and conditions.
Motorpoint Asset Protection, in the event of valid claim pays out the higher of the RTI or Finance GAP amount.
Policy duration: Cover is available for up to 36 months (depending on the premium paid). Please note the policy will cease earlier on the occurrence of either of the following events: a paid claim; or the vehicle is no longer in your possession and you do not notify us of a transfer. *Motorpoint Asset Protection is subject to terms and conditions. You should note there are certain limitations in terms of the maximum amount you may claim or transfer. Please ask your Motorpoint team for further details. Motorpoint Ltd is authorised and regulated by the Financial Conduct Authority for consumer credit and is permitted to advise on and arrange General Insurance Contracts, our FRN is 684004. **A £35 admin fee will be charged after 30 days.