Williams Paint Protection
Williams Paint Protection is a synthetic coat added to the exterior and interior* of your car to keep it looking as good as new.
Without Synthetic Coat protection your paintwork could become dull and faded over time, due to the atmospheric pollutants and harsh car wash chemicals it becomes exposed to over time.
A Synthetic Coat bonds with the pores in your car's paintwork, alloys, bumpers and glass leaving a smooth, high gloss finish.
What Does A Synthetic Coat Protect Against?
Prevents paintwork dulling
Protects against temperature extremes
Protection from plant and tree sap
Protection from atmospheric pollutants
Protects against UV exposure
Lifetime guarantee
Specific exclusions may apply, see terms and conditions.
Does A Synthetic Coat Really Work?
Don't just take our word for it - the results speak for themselves.
Paint protection has been tested independently by Scientific Material International for Boeing and approved for use in the aviation industry. The test proved that the product conforms to D6-17487 which helps stop paint softening and crazing. It also increased hardness of the surface within 24 hours of the Synthetic Coat paint protection being applied. This results in an increase of the 'beading' effect so dirt and grime just rolls off.
| | Synthetic coat | Traditional wax products | Traditional silicon products | Traditional polymer sealents |
| --- | --- | --- | --- | --- |
| Sunlight | | | | |
| Ultraviolet rays | | | | |
| Cold water/frost | | | | |
| Acid/acid rain | | | | |
| Hydrocarbons | | | | |
| Environmentally friendly | | | | |
| Alcohols | | | | |
**Please note, we do not apply paint protection to the roof of commercial vehicles

Protecting The Interior Of Your Car
In addition to Williams Paint Protection on the exterior of your car, we will also apply Synthetic Coat Fabric Protection to your car's interior*.
The Fabric Protection covers each fibre with a film that protects your interior fabrics from spillages and everyday stains. This film resists soaking from hot and cold drinks, food particles and dirt, so you can easily wipe clean surfaces that have been treated.
The Benefits Of A Synthetic Coat Fabric Protector
Prevents build up of dirt and grime

Hydrophobic

Invisible resin based material

Tested to prevent staining from spillages
* Synthetic Coat Fabric Protection is only applied to fabric upholstery. For leather seats, there is a Leather Protector available that helps keep your leather supple and prevents it drying out.
How Interior Fabric Protection Works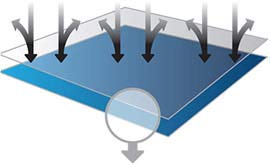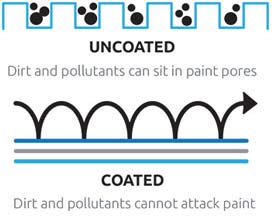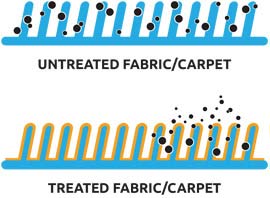 Synthetic Coat Protection FAQs
Will The Synthetic Coat Have To Be Reapplied?
No. The Synthetic Coat comes with a lifetime guarantee, so it will not need to be reapplied.
How Often Should Cars With A Synthetic Coat Be Cleaned Or Polished?

A regular wash with mild soap (not dishwashing detergent) and water is recommended.
Can I Take My Vehicle Through A Carwash If A Synthetic Coat Has Been Applied?

Certainly. A simple wash and dry cycle will not affect the Synthetic Coat and may be the best way to keep your vehicle clean.
Can I Use Any Vehicle Shampoo?

Yes, although it is advised that a leading brand is chosen or one that is specifically for cars with Synthetic Coats.
If The Vehicle Sustains Accidental Damage, Will I Need To Have It Recoated?

In the event of an accident, Synthetic Coat will be reapplied where necessary as part of the insurance claim.
Costs:
£329 (lifetime cover)
Other Products You May Want To Consider
Extend the warranty on your vehicle for added peace of mind with

Motorpoint Warranty
Ensure you are covered for the purchase value of your car in the event of an accident with

Asset Protection
The Williams name and logo are trademarks of Williams Grand Prix Engineering Limited and are used under licence. Williams Images © 2015 Williams Grand Prix Engineering Limited. All rights reserved. Ultimotive Ltd is the worldwide licensee of Williams car care products. Ultimotive Ltd Unit B, Park Farm, Colchester Road, Elmstead, Essex CO7 7BA UK.