Bring your favourite TV and film vans to life with Motorpoint
28 April 2022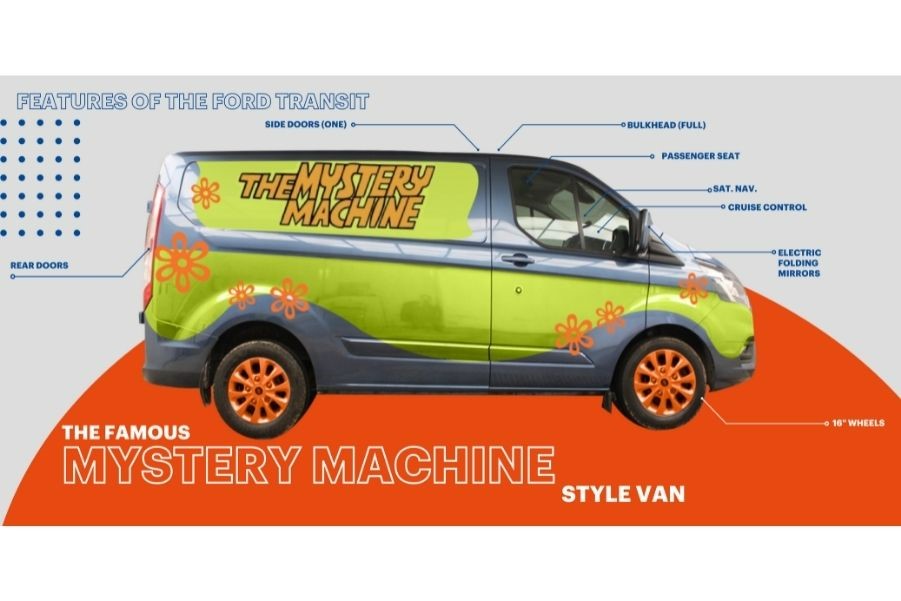 Photos © 2022 Motorpoint
As children, many of us sat down with our families in front of the TV and watched for the first time the iconic films and TV programmes we love to reminisce about today. Many of these films featured wacky vans to ferry the protagonists from one adventure to another, from Loyd and Harry Speeding along in a dog-shaped motor or the A-Team on their vigilante quest to clear their names. 
But what would these movie vans look like in the real modern world? Motorpoint has tracked down these famous vans' modern counterparts, so you too could create your very own version of your favourite TV and film van!
What would the Mystery Machine look like in 2022?
Solving ghostly mysteries and unmasking villains is on the daily agenda for this rabble of pesky kids. Scooby-Doo and the gang were an integral part of many of our childhoods from the late '60s all the way through to our modern-day kids. The iconic Mystery Machine has had many shapes and designs, from the traditional mid-'60s Chevy G-body panel to the Vauxhall 1972 Bedford CF B. But what would the Mystery Machine look like today?
Here at Motorpoint, we think that the Ford Transit Custom 320 L1 Diesel Fwd would make the perfect modern-day Mystery Machine.
Thousands of British businesses do indeed depend on the Ford Transit. This Custom version hits the sweet spot in the medium range LCV marketplace for a vehicle that's not too big - and not too small.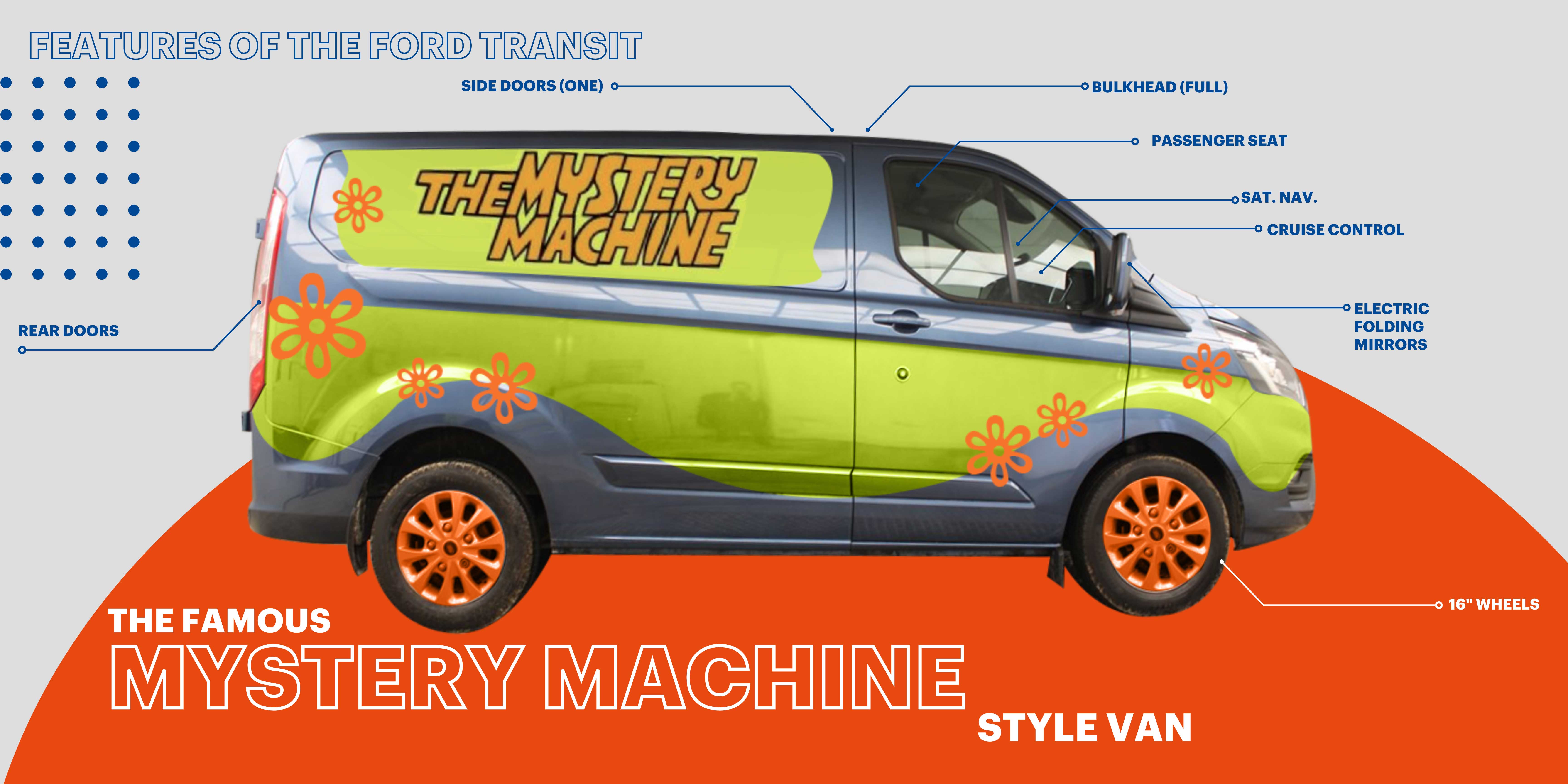 This Ford Transit Custom, with its low running costs and minimal fuel consumption, would be an excellent choice for a modern-day Mystery Inc while they travel the country fighting crime and unmasking culprits. It's not just an economically designed van either; the users will cruise around in comfort with the Ford Transit Custom's heated seat, high tech air conditioning and Bluetooth-enabled infotainment system.
Under the bonnet, this 2.0-litre Ford EcoBlue engine offers a 170PS power rating, with an engine capacity of 1996 cc and engine torque of 299 ft-lb. The other thing you notice at the wheel with these engines is how quiet they are, thanks, in part to, the 6-speed manual transmission with its long gearing and, of course, the provision of a standard bulkhead across the range of transit customs helps further here.
The playful handling and performance of the Transit Custom makes it essential that the brakes are up to the job - which they are! The tight turning circle that varies between 11.6m (kerb-to-kerb) and 12.2m (wall-to-wall) ensures the manoeuvrability of this vehicle can face almost any tight turn you throw at it. Should you be at an uphill junction, standard Hill Launch Assist will help you get away without a hitch.
With a sliding side door and rear doors, the Ford Transit Custom has easy access to the loading compartment, and the versatility of this van makes it the perfect all-rounder for a range of uses and needs.
What Would Mutts Cuts Look Like In 2022?
Dogs, dashing and crashing are three words that spring to mind when we think about the Mutts Cutts van from the classic Jim Carrey film Dumb & Dumber. Loyd and Harry use the van for a multitude of purposes, including transporting and grooming our furry friends, a long haul cross country road trip and, of course, those iconic rally-style jumps as they speed away.
So what would the Mutts Cuts Van look like if we plucked it out of 1994 and brought it to the present day? We think that a Mercedes-Benz Sprinter would be the ideal candidate for a crazy mobile dog grooming business!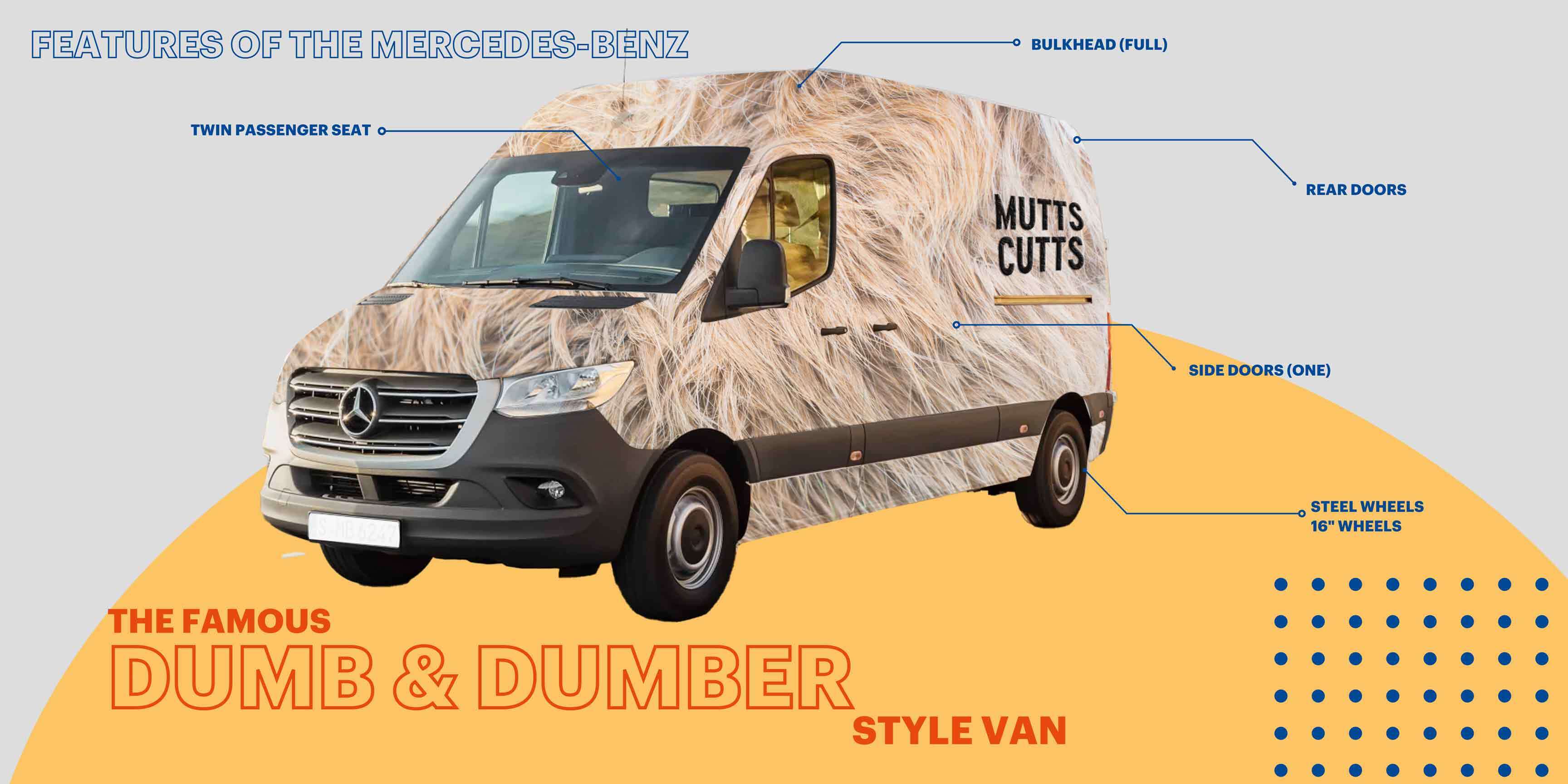 The Sprinter is considered one of the faster vans on the road right now, so you can be sure that Loyd and Harry will make it in time to win the heart of their latest fancy. Described by Mercedes-Benz as a 'toolbox on wheels', the Sprinter does everything you'd require of a big van, with payloads reaching an impressive 3,150kg. With a load length of 3.2 metres and a load capacity of 9.5ltr, there would be room for all the pups who need a trim and all the equipment necessary to style the pooches in the latest fashions!
The handling of the Sprinter is among the best of any large van, which allows even the most inexperienced of drivers to feel confident behind the wheel. Due to the smooth handling, the van remains comfortable and predictable on twisty and bumpy roads and even when carrying a full load.
What Would The A-Team Van Look Like In 2022?
Much like the Mystery Machine and Mutts Cutts, a modern-day A-Team van has some unusual requirements. Their van is pushed to its limits, and they try to evade capture from the military and hire out their specialist ex-military skill sets to those willing to pay for their services. We think that the best van for a modern-day vigilante crime fighting crew van would be the classic Volkswagen Transporter T30 LWB diesel.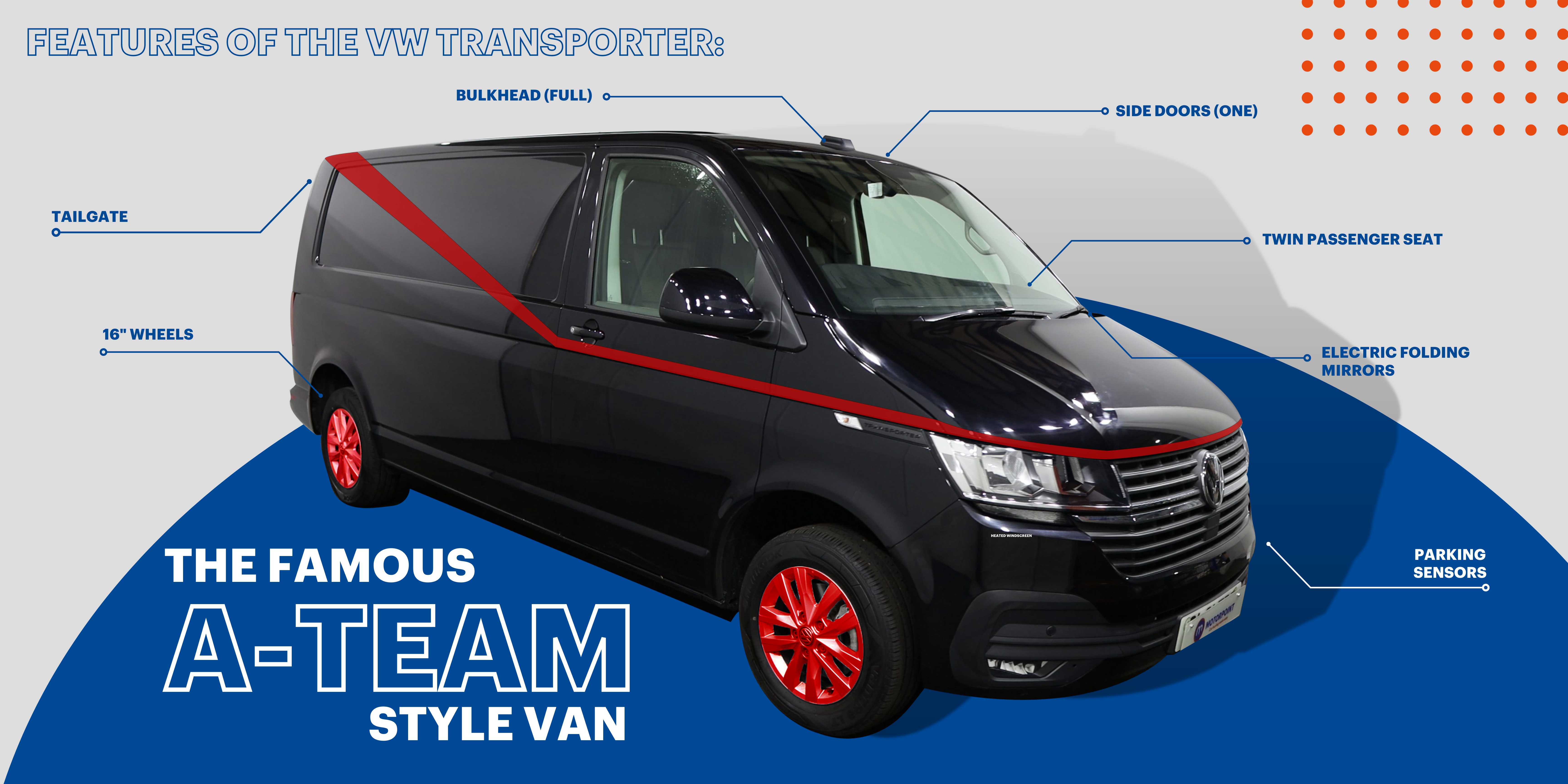 The four-cylinder engine produces its maximum power output at 3,500rpm. Peak torque of 250 Nm bites across a 1,500rpm to 2,500rpm plateau, and a five-speed manual gearbox comes as standard on this model. With a brake horsepower of 150 and an engine capacity of 1968 cc, you can be sure to generate enough speed to rival that of the A-Team's high-speed chases.
The dynamic tuning keeps the Transporter planted, stable and steady in its control and handling. Given the tall body profile, it's pretty impressive how you don't lose all of your velocity when tackling a corner; with the smooth and composed feel of this van, you can sit back and enjoy your travels on a variety of different roads, from motorways to winding country lanes.
For more information on any of the vans listed on our website, don't hesitate to contact the Motorpoint team, and we can answer any questions or queries you have regarding the purchase of a van.