Birmingham Clean Air Zone | Everything You Need To Know
25 March 2021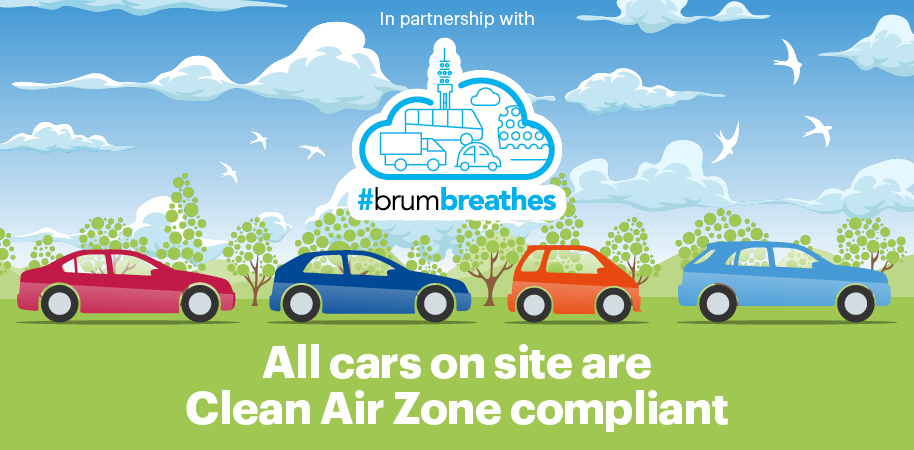 Photos © 2022 Motorpoint
A Clean Air Zone will be enforced in Birmingham from 01 June 2021. We explain more about what this means and how it will impact drivers.
What Is A Clean Air Zone?
A Clean Air Zone (CAZ) is an area where action is being taken to improve the quality of the air. One of the main methods this is achieved is by discouraging more polluting vehicles from entering the zone by enforcing a daily charge for travelling in the area.
Why Is Birmingham Getting One?
Birmingham has been identified as one of the cities with the highest levels of air pollution across the UK. Levels of nitrogen dioxide (NO2) are above the legal limit, and the Government has said the city needs to reduce levels of NO2 in the air to a maximum average of 40μg/m3 as soon as possible.
Poor air quality can increase the risk of respiratory diseases and heart failure, and air pollution contributes to over 1,000 deaths a year in the city.
Where Will The Clean Air Zone Be Located?
All roads within the A4540 Middleway Ring Road will fall in the Clean Air Zone. The Middleway Ring Road itself will not be in the zone. It will operate 24 hours a day, 7 days a week.
Which Vehicles Will Have To Pay The Clean Air Zone Charge?
Only the most polluting vehicles will be charged, so the chances are that this may not impact you. You can check the Government's vehicle checker to see if you will have to pay anything and how much.
Vehicles that will not be charged include
| | |
| --- | --- |
| Fuel Type | Exempt variations |
| Diesel | Euro 6 (VI) standard or better (roughly end of 2015 onwards) |
| Petrol (or LPG added to your original petrol engine) | Euro 4 standard or better (roughly 2006 onwards) |
| Gas | Euro 6 (VI) standard or better |
| Fully electric or hydrogen fuel cell | All are compliant and avoid CAZ charges |
| Hybrid electric | The diesel/petrol engine must meet the relevant criteria above |
How Much Will I Be Charged & How Do I Pay?
The amount you pay will depend on the size of your non-compliant vehicle. This is currently
£8 for cars, taxis and vans

£50 for HGVs, coaches and buses.
You will never be charged more than once per day, no matter how often you enter the CAZ during that time period.
What Happens If I Don't Pay The Charge?
You can pay for the CAZ charge up to 6 days in advance of your visit to Birmingham, on the day itself or up to 6 days after you have visited. If you do not pay the charge within these timeframes, you will incur a fine of up to £120.
Are There Any Exemptions?
There are some exemptions for residents and workers in the Clean Air Zone:
Residents in the Clean Air Zone

Workers in the Clean Air Zone

Commercial vehicles registered within the Clean Air Zone

Commercial vehicles with existing finance agreements

Community and school transport

Medical practice exemptions

Emergency service vehicles

Historic and military vehicles

Recovery vehicles

Showman's Vehicle
Anyone in these categories can apply for a temporary exemption permit. More information and the criteria for each can be found here.
How Can I Prepare For The Clean Air Zone Coming In To Force In Birmingham?
Make yourself aware of the date it will come into force - 01 June 2021

Use the government's online vehicle checker to see if your car will incur a charge

Consider alternative travel options or parking outside the CAZ area if planning a day trip to Birmingham

If you live or work in Birmingham, check if you are eligible for a temporary exemption

Consider switching to a lower emission vehicle - this could not only save you money on charges, but will reduce air pollution and help the environment too.
Should I Change My Car To A Lower Emission Vehicle?
Driving a vehicle that meets the emissions standards for the Clean Air Zone will mean that you won't be impacted by the charges coming into force on 01 June 2021.
Birmingham City Council have introduced a Clean Air Zone Travel and Scrappage Scheme, available to those people who work in the Clean Air Zone. The scheme gives eligible drivers the chance to scrap their old car and receive £2,000 credit towards a vehicle that meets the zone's emissions standard, and is available in partnership with Motorpoint.
Eligibility for the Scrappage and Travel Scheme is as follows:
You must be the registered keeper of the vehicle that doesn't meet the Clean Air Zone emissions standards.

Work at least 18 hours per week at a premises in the Clean Air Zone

Earn less than £30,000pa

Been the registered keeper of the vehicle since 10 September 2018
Full eligibility criteria can be found here.
Applications for the scheme will open prior to 01 June. In the meantime, you can learn more about the Travel & Scrappage Scheme and how you can receive £2,000 credits towards a CAZ-compliant vehicle with Motorpoint here.