5 must-know van conversion trips and tricks from Climbingvan
19 July 2022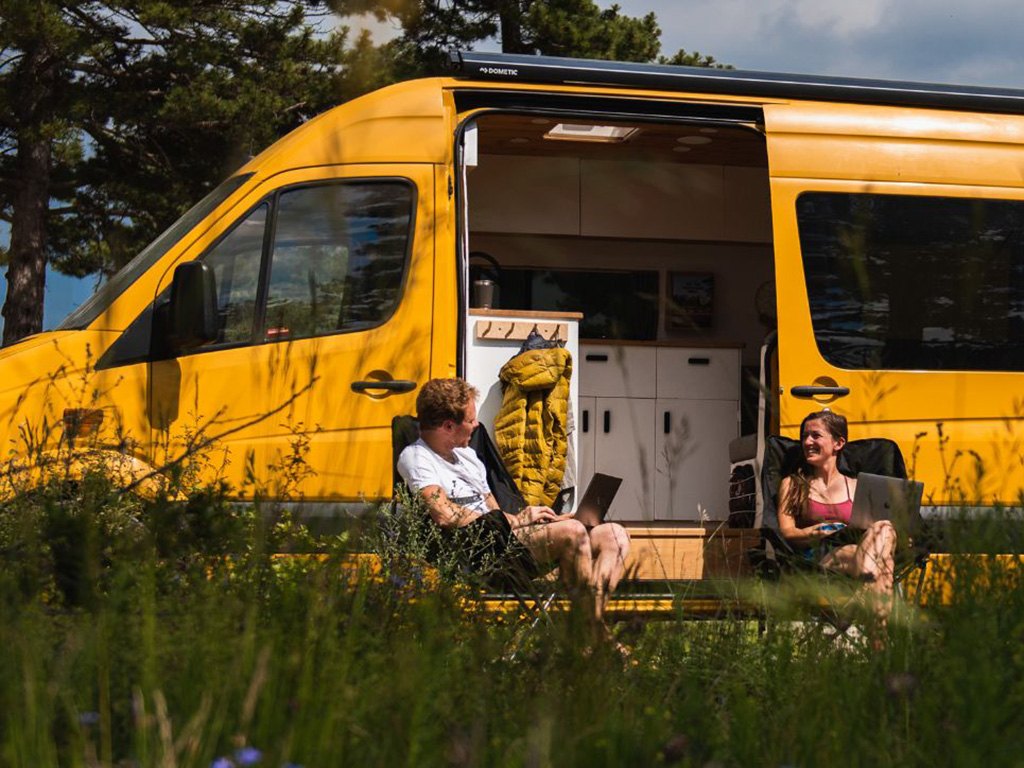 Photos © 2022 Various
Van conversion tips to make your self build as seamless and stress-free as possible from Climbingvan
There are many theories behind the change in perception of van life in recent years, from the increased cost of living and ever-inflating housing market, to the shift away from the typical 9-5 office job that the pandemic and hybrid-working brought.
There are so many benefits to the van life movement, including the freedom to explore, the ability to control your schedule and the financial freedom you gain outside the renters' market. Even if you aren't 100% committed to the concept of living full-time in a campervan, the ability to explore the incredible British countryside or hop over to Europe in a campervan still appeals to the vast majority of van owners and enthusiasts.
Motorpoint has partnered with the incredible Climbingvan, a British-based company founded by Charlie & Dale, two climbers with a passion for design and DIY, currently living full-time in their self-built campervan and travelling around Europe. Fed up with living for weekends and holidays, they gave up the stability of their 9-5 office jobs for life on the road and moved into their van. This allowed them to work remotely from the road with the mountains as their backdrop.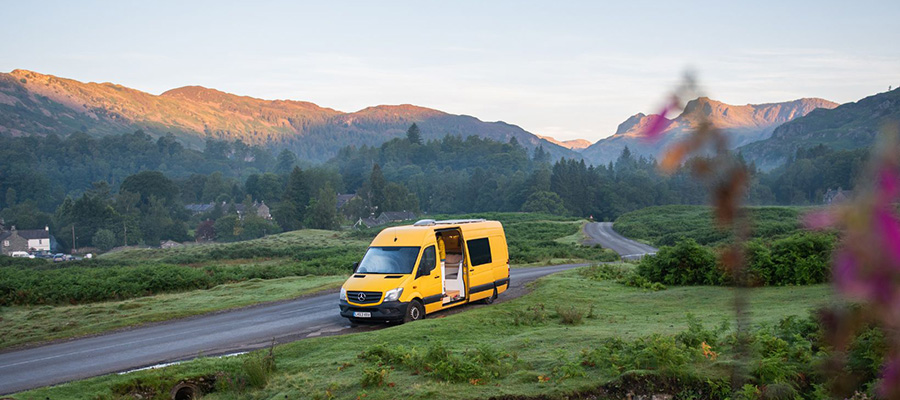 They have written one of the best-selling van conversion books: The Van Conversion Bible, which has received glowing reviews worldwide. With their engineering background, they created Nomadic Energy, their campervan and off-grid electrical system design service.
So who better than Climbingvan to share their 5 must-know van conversion tips and tricks? You can find a range of nearly new second-hand vans for sale at Motorpoint to set off on your converted van journey with.
Rent a campervan to test out the experience before committing to your conversion
Campervan conversions take a long time, and there would be nothing worse than spending months on your van build to realise you don't actually like living in one! A great way to test the water is to rent a camper to see if you enjoy van life and the challenges that come with it.
It's a great way of life, but it also requires some compromises. Luckily there are lots of companies out there who offer van rental of self-build campers, so you can pick one with the features you're planning on including in your own van and have a little adventure.
Invest in a workbench and a good working setup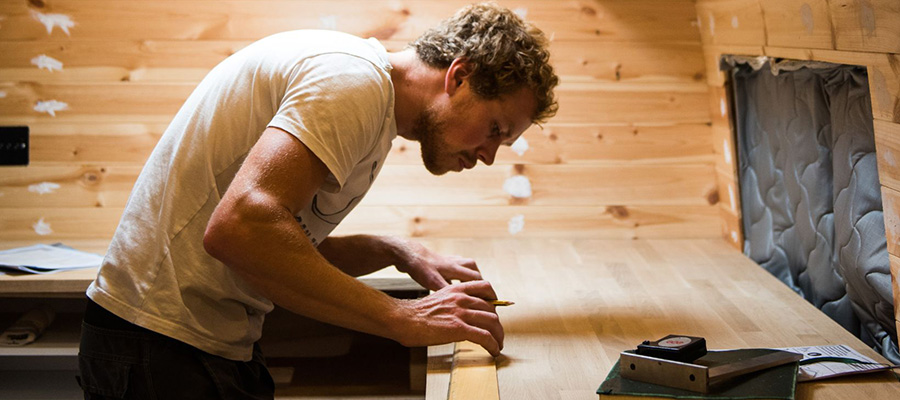 At the start of your conversion, you should ensure you have a good working setup, including a workbench. This will make you much more efficient and more importantly, save your back from a lot of pain! If each time you come to work on your van, you can easily access all of your tools and materials without having to spend an hour getting set up, you will save a lot of time and make much quicker progress on your build.
Plan a use for every inch of space in your campervan
In a campervan, space is at a premium. Living in a box that's a maximum of seven metres squared, it's important that you have a use for every corner of your van. Utilise overhead storage, wall-mounted shelves, cupboard dividers and multi-use spaces. Quite often, in a campervan, one area can have multiple functions. For example, our seating area has a slide-out table so we can use it for dinner, but we can also slide out an additional seat section to turn it into a sofa or even a second bed!
Don't be afraid about outsourcing to a professional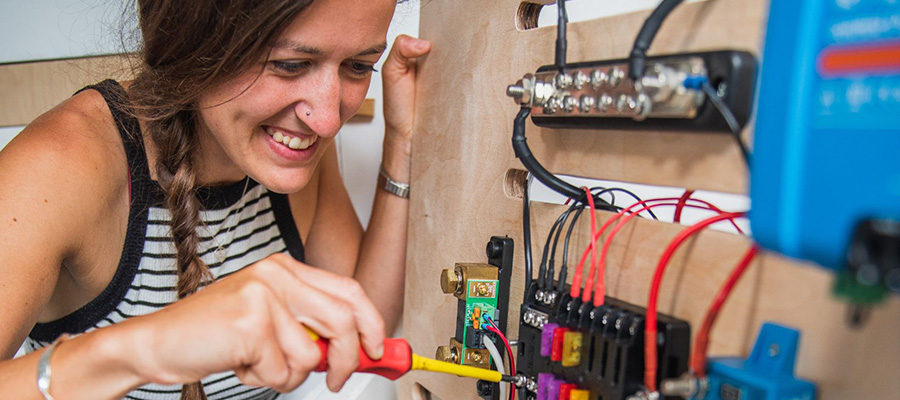 If there's a particular area of your conversion you're worried about tackling yourself, you shouldn't be embarrassed to ask for some help. For many, there's one part of the build - whether it be installing windows, a gas system, or the electrics - that's particularly nerve-wracking. If getting professional help with this area will enable you to make your campervan dreams a reality, then do it! Many van converters will outsource at least one part of their build.
Ensure you have a good internet connection in your campervan
If you'll be working remotely from your van, it's super important you have a good internet connection. There's nothing more frustrating than trying to have a video call and not being able to hear what the other person is saying!
We have an international SIM card which means we can use it anywhere in the UK and Europe, and a little Wi-Fi dongle. Simply put a data SIM in the dongle, and you can have Wi-Fi wherever you need it. We'd recommend avoiding roof-mounted antennas, which can be very expensive - simply placing your dongle in a window or skylight will have the same effect.
Find out more about van conversions
We'd like to say thanks for the tips and tricks Charlie and Dale! If you've been inspired to convert your own van visit climbingvan.co.uk, and why not browse our range of nearly new used vans for sale at Motorpoint.
Whether your van is your office, hobby or home, Motorpoint is here to show you that #WithAVanYouCan. Your dream van awaits!
Follow Dale and Charlie at @climbingvan or find out more via their website, climbingvan.co.uk or grab their book, 'The Van Conversion Bible'.