Customer Reviews
Motorpoint really values the feedback it receives from its customers. This is why we decided to share the latest comments our customers have posted on Feefo, the independent review site, after they've purchased their car from the UK's leading car supermarket.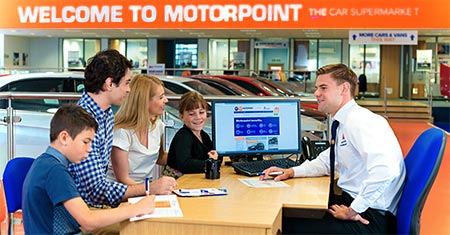 ---
Great price and friendly, informative staff.
Top of the range car at an affordable price.

Reviewed on: 20 May 2019
The two young men we dealt with were honest, helpful, caring, looked after us very well and answered all our questions and not pushey
Just what I wanted at the right price

Reviewed on: 20 May 2019
good service by James and easy through. out buying and selling
good car so far only had it a week

Reviewed on: 20 May 2019
Hugh's customer service was outstanding throughout. He gave us 5 star service from start to finish, keeping us updated on progress and explaining the reasons for delays.
Delighted. We're loving our new car.
Approachable and friendly staff. I liked how you could look around the cars with no pressure but could get information/advice if needed.

Reviewed on: 20 May 2019
Turned up straight after work with a car in mind - was able to test drive that evening and take home. Kamari was really helpful.
Great service. Attention to data I'll, made the whole process of buying a car easy. Bent over backwards to please the customer
Got two cars from them because of service
All the staff are helpful, not pushy, they help you and nothing is to much trouble. Once we had chosen the car discussions about the deal was ammicably made.
I have been using motorpoint for 12 years and can advise anyone that they will have a good experience, plus the coffee is... [Read More]

Reviewed on: 17 May 2019
Excellent customer service from Craig Ashton who sold us our new car and helped us protect it and Tom Marsh who did the collection, all the staff were very friendly and helpful! A delight to deal with all the way through!
Love the feel, runs perfectly! Excellent condition

Reviewed on: 17 May 2019
Very friendly staff and very efficient process
So far I am very satisfied.
Having purchased cars from many dealers including main dealers through the years, none come close to the professional, well structured and organised service that I experienced from Motorpoint. Nothing was too much trouble, the process was very slick right down to an after sales phone... [Read More]

Reviewed on: 17 May 2019
Very friendly, polite and efficient service
Very pleased with the car
Sam Weaver our salesman was excellent and was the difference

Reviewed on: 17 May 2019
Excellent service- not too pushy and very helpful.

Reviewed on: 17 May 2019
Very competitively priced vehicles and an easy transaction.
Love the new Qashqai. Some subtle improvements on our previous Qashqai such as the auto handbrake

Reviewed on: 17 May 2019
I hate buying a new car, but these guys made it painless.
Old car to new car in two hours, great service from Alex at Newport.

Reviewed on: 17 May 2019
Was simple and easy, a pleasure to buy from
Very happy, would recommend motorpoint

Reviewed on: 17 May 2019
Very friendly, non-patronising, confident when answering questions or making recommendations.
An excellent choice of vehicle, very up to date. Much better than I thought it might be when I was first introduced to it, I was wrong, your salesman was right.

Reviewed on: 16 May 2019
I would like to thank the personnel at Motorpoint the customer service was excellent from the support on the telephone to the handover of the car. Your customer care could not be faulted.
The lady which did the handover provided timely and helpful service, she let me know all the... [Read More]

Reviewed on: 16 May 2019
The whole car buying process was really easy, from my first call having seen the car on he web to picking it up was really easy and straight forward. The person that i saw at MotorPoint in Newport Sam Cooper was really friendly and a great person to deal with.
I love it,... [Read More]

Reviewed on: 16 May 2019
Very quick and easy process, got £1200 for my car as part exchange value which I really was not expecting. Would definitely recommend to others to use.
Been driving this car for a week now and already finding it 100 times better than the banger I traded in.
[Read More]
The service was excellent, even going out of their way to find the car i was interested in, top marks Kevin and the team
Love my new car, great quality and a really good price
Very easy, simple and quick. The gent (Kay) who showed us round the cars and took me out for a test drive was very relaxed and approachable, not at all pushy.
Love it! Very happy with my purchase

Reviewed on: 16 May 2019
this was my first experience at the motor point, I was very pleased with the attention and care, I am very happy with the purchase, I hope to be able to return soon to make a new purchase.i recomendes
this was my first experience at the motor point, I was very pleased... [Read More]

Reviewed on: 16 May 2019
Very relaxed proffessional. Excellent service by the sales man Gareth
Love the car had a swift previously

Reviewed on: 16 May 2019
Great service very helpful and friendly was not bogged down with endless paperwork, left the forecourt with the car within one hour of being seen.
Very happy with the car

The wife and four kids love it ...which is the main thing.

Reviewed on: 16 May 2019
Ben who sold us the car was extremely pleasant and very helpful. He did not pressurise us in anyway and certainly knew what he was doing. When we collected the car I think it was Mary who dealt with us and I can say that she was super efficient and,like Ben, very polite and courteous... [Read More]

Reviewed on: 15 May 2019
I have been dealing with Peter Camilleri on sales since 2008 and I have purchased six cars from Motorpoint since that date, I have always had superb service from Peter and expect that I will get the same service on my next visit.
First class vehicle in every way.

Reviewed on: 15 May 2019
EXCELLENT SERVICE FRIENDLY AND HELPFUL
LOVE THE RANGE ROVER AND GREAT PRICE

Reviewed on: 15 May 2019
The salesman, Cobi, was extremely helpful, honest and friendly. Definitely not what you expect from a used car salesman!
Love it! Just what I wanted...

Reviewed on: 15 May 2019
No pressure sale and staff very polite and courteous. Cars look good and a wide choice through the franchise but above all the prices seemed good
Car is great but a few marks and scuffed hopefully these will all be sorted after a phone call. Customer service seem... [Read More]

Reviewed on: 15 May 2019
Nick Barne was great, helpful and made me feel at ease as I went in on my own, he explained everything really well!
I absolutely love it, it's so nice!

Reviewed on: 15 May 2019
Drove over 3 hours to visit motorpoint Birmingham and they didn't disappoint. We had multiple people approach us when we arrived offering to help, and the lady we dealt with, Sonia, was lovely and really helpful. Such a quick turn around and will definitely be back to buy more cars from... [Read More]

Reviewed on: 15 May 2019
Excellent customer service. Nothing to much. Ben our sales guy was unbelievably helpfull. Pick up was great thanks to Chloe.
Will be back for my next car.

Reviewed on: 15 May 2019
Very efficient and friendly staff. Would definitely recommend Motorpoint.
Very satisfied with my purchase.

Reviewed on: 15 May 2019
Very easy service start to finish
Excellent car.............

Reviewed on: 15 May 2019
Andrew was fantastic as was the lady who sorted the final paperwork and finance docs. She even showed me how to use all the functions in my car which I've never had before when buying a car
Loving it, it's perfect for me

Reviewed on: 15 May 2019