Motorpoint to host not one but two Drive In Cinema's next month in Sheffield
18 August 2020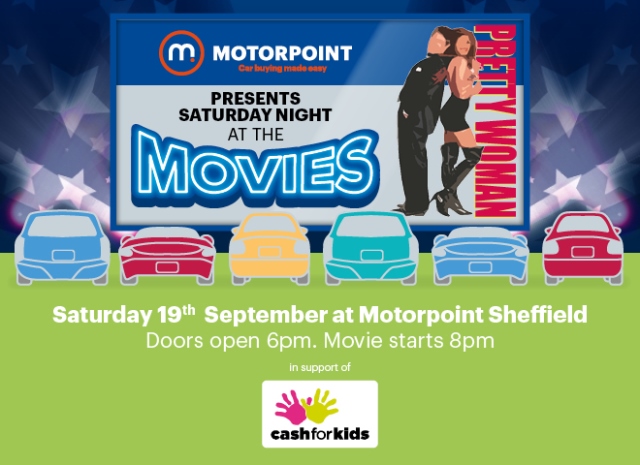 Photos © 2021 Motorpoint
Motorpoint is set to host not one but two special charity Drive In Cinema nights in Sheffield next month
"We're really looking forward to welcoming film goers from across South Yorkshire to enjoy not one but two great movies next month – all in aid of Cash for Kids"
Motorpoint is set to host not one but two special charity Drive In Cinema nights in Sheffield next month.
The UK's largest independent car retailer, which is based on the Sheffield Business Park, is joining forces with Cash for Kids for the fundraising events at Motorpoint on Saturday, September 19 and Sunday, September 20.
Motorpoint will be showing the iconic 90s rom com 'Pretty Woman' starring Julia Roberts and Richard Gere in the grounds of its' seven acre branch, minutes from both J33 and J34 of the M1.
Gates for the event will open at 6pm and the film is scheduled to start at 8pm. Entry is £20 per car per night. All proceeds from ticket sales will go to Cash for Kids, the Sheffield-based children's charity, which works tirelessly to support children under the age of 18 who are sick, disadvantaged or in need of extra support.
Food and drink will be available on both nights while guests will have the chance to win a host of prizes prior to the film with what promises to be South Yorkshire's biggest-ever Drive In Bingo. Hallam FM will also be creating a special movie themed soundtrack to be broadcast directly into people's cars.
And, on the following night, Sunday, September 20, fellow 80s classic 'Top Gun' starring Tom Cruise and Kelly McGillis, will be shown following a social media poll involving thousands of people from across South Yorkshire.
Chris Goodison, General Manager of Motorpoint Sheffield, said: "We're really looking forward to once again hosting our Drive In Cinema in Sheffield and welcoming film goers from across South Yorkshire to enjoy not one but two great movies next month – all in aid of Cash for Kids."
Allan Ogle, Charity Manager, Cash for Kids, added: "We are extremely grateful to Motorpoint for putting on a Drive In Cinema. They both promise to be great nights for all concerned for so many different reasons."
Motorpoint Sheffield is located at Europa Link, Sheffield Business Park, Sheffield S9 1XU. Tickets for the Drive In Cinema on Saturday, September 19 and Sunday, September 20 are available from the Hallam FM website. For more information, including a chance to win VIP tickets, go to here