Motorpoint raffle raises over £1,000 for Newlife charity
06 January 2017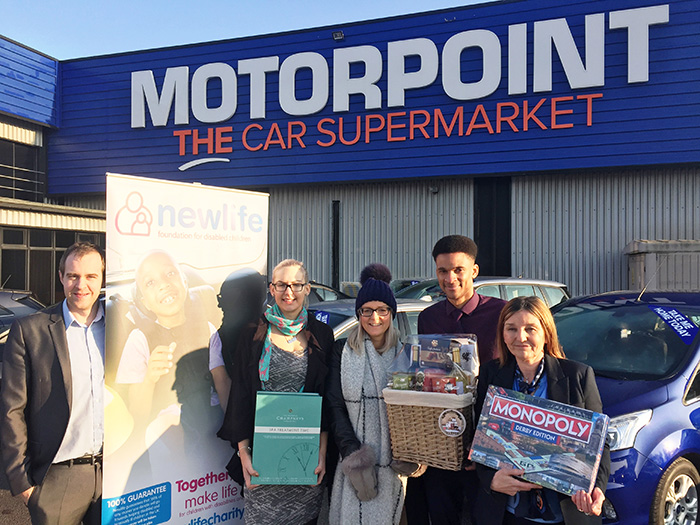 Photos © 2021 Motorpoint
Motorpoint staff have helped to raise over £1,000 for Newlife - the disabled children charity
"Not only did Motorpoint provide a bit of festive cheer for its customers, it will also be cheering and helping to improve the life of a family in 2017"
The UK's leading car supermarket teamed up with its suppliers last month to donate a host of prizes for its annual Christmas Charity Raffle. These included items such as an Apple iPad 2, Smart TV and a Harrods Hamper together with Thomas Cook and M&S vouchers.
And, staff across the Motorpoint staff didn't disappoint, spending an impressive £1,080 on raffle tickets in aid of Newlife during December.
"I'd like to thank everyone who donated prizes as well bought tickets for our annual Christmas Charity Raffle," said Satvir Atwal, General Manager of Motorpoint Derby. "Every penny that has been raised will go towards supporting the great work carried out by Newlife."
Added David Reeves, Regional Fundraising and Awareness Manager at Newlife: "Not only did Motorpoint provide a bit of festive cheer for its customers, it will also be cheering and helping to improve the life of a family in 2017. Every penny of the £1,080 will be used to help provide specialist equipment for a disabled child or children."
Motorpoint would like to thank the following companies for donating prizes for the Christmas Charity Raffle: Auto Protect; BCA; Black Horse; Close Brothers; Culeth Construction; DSG; Evolution Finance; GRS; Irongate; On Advertising; Manheim; Mobile Services; Node 4; Northridge Finance and Paul Joyce Specialist Remarketing.
For more information about Newlife, the country's largest funder of children's specialist disability equipment, visit www.newlifecharity.co.uk.