Motorpoint launches search for Birmingham's best mum
15 February 2018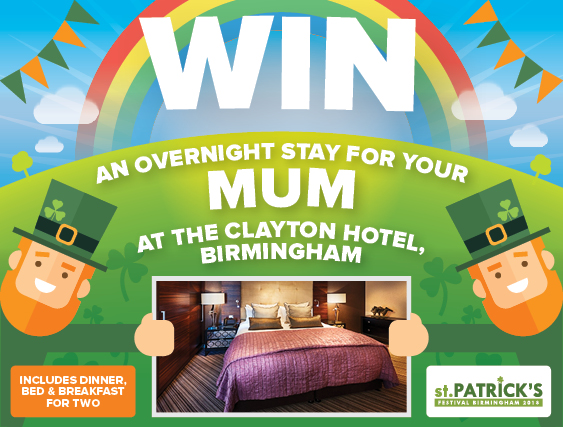 Photos © 2021 Motorpoint
Motorpoint has begun a search to find Birmingham's 'Best Mum'
"Mum's are the great unsung heroes of every family, so we thought why not recognise their contribution by creating a competition that rewards their efforts in time for Mothering Sunday"
The UK's leading car supermarket is calling on families to nominate their Mum as part its support for the 2018 St Patrick's Day Parade – which this year falls on Mothering Sunday – March 11.
Motorpoint has been a long-standing supporter of the annual event, which last year saw 90,000 people line the route from Camp Hill to Digbeth. Every year the St Patrick's Day Parade adopts a theme and this year's will focus on 'Iconic Women of Birmingham' to coincide with the centenary of women gaining the right to vote.
And, to link in with the theme, Motorpoint is inviting people of all ages to nominate their 'mums' for a chance to treat them not only to a luxury night's stay at the Clayton Hotel but also a prime spot in the parade followed by lunch for the whole family back at the Clayton Hotel.
John McConnell, General Manager of Motorpoint Birmingham, explained: "Mum's are the great unsung heroes of every family, so we thought why not recognise their contribution by creating a competition that rewards their efforts in time for Mothering Sunday."
To enter the competition, simply click on the link below and explain in 75 words or less why you think your 'mum' deserves to win. The deadline for entries is Thursday, March 1, 2018. The winner will be announced the following day by Anne Tighe, chair of The Birmingham St Patrick's Committee, at the launch of the 2018 St Patrick's Day Festival at the Rowton Hotel on Friday, March 2, 2018.
Motorpoint has 12 branches across the UK. Each branch stocks over 500 low mileage nearly new cars from over 30 manufacturers, all available to drive away on the same day.
To enter our Birmingham's Best Mum competition simply click here