Motorpoint is once again named one of the best companies to work for in the UK
28 February 2018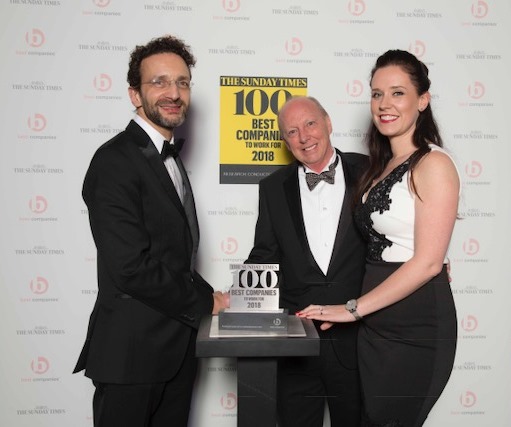 Photos © 2022 Motorpoint
Motorpoint has once again been named one of the Best Companies to Work For in the UK
"We are absolutely delighted to once again be named among the Top 100 Companies to Work For – for a fourth consecutive year. It is a huge honour for everyone at Motorpoint, particularly with us achieving a Top 50 placement for the first time"
The UK's leading independent car retailer was awarded the prestigious honour at a special ceremony hosted in Central London by Best Companies and the Sunday Times. Motorpoint employs over 800 people nationwide and was ranked 42nd overall in the Top 100 Best Mid-Sized Companies to Work For category – its highest ever position to date.
The Best Companies to Work For concept was created over a decade ago to recognise excellence in employee engagement. Every year thousands of companies are measured on the level of engagement among employees, with only those businesses with the highest level of overall employee engagement qualify for the Top 100.
Explained Mark Carpenter, Managing Director of Motorpoint: "We are absolutely delighted to once again be named among the Top 100 Companies to Work For – for a fourth consecutive year. It is a huge honour for everyone at Motorpoint, particularly with us achieving a Top 50 placement for the first time.
"Such recognition is only possible thanks to the support of the whole company and I would like to take this opportunity to thank every member of staff for their part in helping to bring our company values to life."
Added Mark Carpenter: "Motorpoint is set to celebrate its 20th anniversary in April so it was particularly fitting that our founder, David Shelton, who retires shortly, was present at the awards ceremony to join in the celebrations. David has been pivotal in building the business into the market leader it is today so it is particularly pleasing for everyone that we have achieved our best result to date this year."
Founded in 1998, Motorpoint has a network of 12 branches across England, Scotland and Wales which stock over 7,000 low mileage nearly new cars from over 30 different manufacturers – all available to drive away same day. This is supported by a state-of-the-art UK based online contact centre in Derby which opened last year. Last month Motorpoint was also awarded Gold Service Status for a second successive year from Feefo in recognition for delivering exceptional customer service during 2017.