Bethany Lamond shares her experience of buying her first car from Motorpoint during lockdown
15 June 2020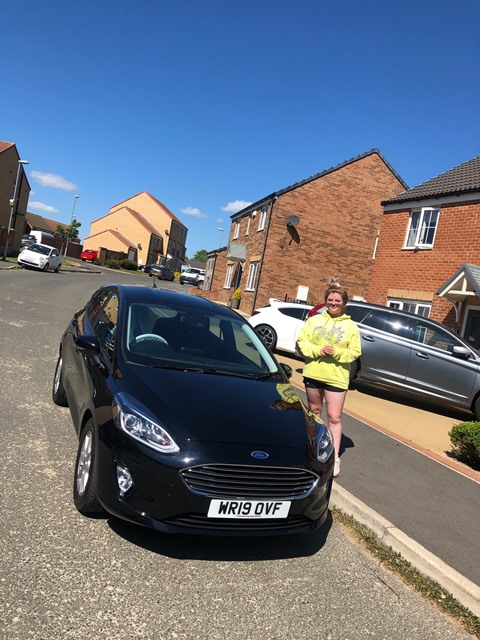 Photos © 2021 Motorpoint
Bethany Lamond has never bought a car before from a dealership so when the field-based Sales Rep from County Durham decided to take the plunge recently she wanted to make sure everything was just right
"I've been furloughed from work for several months now and I'm not sure still when I'll be going back but whatever happens at least I've got the new car that I've wanted for ages - so I'm happy"
"I've never bought a car from a dealer," the 22 year old explained. "I had an old Nissan Micra which I loved but everything was starting to go wrong with it so a while back I decided I needed to change it. I do about 20,000 miles a year so I needed something that looked good but was easy to park as I make a lot of visits and wouldn't cost too much to run.
"I'd set my heart on a Ford Fiesta but everywhere I went nothing really jumped out at me until I went onto the Motorpoint website and saw the choice they had at their branch in Birtley. I sorted everything out and arranged to collect it on March 23 – which of course as everyone knows is the day that we went into lockdown. Typical!"
Undeterred Bethany kept in contact with the team at Motorpoint throughout April and May and organised for her new Ford Fiesta Eco Boost Navigation to be delivered to her home in the North East at the start of June.
"I was so excited when they brought it to my house" explained Bethany. "I was outside telling my neighbours about it ironically when it arrived. I'd been watching videos on YouTube about the Ford Fiesta during lockdown but when the guys from Motorpoint actually gave me the keys I couldn't quite believe it. It felt so surreal after waiting almost two months for it to actually be mine. I just wish I wasn't wearing a bright yellow jumper when they asked to take my photograph. God knows that they thought of me."
Added Bethany: "Delivering your car to your door is definitely the way forward based on my experience. My partner Jack is currently learning to drive and I've already told him to go to Motorpoint and use the home delivery service as well. So expect a call from him soon.
"I've been furloughed from work for several months now and I'm not sure still when I'll be going back but whatever happens at least I've got the new car that I've wanted for ages - so I'm happy."