Competition between the BMW 3 Series and Audi A4 has always been fierce. They're two of the most talented saloons in this class, so it's no surprise that you see so many slogging up an down the UK's motorways.
With these cars so evenly matched, choosing the right one for you becomes a game of fine margins. We'll compare this pair of posh saloons – or estates – to help you decide which one deserves a spot in your parking space.
BMW 3 Series vs Audi A4 compared
BMW 3 Series
Audi A4

Pros:

Sportier handling
Auto gearbox slightly smoother
Slightly larger back seats

Pros:

Comfortable, composed ride
More affordable on the used market
Stylish, plush cabin

Cons:

Pricier like-for-like
Slightly firmer suspension
Steering feels oddly heavy

Cons:

A little less rear legroom
Not quite as fun to drive
Auto isn't as smooth at slow speeds
Styling and design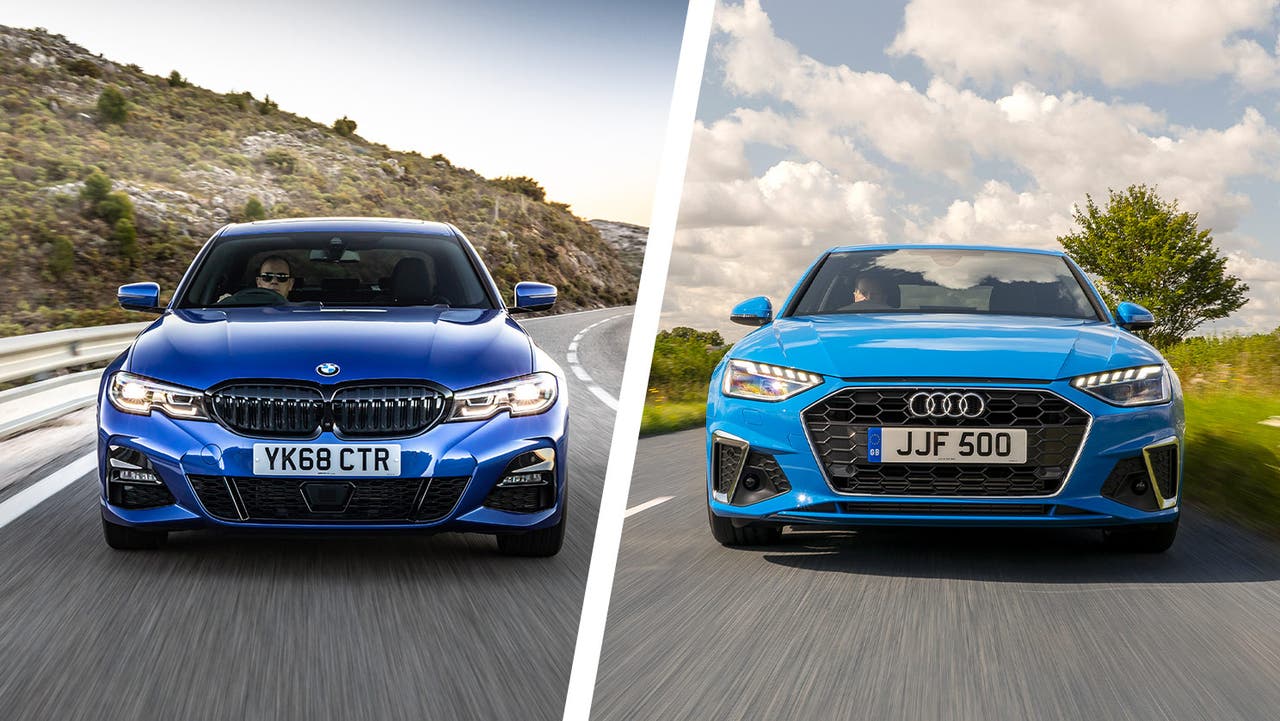 BMW launched a new 3 Series in early 2019 but you'd be hard pressed to tell it apart from the previous generation – the look is very much an evolution of the model that went before. You still get the brand's snouty 'kidney' grilles at the front, flanked by mean-looking twin-element headlights. The rest of the 3 Series' body work has muscular ripples, giving it a purposeful presence and a sporty stance.
The A4, on the other hand, has been on sale since 2016 with a facelift in late 2019 to keep it looking fresh. Its design is simpler than the 3 Series, with a classic-yet-elegant 'three-box' shape reminiscent of older saloon cars. The front end makes its presence felt thanks to Audi's broad hexagonal grille and pointy headlights. To our eyes, we slightly prefer the Audi's cleaner, less fussy look, but the difference is hardly night and day so neither car would seem out of place in the company car park.
Interior and practicality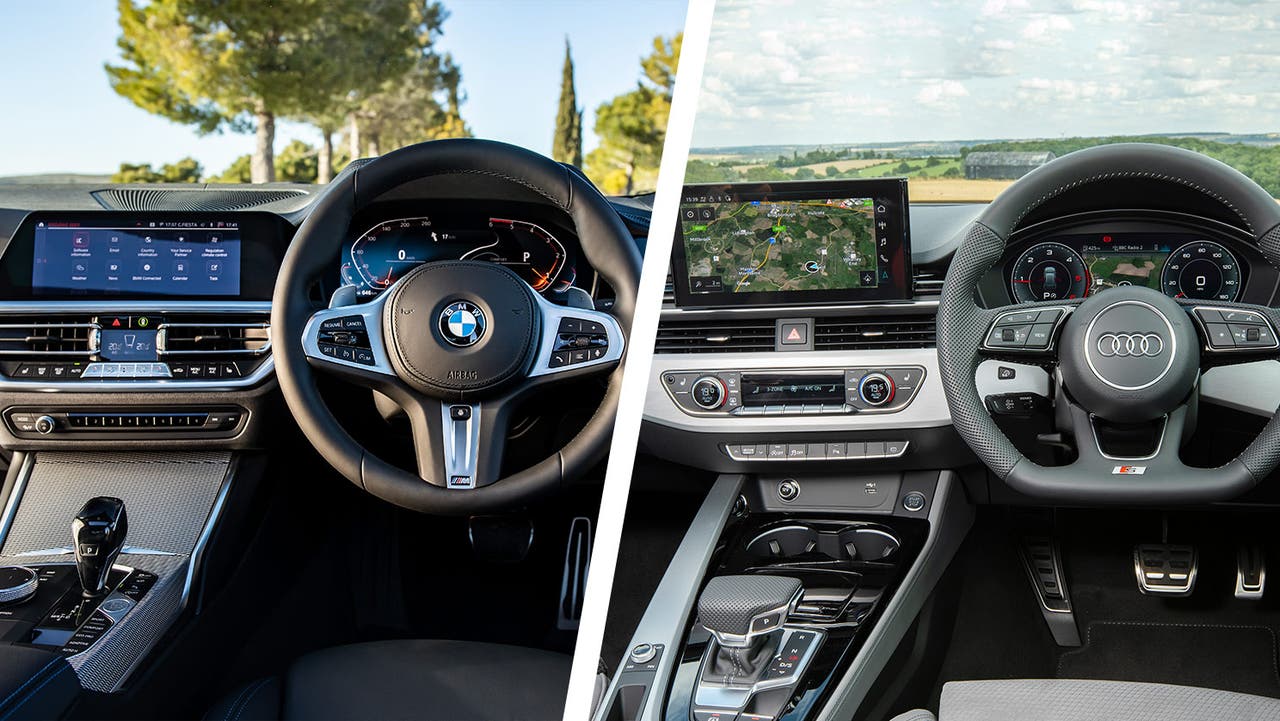 Cabin quality matters for premium car buyers and neither the 3 Series nor the A4 disappoint in this area. Their cabins both make extensive use of metal and metal-effect surfaces, along with soft-touch and leather trim to cocoon you in a luxurious lounge, separated from the hubbub of the traffic outside. The BMW's has a more cockpit-like feel, with the dashboard subtly pointed towards the driver, while the Audi's simpler cabin styling makes the front seats feel a little more spacious.
These models are at the smaller end of each brand's lineup, but both the 3 Series and A4 still need to deliver good rear room. Neither fails in this regard, although there are a few extra millimetres of legroom in the back of the BMW – you'll probably only spot this if you bring your ruler with you, however. Seating three across the back row in either car is best saved for short journeys – elbow and shoulder room will be in short supply for all passengers.
Both models here feature 480 litres of cargo room when specified as four-door saloons. That's about enough for a family's holiday luggage or a pushchair and baby bags. The A4's boot is a little more square than the 3 Series, however, so it might be the better choice if you often max out your cargo area. For better practicality, you might want to look at either the BMW 3 Series Touring estate and the Audi A4 Avant estate.
Engines and performance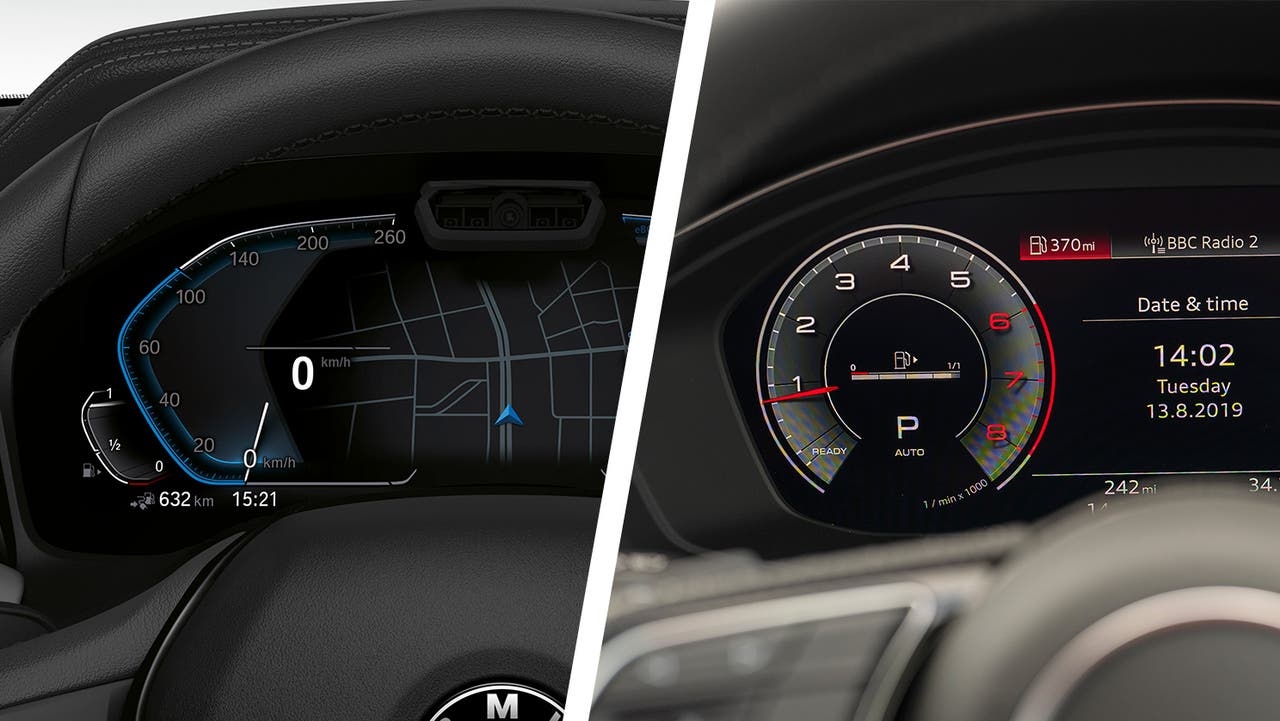 Most 3 Series and A4 models come with four-cylinder turbo engines, with both petrol and diesel options and a range of outputs. That means you can buy either car with pretty much as much power as you want – either opting for a cheaper, more-efficient entry-level model, or any of the more potent versions higher up the range.
Buyers covering an average annual mileage across a mix of urban, suburban and higher-speed roads will be well suited by either car's petrol engines. The entry-level petrol engines in the 318i and A4 35 TFSI can start to feel a little out of puff if you ask for a lot of overtaking power, so we'd be tempted to avoid these in favour of the 320i and A4 40 TFSI respectively, which both offer noticeably more punch.
Lots of buyers, however, will be looking at diesel engines for these models. Thankfully, neither the BMW nor the Audi fall short here either, with all diesel engines delivering respectable performance and excellent long-range efficiency. On the road, the BMW's 318d or 320d 2.0-litre diesel is a little more grumbly than the equivalent Audi engine and doesn't feel quite as eager off the line but, once on the move, you'd struggle to tell any difference.
Driving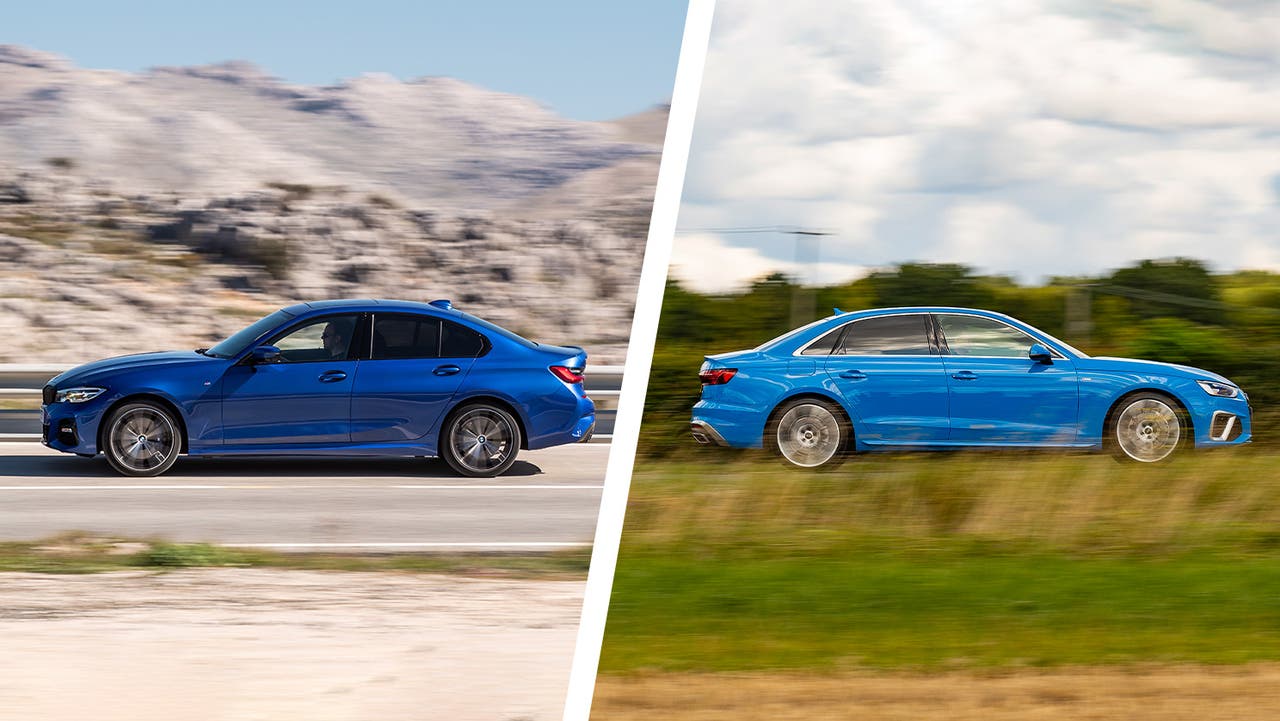 On the road, the BMW impresses by nearly every metric. It isolates passengers from road bumps with almost no body roll to speak of in corners. This is backed up by sharp controls that help it feel responsive, agile and composed whether you're on a rutted back road or the overtaking lane. The eight-speed automatic gearbox doesn't launch off the line as hard as the A4, but is smoother when manoeuvring.
The A4 isn't as sporty as the 3 Series but it's still an excellent car to drive. Its front end lacks the outright agility of the 3 Series but the combination of comfort and composure means you feel confident regardless of road conditions. Directly compare the two cars side-by-side and you'll notice the A4's steering is more naturally weighted and its auto gearbox is more willing to respond to prods of the accelerator, although it can occasionally jerk around when parking.
Behind the wheel, you'll have to decide if you prefer the 3 Series' slightly more fun handling or the A4's slightly more comfortable ride. Bear in mind, however, that neither performs badly in areas where the other excels, so you'll probably enjoy driving whichever car you end up picking.
Value and reliability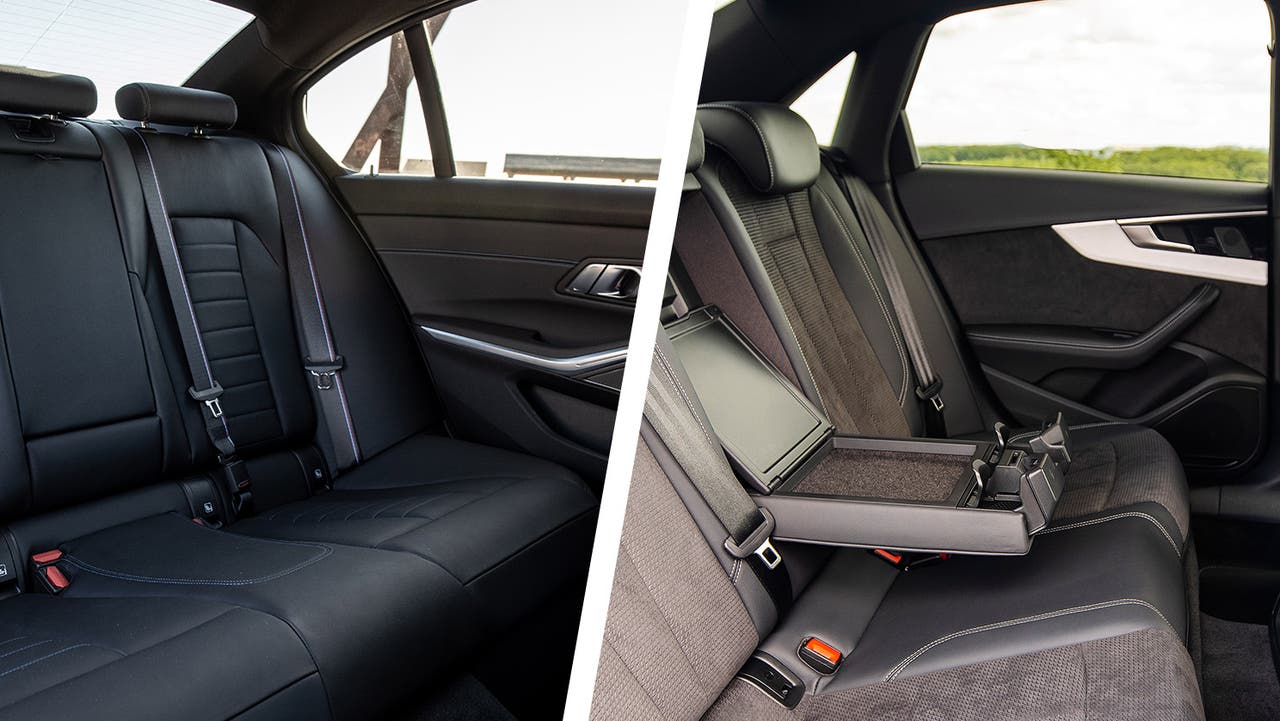 Taking a broad look at the used markets for the 3 Series and the A4, there tends to be a wider selection of entry-level and lower-spec Audis than BMWs, which are more often equipped with a mid-range engine and trim combo. As a result, buyers looking for a nearly new or used example on a smaller budget will find more choice in the A4 range than they will in the 3 Series lineup.
This distinction remains even if you choose a higher-spec Audi to directly match an equivalent BMW. Mid-range A4s tend to be around £1,000 more affordable than comparable 3 Series cars, so you'll be getting a newer car or more spec for your budget. We expect servicing for the Audi to be a little more affordable than the BMW too, thanks to sharing so many parts with other Volkswagen Group cars.
Neither BMW nor Audi tend to score top marks in reliability surveys – often because, as premium brands, they include more equipment than the average car, meaning more things that can go wrong. We've not heard of any widespread problems with either the 3 Series or A4 lineups, but you'll need to keep up with scheduled maintenance to give both cars the best chance of lasting a long time. Like all used cars, purchasing an extended warranty can protect you from the cost of unexpected mechanical or electrical failures.
Which is best?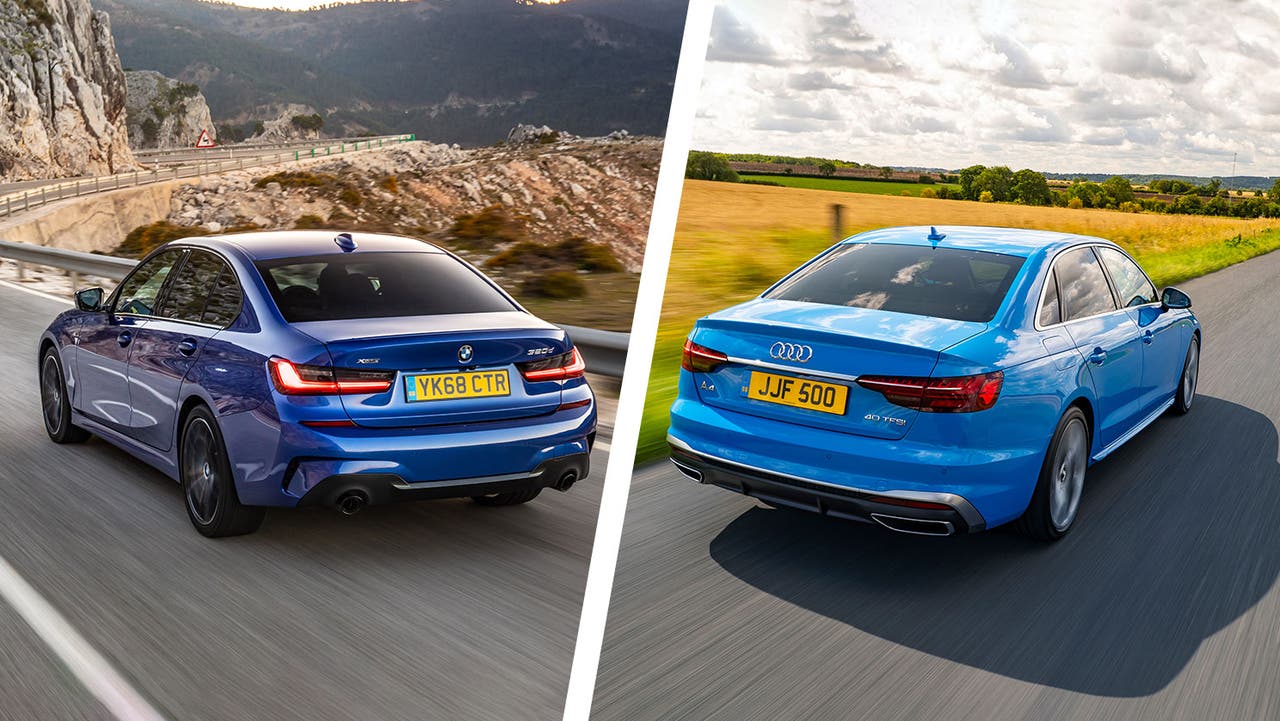 When it comes to premium saloons, both the 3 Series and the A4 are at the top of the class, so choosing between them can be tough. The BMW is a little more fun behind the wheel and a bit more spacious, but the Audi is more comfortable and more affordable. What we can say with certainty, however, is that, if you prefer one over the other, you won't be disappointed when you come to drive it.
See how much you could save against the brand-new price by taking a look through Motorpoint's range of used BMW 3 Series or used Audi A4 cars, all with warranty coverage and the protection of our Price Promise. Your saloon budget will also cover either BMW or Audi's smaller SUV models so check out our comparison between the BMW X1 and the Audi Q3.