Extended warranty
Find out more about the features included with the Motorpoint Extended Warranty.
The Motorpoint Approved Warranty has been designed to protect you against the costs incurred in the event of an electrical or mechanical failure of a covered component or breakdown/immobilisation of the vehicle.
All mechanical and electrical components are covered against any mechanical or electrical breakdown occurring during the cover period (subject to the terms and conditions of this facility having been fully complied with).
Watch the video below to see what's included in the Motorpoint Extended Warranty:
Our extended warranty in a nutshell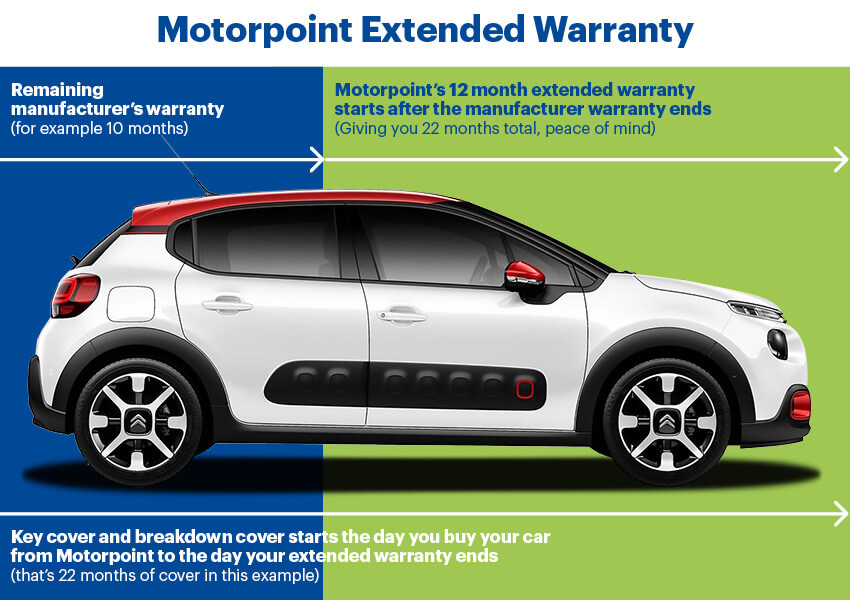 Key features
- All mechanical and electrical parts covered*
- Repairs to all included parts
- No labour rate cap**
- VAT all inclusive
- No individual claim limit
- Repairs at any VAT-registered garage
- Available for up to 24 months
- Consequential damage cover included

*subject to terms, conditions and policy exclusions
What's included with your Motorpoint warranty?
Motorpoint Warranty also includes Motorpoint Breakdown, MOT Test Protection and Key Cover.
Motorpoint breakdown
Help is at hand when you have an unexpected breakdown.
Your Motorpoint warranty includes breakdown insurance that covers all mechanical and electrical parts (including labour to fit them), of your insured vehicle against mechanical breakdown.
If your vehicle suffers a mechanical breakdown your policy will cover your vehicle, you and up to five passengers to be recovered to the nearest garage (or to your home address or original destination if the former is not possible).
Your warranty also includes Home Assist and emergency overnight accommodation:
Home Assist: a Recovery Operator can be dispatched to your house (or within one mile radius). If your vehicle cannot be repaired on the spot, your vehicle will be transported to the nearest garage.
Emergency Overnight Accommodation: if Call Assist decide alternative accommodation is required, you (and up to five passengers) will be covered up to a maximum of £25 per person for one night.
Details of the mechanical and electrical parts covered can be found in the terms and conditions.
MOT test insurance
It can be stressful when your vehicle fails its MOT, especially when you expected it to pass. MOT test insurance helps to make this problem as stress free and manageable as possible.
The policy covers the cost of repairs, replacement parts, labour and VAT of the insured components listed as having failed on the VT30 form issued by your MOT Test Centre.
Vehicle must have a valid MOT certificate.
Provides a £750 claim limit.
This is a single claim policy by policy duration.
Covers vehicles up to seven years old and 80,000 miles at inception.
Excludes commercial use, driving school cars, Hire and Reward.
Key Protection
Reduce the stress and worry of losing your keys, as well as the expense.
Key Protection is available 24/7 as part of your Motorpoint warranty, and covers:
Keys lost or stolen abroad.
Up to £50 towards any call out charge when your keys are locked in your vehicle, home or broken in the lock of your vehicle.
Up to £500 per claim for any vehicle key lost or stolen and vehicle lock replacement, for the duration of the policy.
Consequential damage cover
Motorpoint's warranty also includes consequential damage cover. This extra feature means you're protected should a secondary car part fail as a result of the initial problem. As a result, you're protected from any 'domino effect' of failures that occur.
Costs:
| 1 Year Warranty | 2 Year Warranty |
| --- | --- |
| £329 | £489 |
Cover starts seven days after purchasing the policy. If you have a problem with your car before the policy begins, contact Motorpoint directly.
* Motorpoint Warranty is subject to terms and conditions. You should note there are certain limitations in terms of the maximum amount you may claim. Please ask your Motorpoint team for further details. Motorpoint Ltd is authorised and regulated by the Financial Conduct Authority for consumer credit and is permitted to advise on and arrange General Insurance Contracts, our FRN is 684004.
** The amount of time allowed for labour will be in line with the manufacturer's/Glass's Guide standard repair