What can a Motorpoint car do for you?
08 February 2019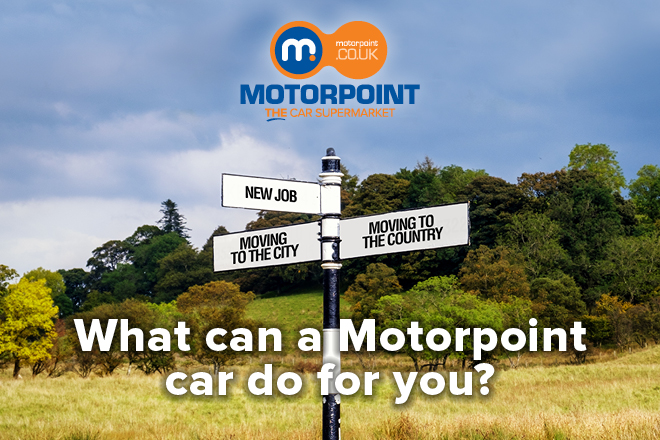 Photos © 2022 Motorpoint
Does your car suit where your life's heading? Motorpoint is here to help with all of life's big changes
Is it a change of circumstance or a big event on the horizon? Whether you're looking to move somewhere totally different, the kids have flown the nest, there's a new baby on the way or you've had a promotion, we've got the car for you.
Your family is getting bigger…
Have you considered a people carrier? It takes all the little ones along with all the extra shopping, sports equipment and luggage that comes with them. Try the sort of 7 seater or 4x4 that will help with all that, something like the Hyundai i800 or the Vauxhall Zafira.
You've got a new job…
Congratulations! It's a great chance to upgrade. Try something with cruise control, a smooth ride and an entertainment system that will make your commute nicer. A Mercedes-Benz E Class, BMW 3 Series or Ford Mondeo would do nicely.
You're moving to the country…
Maybe it's time to get something more suitable for those country roads. A 4x4 will fit your new lifestyle perfectly. Try the BMW 3 Series Touring, Discovery Sport or Hyundai Santa Fe to get the most out of your new country pursuits.
You're moving to the city…
So, you're in need of a runaround? Something to get you from A to B in comfort and style, and handle the traffic on the way. It might be time to give the Fiat Tipo or the Citroen C3 a go.
You don't need to give the kids a lift anymore…
It's just the right time to invest in something a little sportier. Now there's no more need to fit people in the back, pick something you'll enjoy driving for fun. For a car with that added va va voom, why not consider the Mercedes-Benz CLA or a BMW 4 Series?
You're buying your first car…
Your first car is an exciting time! Go for something small, economical and easy to drive as you get used to life on the open road. The Hyundai i10, Fiat 500 and the Suzuki Swift are all perfect for you.
How has your life changed? We've got a car to suit every circumstance. Browse all Motorpoint cars to find the perfect one for you. Give us a call on 01332 972 659 to find out more or head down to one of our 12 branches to speak to a member of the team.