Cut your costs and upgrade for £0
24 May 2019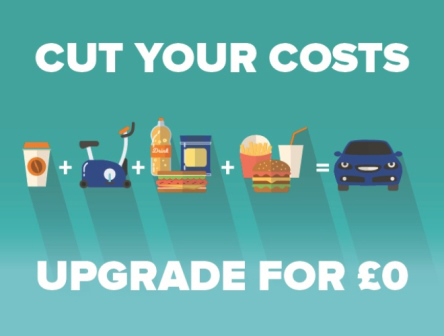 Photos © 2022 Motorpoint
We've done the numbers and it won't take much to make the upgrade
Sometimes it might feel like your perfect car is a little too far off but we've found a way to make it a reality! Combine Motorpoint's amazing prices with a few cost-cutting measures and you could be driving away in a nearly new car the same day. So, what do the numbers look like…
The team have done a little research on a few things we do everyday that could be cheaper. First of all, the average Brit spends around £40 a month on unused gym memberships when there's plenty of exercise to be done in the fresh air. Especially now the weather is getting nicer. We spend another £49 on that cheeky morning coffee and £80 getting a Friday night takeaway when perhaps a takeaway coffee from home will give you that morning boost (and we could all do with fewer takeaways!). Incredibly, we put away on average a whopping £153 a month getting lunch during the working week. It's incredible to think how much a packed lunch could save you. The costs mount up but just making one or two changes could get you the car you've been dreaming of….
Bring a packed lunch £153
You could soon be driving the Renault Clio
+ £40
Take up running = £193
For £193, you're looking at an amazing Mini Cooper
+ 49
Lose the morning coffee = £242
When you add on your daily coffee, you could get a Nissan Qashqai
+
Pop leftovers in the freezer = £322
All of this cost-cutting combined and you could drive away in BMW 4 Series
Don't want to give anything up? We have lots to look at for under £150 a month. Which car will you upgrade to? For more information, get in touch with the team today on 01332 227 227.