A comprehensive guide to buying the perfect work van
23 June 2022
Photos © 2022 Various
Builders, electricians, plumbers and all other trades rely on a suitable and reliable work van to support them and their business – but what are the best vans for each trade?
For a tradesperson or construction worker, one of the most vital tools you depend on is your work van. Whether you are a one-person business or part of a larger corporation, having a reliable and suitable van to get the job done is essential. Motorpoint specialises in the sale of almost new used vans, and we have many great options for all types of tradespeople.
Purchasing a commercial van is a big commitment, and there are several factors to consider before making a final purchase. These considerations include the most common types of jobs you complete, the space required for the tools and materials, how far you may be travelling between jobs, and how much you can afford to spend on a vehicle.
With so many van options available on the market, deciding which vehicle best suits the needs and demands of your industry can be a challenge. Whether you're a plumber, electrician, builder or gardener, there will be a van best suited to your needs here at Motorpoint.
What is the ideal van for a builder?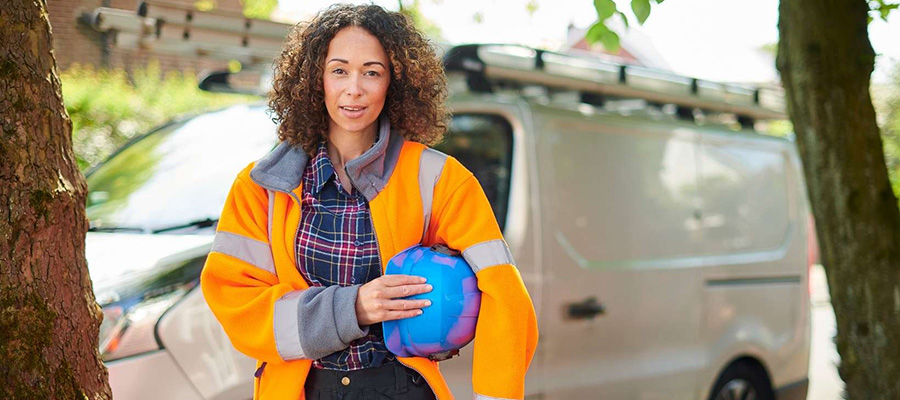 Regarding the ideal van for a builder, we have to consider one of the UK's most iconic working vans, the Ford Transit.
Whether you are a small business owner buying their first van or an established company with a fleet of vans and employees, the Ford Transit is one of the most obvious vans to consider. While it isn't the most classic-looking addition to your driveway, there is a reason that the Ford Transit has been one of the most popular vans on the road for over half a century. As Ford said themself, the Transit is the 'backbone of Britain'.
So why do we think the Ford Transit is the perfect van for a builder? We understand the realities of being a builder in the 21st century, and builders' vans are put through years of abuse, driven daily for many miles with tons of cargo. With payloads of up to 1,500kgs and typically being able to carry up to four Euro pallets, the Ford Transit can provide the space and strength required to fulfil this need.
The Ford Transit has consistently been one of the UK's best-selling vans since its release in 1965, and the latest model certainly doesn't disappoint, offering a winning combination of versatility, reliability and affordability.
Whichever model of the Ford Transit you choose, it is powered by a range of efficient diesel engines that are Euro 6 compliant and offer fuel economy of up to 46.3mpg. The Transit is also great to drive and provides a wide range of modern technologies to make life simpler. It's enjoyable to operate and has a reputation for reliability too.
Load capacity and ease are two of the most important factors when buying a new van for a builder, and the Ford Transit and the Ford Transit Custom excel in both areas.
For instance, the short-wheelbase model was the only vehicle of its type that could easily carry up to three Euro pallets loaded at a metre high. Its maximum payload ratings are among the best in the small and medium van categories, too. Most variations of the Transit come with a large sliding door, the rear doors open wide, and all panel vans include a metal bulkhead with a load-through hatch for longer items such as pipes and planks as standard.
Ford vehicles are budget-friendly to maintain and repair, as the market is saturated with Ford van parts so that you can extend the life of your Transit for minimal cost in comparison to its competitors.
What is the perfect van for an electrician?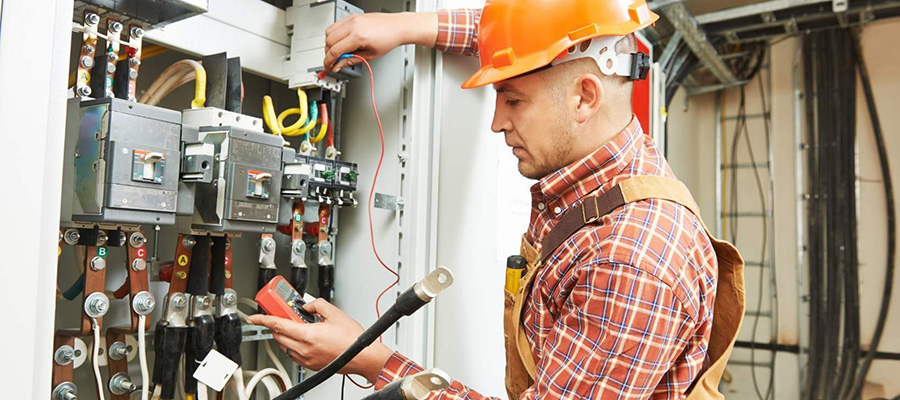 Electricians come in many forms, from domestic to commercial, contract electricians or specialised installation electricians, all of which have different requirements and needs from their work van. Fortunately, there are many choices and options on the market.
Considering the size of the van you'll require for your business will mainly depend on the most common type of jobs you do. If you are a smaller business used to small-scale domestic jobs, you won't need loads of space; however, you may need high-quality wall mounts and storage for storing smaller parts and materials.
In this instance, a used Citroen Berlingo is an ideal candidate. The compact Berlingo van packs a lot of practicality into limited space with an ample loading dock, ensuring you can utilise every inch of space. It is also a great van to add storage and organisation van racking due to its box-like structure.
A low floor helps with loading, and the extended width between the rear wheel arches allows for two Euro Pallets to easily fit in the back of the Berlingo Van. As well as a larger floor surface area, the payload is a reasonable amount, with the lowest of the Citroen Berlingo vans being able to carry 667kg.
What is the best work van for plumbers and heating engineers?

Like many other trades, plumbing and heating engineers have specific requirements that need to be met from their work van, which is why many usually go for a type of medium panel van.
The Vauxhall Vivaro is a terrific solution to meet the requirements of a plumber. It is a UK-built van that's particularly popular with heating engineers, and it's clear to see why. Overall, the Vauxhall Vivaro is designed with the driver in mind and should appeal to medium-sized van buyers who want something that's car-like to drive but don't want to compromise on loading space and reliability.
They're spacious enough to fit all your tools and materials inside yet small enough to park on a driveway or in a regular parking bay, ensuring you can park close to domestic jobs and your home.
Vauxhall released the latest third generation of the Vivaro in 2019, with several changes and improvements. Most notably, the load volumes have increased due to a slightly higher roof and minimised intrusions from the wheel arches. The latest model of the Vivaro also features a through-load facility for the standard fit bulk-head, which can assist in loading long and narrow piping and materials often required by plumbers.
The Vivaro's switch to Peugeot/Citroen group engines is an improvement for fuel economy and performance. The two diesel engine options are 1.5 and 2.0-litre Turbo D diesel, and across the board, Vivaros come with a 70-litre fuel tank, so you could theoretically travel more than 600 miles in any version on a single fill.
What is the most practical vehicle for a landscape gardener?

When considering the best vehicle for a horticultural landscaper or gardener, we believe some options are available that other trades may not have. Although many of the aforementioned vans would be an excellent choice, a gardener also has the possibility of a truck or pick-up vehicle.
The easy access and versatility of the open loading space can allow for a range of transport options; for example, if you need to dispose of a large amount of messy and muddy natural waste, this can easily be thrown in the cargo bed and disposed of. Then the cargo bed can quickly be cleaned and back to looking new. This process is a little more complicated in a van, particularly one lined with plywood. Gardeners are often covered in mud and general natural debris, and the open cargo bed can easily be rinsed out and shining before moving on to the next client.
The Mitsubishi L200 is a staple when it comes to the double-cab pick-up style trucks.
In the double-cab L200, the open load bay is 1,470mm square with a depth of 475mm. There are six load lashing points and grooves cut into the load bed so it can be divided up to separate cargo from organising and storing your required tools safely. A new tailgate mechanism is designed to prevent the gate from falling down when unlocked, a common hazard on competitors' pick-up models, so you can be sure of the safety of your load while driving from one job to another.
In alignment with all pick-up trucks, the L200 offers a carry load of over a tonne, with a towing weight of up to 3,000kg. There is also a tow bar so with the addition of a one or two-axle trailer, the Mitsubishi L200 boasts a carry weight of up to three tonnes, which is more than ample for the average landscape gardener.
However, vans will always be the pillar of the British trade worker, and the use of vans will always be the most obvious choice for many due to their ease and security. Any of the previously discussed vans would be an outstanding choice for a gardener.
Finding the right van can be a highly complex decision, and we hope this article has helped shine a light on the type of vehicle that would best benefit you and your business. Still unsure? Why not locate your local Motorpoint dealership and book a test drive of some of the fantastic used vans we have in stock today.