We bring you our top tips and advice for passing your car theory test and hazard perception test
The driving theory test is one of the early hurdles you need to overcome on the road to becoming a qualified driver. It's an important step and you can't take your practical test until you've passed it, so it's not surprising that nerves can make an unwelcome appearance.
That's why we have put together these helpful tips and advice for passing the theory aspect of your driving test. We'll cover what you need to know about the two parts of the test – the multiple choice theory questions and the hazard perception section.
How to book a theory test
Once your green provisional licence has landed on your doormat, you can book a driving theory test. The test needs to be taken at an approved theory test centre – you can do a postcode search on the Government website to find theory test centres near you.
You can book a date and time for your theory test online or by calling 0300 200 1122. You'll need to have your provisional licence, a debit or credit card and an email address to hand. When you go for your theory test, make sure to take your provisional licence and your passport, if you have one.
How much does a theory test cost?
The cost of booking a theory test is £23, regardless of whether you choose weekdays, weekends or bank holidays. If you fail, taking the test again costs the same amount – but there can be long waiting lists for local theory test centres, so make sure you've done enough revision and driving practice to feel confident that you can pass first time.
If you pass your car theory test, you get a certificate. But that's not job done – the certificate is only valid for two years and, if you've not passed your practical driving test in that time, you'll need to sit another theory test. What joy!
Theory test – what to expect
While you need to thoroughly prepare for a theory driving test like any other exam, you should hopefully find it easier than a GCSE Maths paper. Arguably, the theory test will also be more useful for your future than surds and algebra.
There are two parts to a theory test. The first is a series of questions based on the Highway Code – the little yellow book that tells drivers how to behave on UK roads – and the second is a hazard perception test, where you have to identify potential and developing hazards in video footage that you might face on the road. We'll go into these in more detail below. You'll need to take both sections of the test in one day, with just a short break allowed in between.
Driving theory test example questions
You'll be asked 50 multiple-choice questions in the theory test, and you need to correctly answer 43 of them to pass. There's a 57-minute time limit, but you can skip questions you're not sure about and come back to them at the end.
Before you memorise 50 specific answers, there are nearly 1,000 possible questions you could be asked. Time to re-read the Highway Code for the umpteenth time? Many of the questions in the Highway Code test are common sense or relatively basic knowledge – it's designed to make you a good driver rather than catch you out.
Examples of common questions include (correct answers in bold):
Q: What does the flashing of headlights mean?
Warning signal
To let someone out of a turning
Tell someone their lights aren't working
To say hello to someone
Q: What is the minimum tread depth on a car tyre?
Q: What shape is a warning sign?
Round
Hexagon
Triangle
Square
Q: What is the overall stopping distance at 30mph?
23 metres
33 metres
40 metres
44 metres
Hazard perception test
The grilling might be finished, but you won't know until you've passed until you've completed the hazard perception test as well. This second part of your theory test comprises a set of video clips, and you'll need to click the mouse when you spot a potential hazard developing. That could be a pedestrian looking like they're about to step into the road, or a car about to turn across in front of you.
It might be tempting to click frantically or click every few seconds randomly, but your mouse clicks are monitored and you'll fail if you go click-crazy. You'll also fail if you don't click often enough, as that suggests you haven't spotted some of the hazards. Each clip is marked out of five points, with 75 being the maximum score and the pass mark set at 44.
You get 20 minutes to complete the hazard perception test and you can't go back and rewatch clips at the end. After all, in real driving you can't pause and rewind if a pedestrian steps out in front of you.
Taking mock theory tests tests online
Make sure you're as prepared as possible by taking mock theory tests online before the big day. There are numerous free mock theory tests available if you search for them. Doing a selection of them can help you improve at spotting hazards and your awareness of your surroundings. It's definitely worth swatting up on theory test questions, too – with so many that you might be asked, it's vital that you have a good understanding of the Highway Code. If it helps, stick post-it notes with stopping distances everywhere around your home.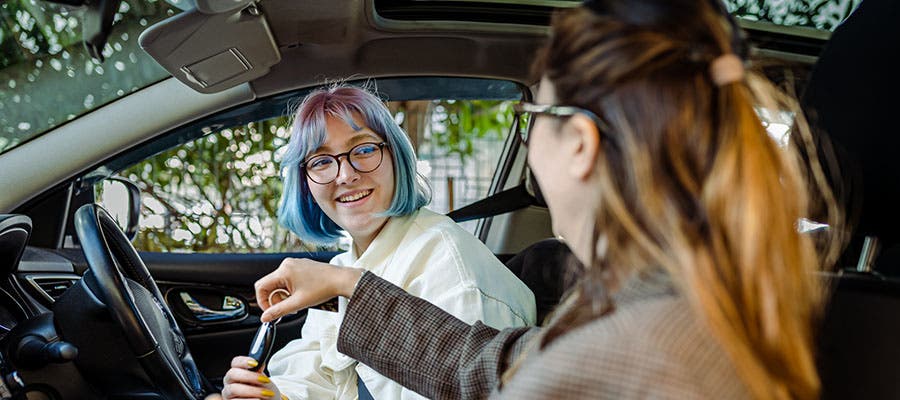 Top tips for passing your driving theory test
Everyone you know will be giving you tips on how to pass the theory test (your dog would if it could, too), but here's some driving school-approved advice.
Practise, practise, practise
We don't mean spending every waking hour studying the different crossing types – although you can if that floats your boat! If you're out and about, perhaps being driven to college or on a bike, that's the perfect time to polish your hazard perception. Take notice of road signs, markings and traffic controls. Seeing them in real life will help you put them into context. 
Have regular lessons
Your driving instructor will also be able to help you improve, so make sure you're having regular driving lessons. At least two hours per week is the recommended amount. If you can practise in between lessons using a family member's car, that's even better. As a learner, you need an accompanying driver, L plates and learner insurance.
Rest up
The night before your test, your brain will probably be crammed full of snippets of info on 'give way to oncoming traffic' signs and pelican crossings. We know nerves can weigh heavily, but a good night's sleep will help you perform better in your test.
Refine your revision tactics
Not everyone revises the same way, and flash cards don't work for everyone. Find the ways that work for you and revise for your theory test like any other exam. Enlist your family members to quiz you on the Highway Code or watch videos online.