There's so much great tech in modern cars – here are the top features we can't wait to see become more common on cars in the future
Technology has transformed the cars we drive during the smartphone era, and the incredible innovation shows no sign of hitting the brakes.
With this in mind, we share our are 10 key developments to watch out for in 2022:
Mercedes gets hyped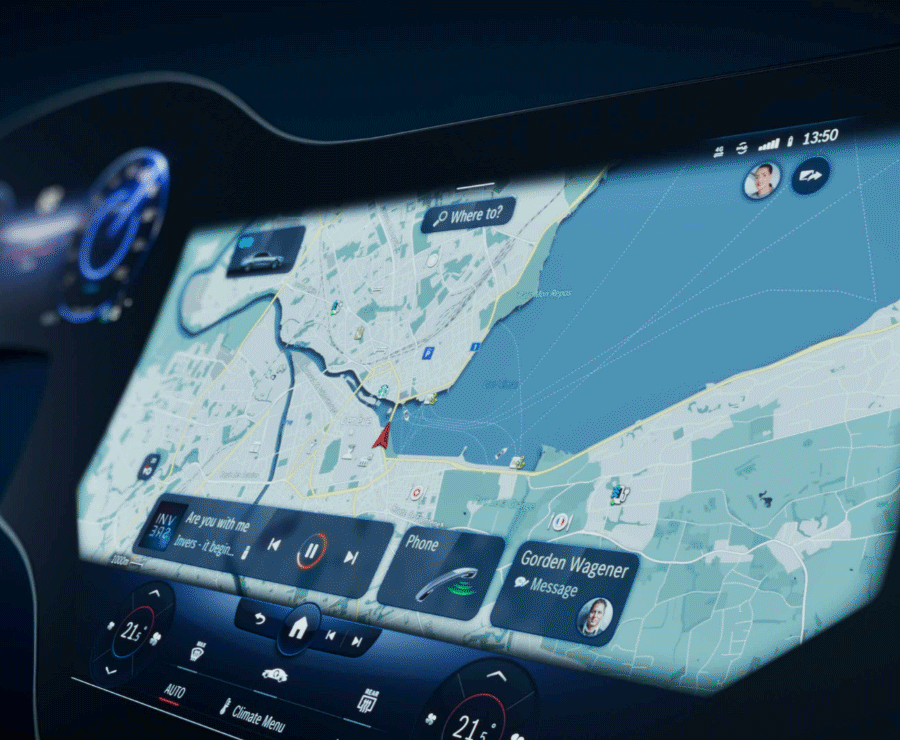 If a touchscreen is too 2021, how about the Hyperscreen – Mercedes' name for its futuristic new infotainment screen, which stretches 141cm over the full-width of its EQS all-electric limo's dashboard. It even wraps around the air vents!
Building on Merc's excellent MBUX infotainment system, the Hyperscreen uses OLED technology for rich graphics, and deploys artificial intelligence to learn your preferences and cleverly second-guess which functions you'll need next. The logic's spot on, too, with the most frequently used features condensed into the 'zero layer' – basically everything you need is easily selected without getting lost in a maze of sub-menus.
Radical new BMW iDrive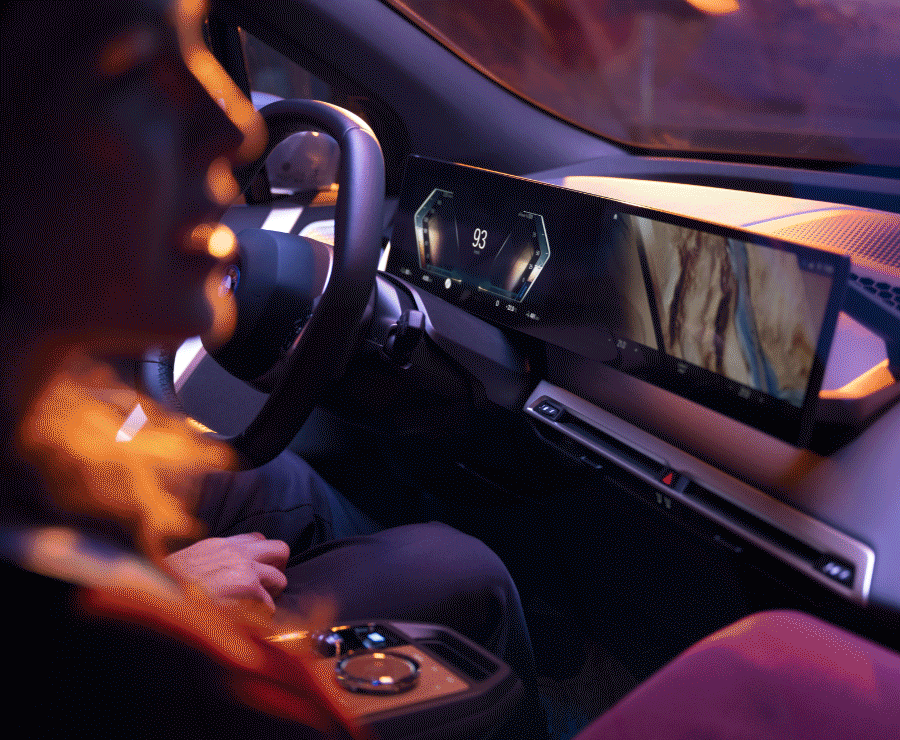 BMW iDrive revolutionised in-car technology back in 2001 with a rotary control dial positioned by the gearstick and a digital display on the dash.
Now BMW's all-electric iX is teleporting iDrive into the future with a pair of screens that merge into one epic 27-inch curved display.
Choose functions by simply talking to the car, prodding the touchscreen or, yep, twirling the twirly dial, plus there are over-the-air updates, super-high 200 ppi resolution, and artificial intelligence so new iDrive can even learn from your routines. Love it.
Ludicrous autonomous tech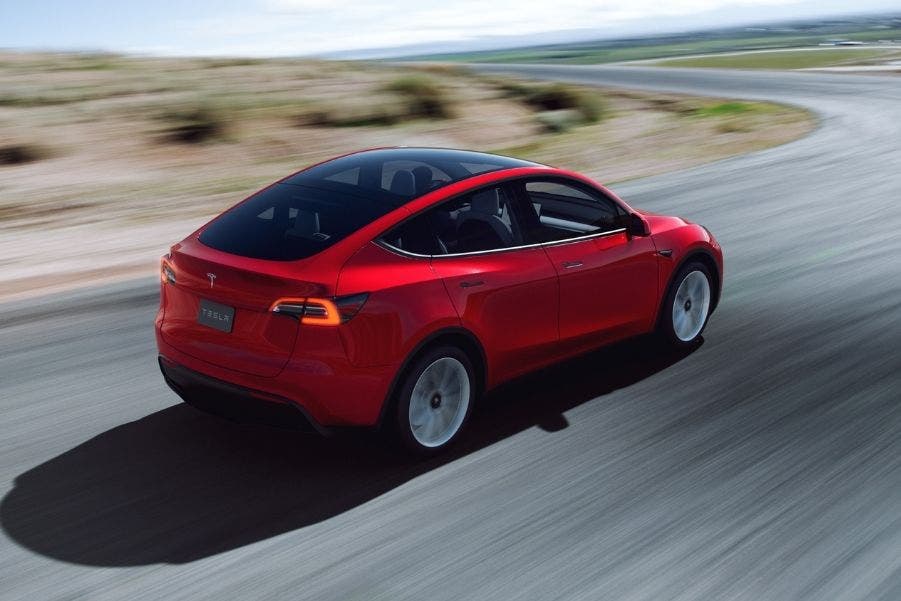 Tesla's autonomous Autopilot tech is the stuff of YouTube legend, and now the new Model Y is optionally offering Enhanced Autopilot, as well as the all-out Full Self-Driving Capability.
Enhanced Autopilot has tricks like Smart Summon up its sleeve – just click the app and your parked Tesla will drive to you and even park up in a space tight enough to give ace driving instructor nightmares.
Full Self-Driving Capability has upgraded tech including stopping at traffic lights and stop signs, but there's small print too, including that Autosteer on city streets is 'upcoming' and the crucial caveat that 'eventual Full Self-Driving Capability [will be] through over-the-air software updates'.
Mercedes self-driving goes next level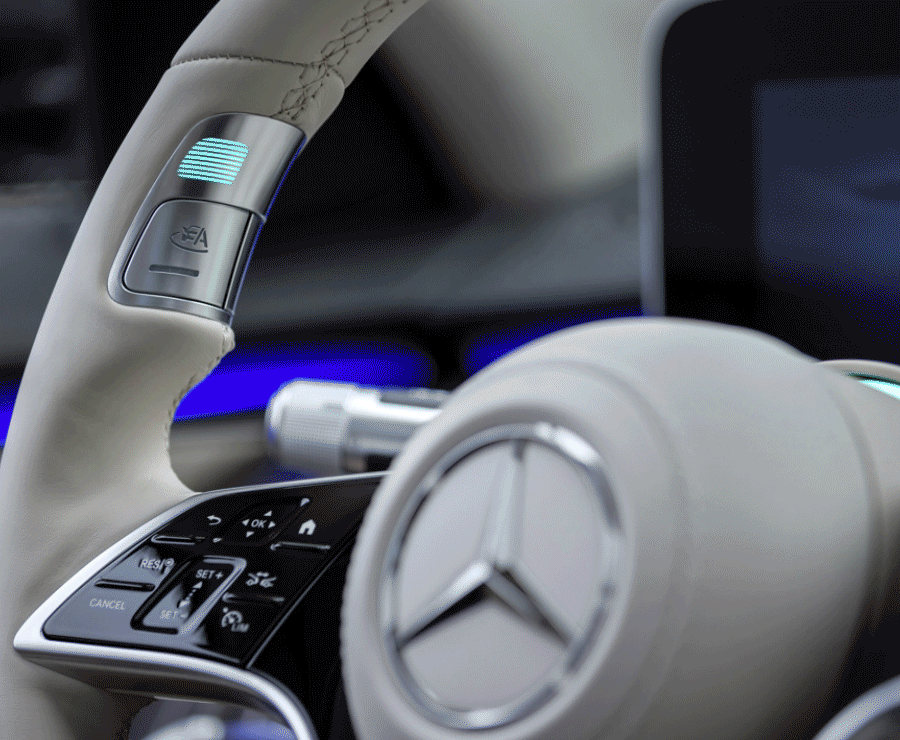 Mercedes reaches a milestone early in 2022 when the S-class introduces Drive Pilot autonomous drive technology. Yes, rivals already offer autonomous features, but Mercedes is first to reach Level 3 certification. That means you'll be able to waft along at up to 37mph on congested motorways while – and even Mercedes says this – using the big Merc's infotainment system for online shopping or emails and basically not looking at the road at all.
There's a catch, because Drive Pilot will initially work only on German motorways, but tests are already well underway in the US and China, and surely it's only a matter of time before being hands-free on the M25 takes on a whole new meaning.
Car-to-X marks the spot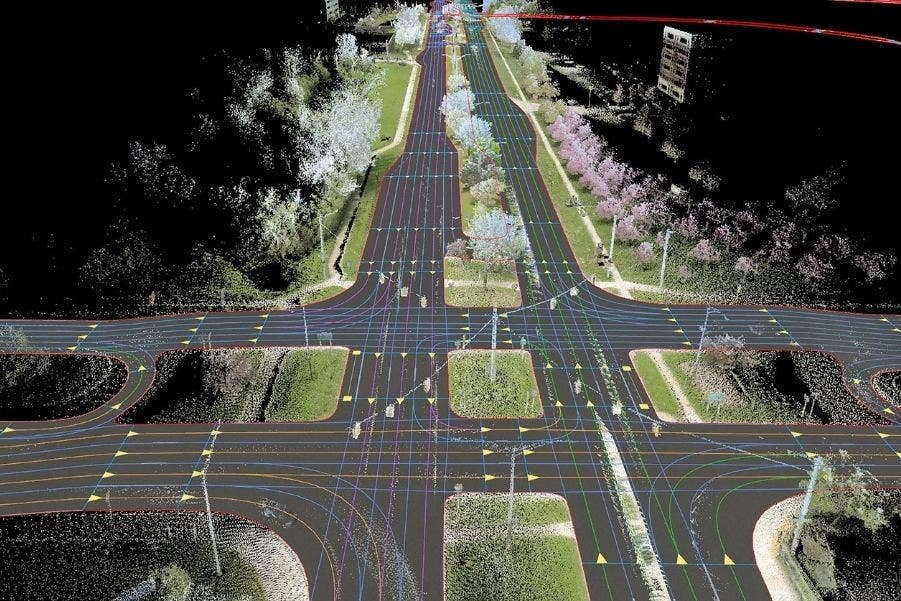 Cars chatting between themselves sound like either science fiction or a particularly bad hallucination, but Audi (and other makes, to be fair) have been doing it since 2017, using something called car-to-x communication. Networked tech allows cars to warn each other about accidents, traffic jams, bad weather and more via the cloud.
Now the German maker taps into something called swarm intelligence pooled from more than three million VW Group cars, using it to optimise the speed and accuracy of hazard warnings for slippery conditions. Audi says the system can detect the tiniest change in grip (based on how much tyres are slipping on other cars), and ping a warning to other four-wheeled friends like a high-tech second sense. Useful for those tricky winter drives!
Ride with a glide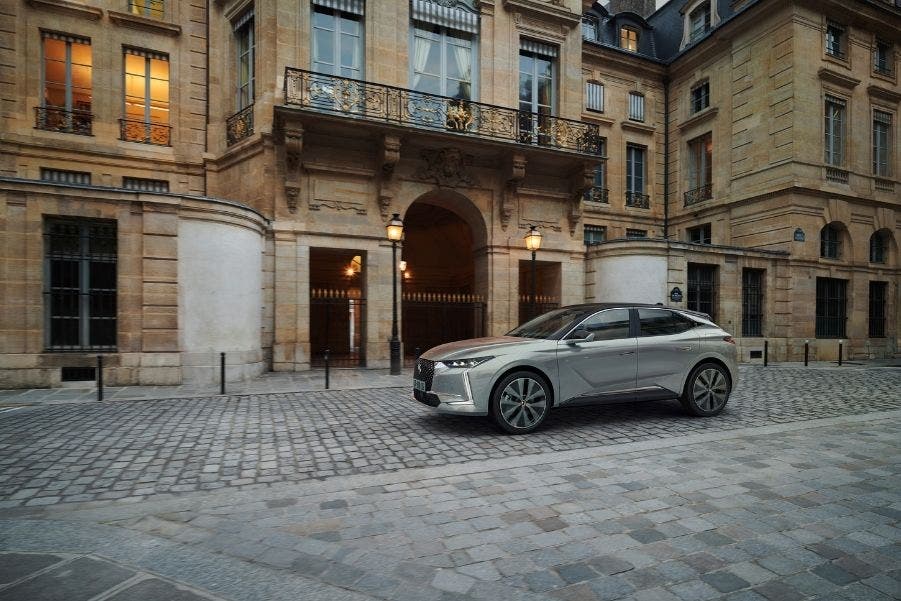 We've seen this tech in posher segments, but now DS Automobiles is bringing DS Active Scan Suspension to the posh hatchback segment with its new DS 4. In a nutshell it makes the French hatchback's suspension glide over bumps by adjusting for them milliseconds in advance, rather than reacting to them like conventional suspension. A camera at the top of the windscreen scans the road ahead for imperfections, while four attitude sensors and three accelerometers help the system independently adjust the suspension at each wheel.
This stuff's in DS's blood – the original Citroën DS of the 1950s was famed for its cushy suspension.
The name's Defender – Land Rover Defender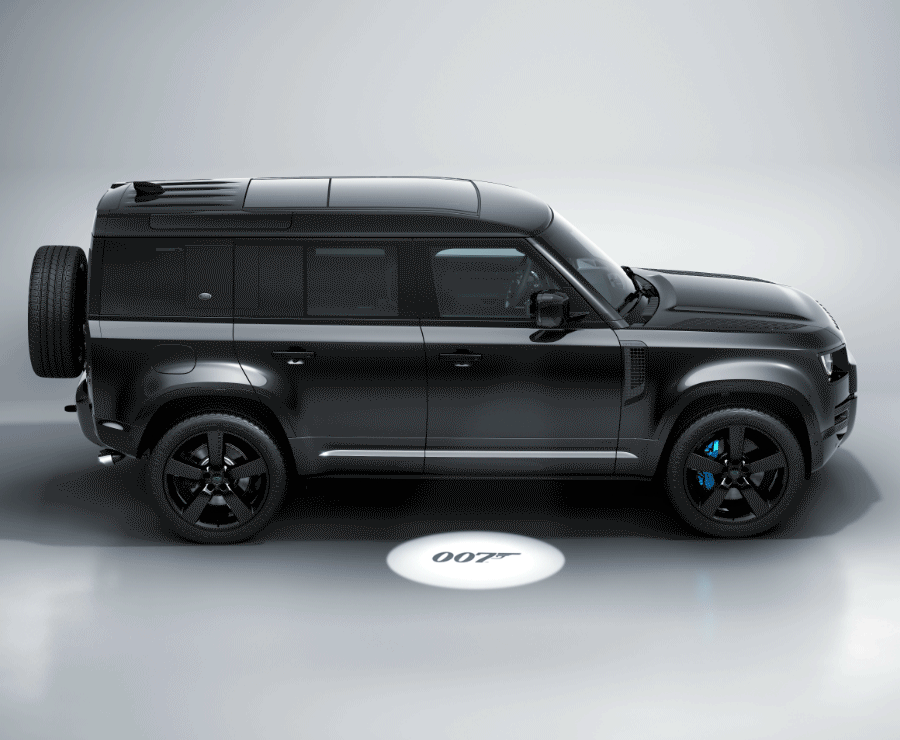 Yes, there's more advanced tech coming in 2022, but pay attention because we love the gadgets on this 007-themed Land Rover Defender Bond Edition (which celebrates its starring role in No Time To Die) – plip the keyfob at night and a bespoke puddle light with the 007 logo illuminates your way, and once you're inside the trick new Pivi Pro infotainment system's 11.4-inch touchscreen springs to life with an exclusive Bond animation.
Not exactly undercover, but it's a nice touch, Q.
Audi augments reality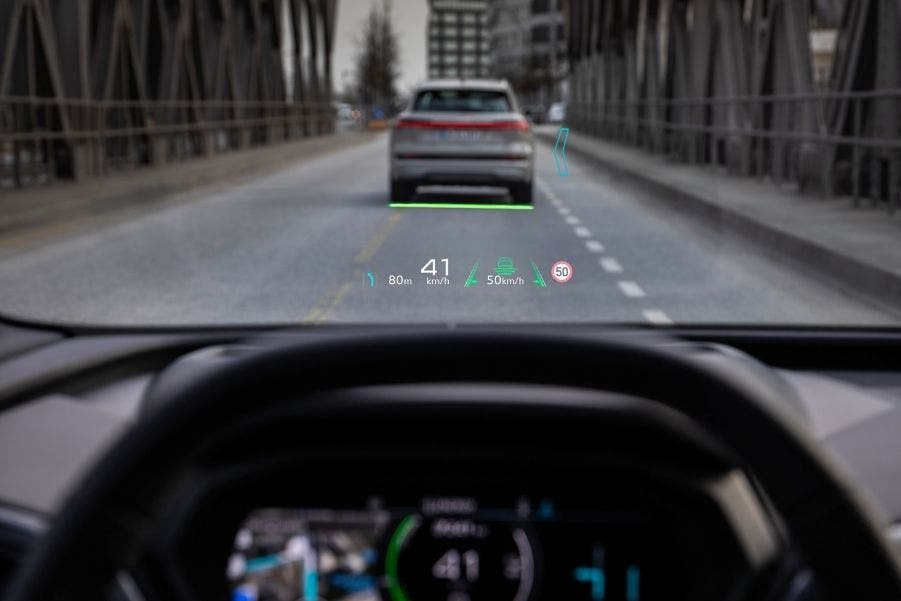 The Audi Q4 e-tron SUV is going big on tech, and not just its all-electric drivetrain. Jump behind the wheel and you'll find the real and virtual worlds merging courtesy of an augmented reality head-up display. The trick system takes key symbols from, say, the sat-nav and superimposes them onto the real world via the windscreen.
It's fiendishly complex stuff, with the 'AR Creator' rendering symbols at 60 frames per second and pooling data from the front camera, radar sensor and GPS, but for the driver it couldn't be simpler – all the info you need is in your line of sight, minimising eyes-off-the-road distraction.
Hey Google, sort my Volvo's tech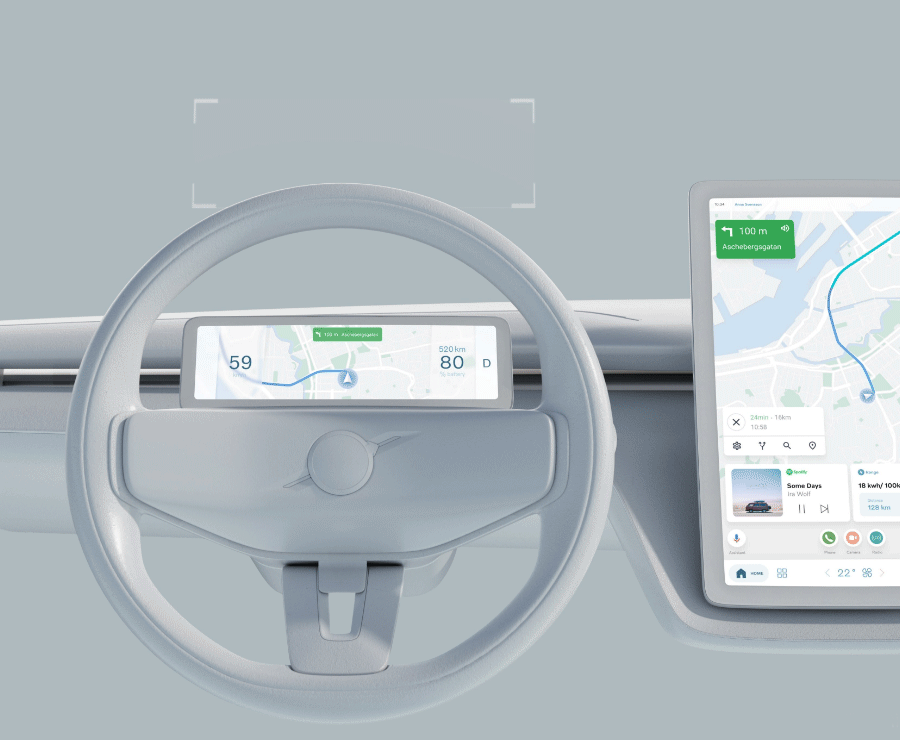 Volvo was first to bring us infotainment powered by Google's Android Automotive operating system, meaning Google Assistant, Google Maps and Google Play were all on tap, and now the Swedish car maker and Californian tech giant are busy co-plotting their next move for incoming all-electric Volvos.
The headline is a large Tesla-like portrait touchscreen, with all content easily accessed with voice commands or simple prods at the screen, but there's another high-resolution digital screen positioned ahead of the steering wheel to beam you everything from vehicle speed to battery charge levels. We'll get more details later in 2022.
Cum on cancel the noize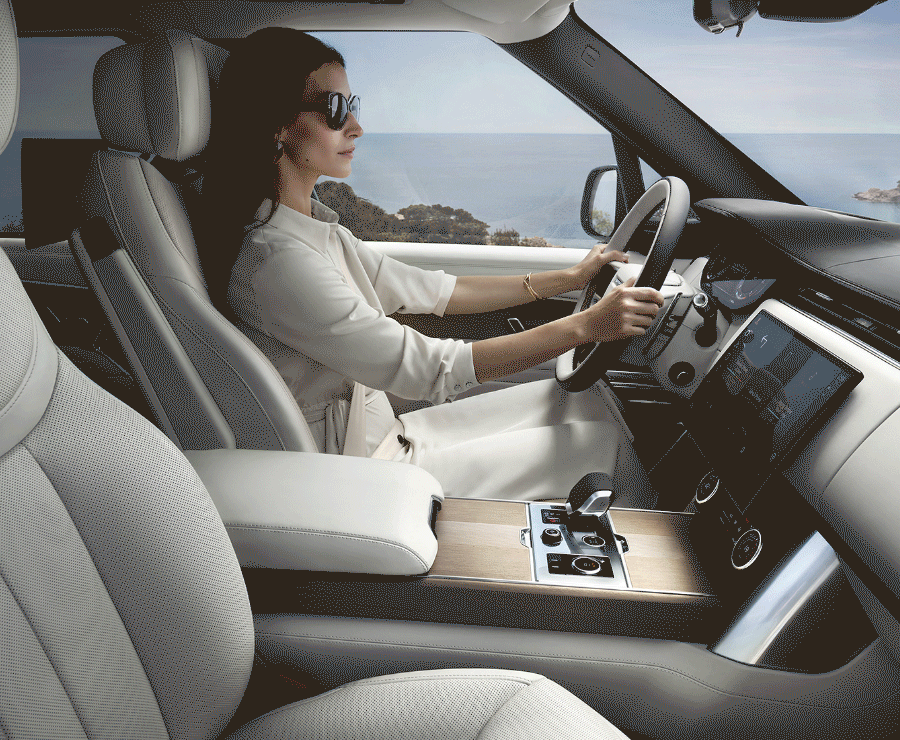 The full-size Range Rover has been the pinnacle of hushed refinement for aeons, and now the new model is going full library-spec courtesy of Active Noise Cancellation8. The state-of-the-art system keeps an ear out for wheel vibrations, tyre noise and engine sounds as you're wafting about, then generates a signal to cancel out such aural aggravations through the system's 35 – 35! – speakers, including a pair hidden away in each headrest.
It's like wearing invisible noise-cancelling headphones. Bliss.
Can't wait until 2022?
If you're looking to upgrade your car to one packed with the latest tech - look no further. We have a great choice of nearly new cars, all available at unbeatable prices. See what you can find and buy online today!