Did you know that 75 per cent of drivers suffer with back pain because they drive in the wrong seating position? Motorpoint gets behind the wheel to find out where the problem lies
It's fair to say Brits spend a lot of time behind the wheel. Whether it's commuting to work, doing the school run or delivering parcels to people's homes, millions of car journeys are made every single day of the year. 
But could these very same journeys be storing up difficulties for drivers down the line in the form of back problems?
Key Survey Findings
Motorpoint decided to find out for itself by carrying out a survey which asked drivers firstly, whether or not they knew what the correct driving position was, and secondly if they were suffering any discomfort as a result.
The findings made for painful reading. Not only did the majority (58%) of drivers not correctly identify the advised driving position – a 10-20 degree recline - but 22% thought that being at a perfect right angle (with no recline at all) was the ideal position (it's not).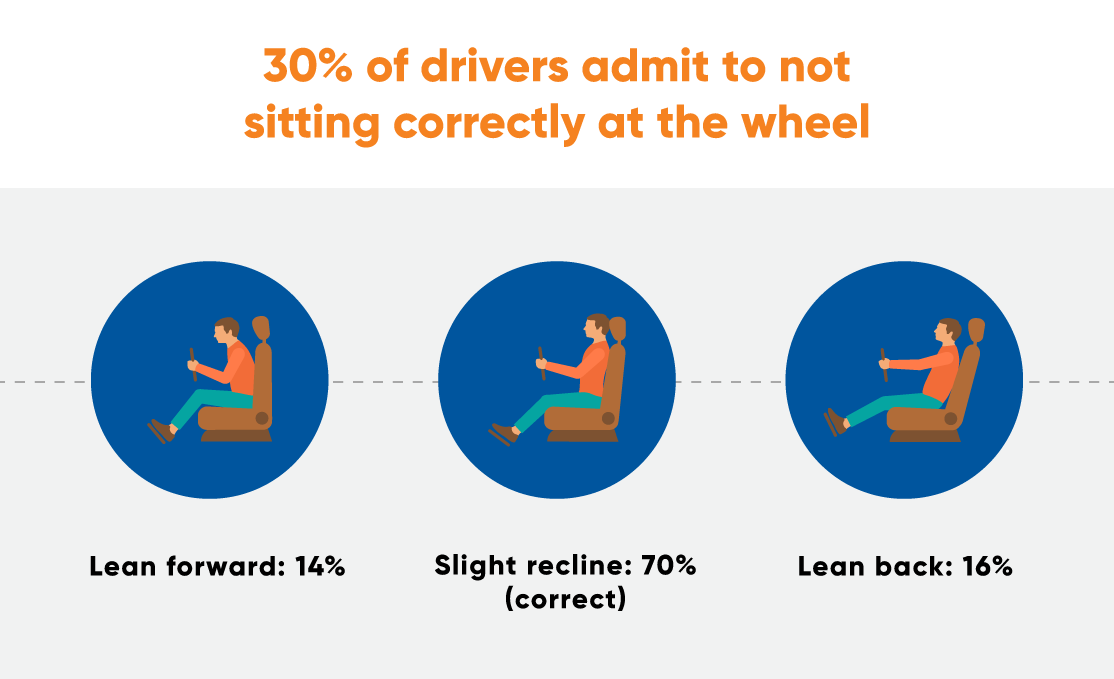 Out of three visual options (lean forward, slight recline, and lean back), whilst most did choose the correct position, 3 out of 10 drivers admitted that they were inadequately positioned at the wheel, with 14% hunched over and leaning forward, and another 16% were just a bit just too laid back.

Bad Posture = Bad Back
The research also revealed that 75% of drivers experience back pain at some point as a result of driving. Some 5% stated that they 'always' have back pain after being behind the wheel, while another 6% said that it was more often than not.

The age group with the highest proportion of back pain was those aged 25-34, with 83% of respondents claiming to be affected. This was closely followed by those aged 35-44 (79%). Interestingly, more women than men were shown to be suffering back pain (78% to 71%) as a result of driving position.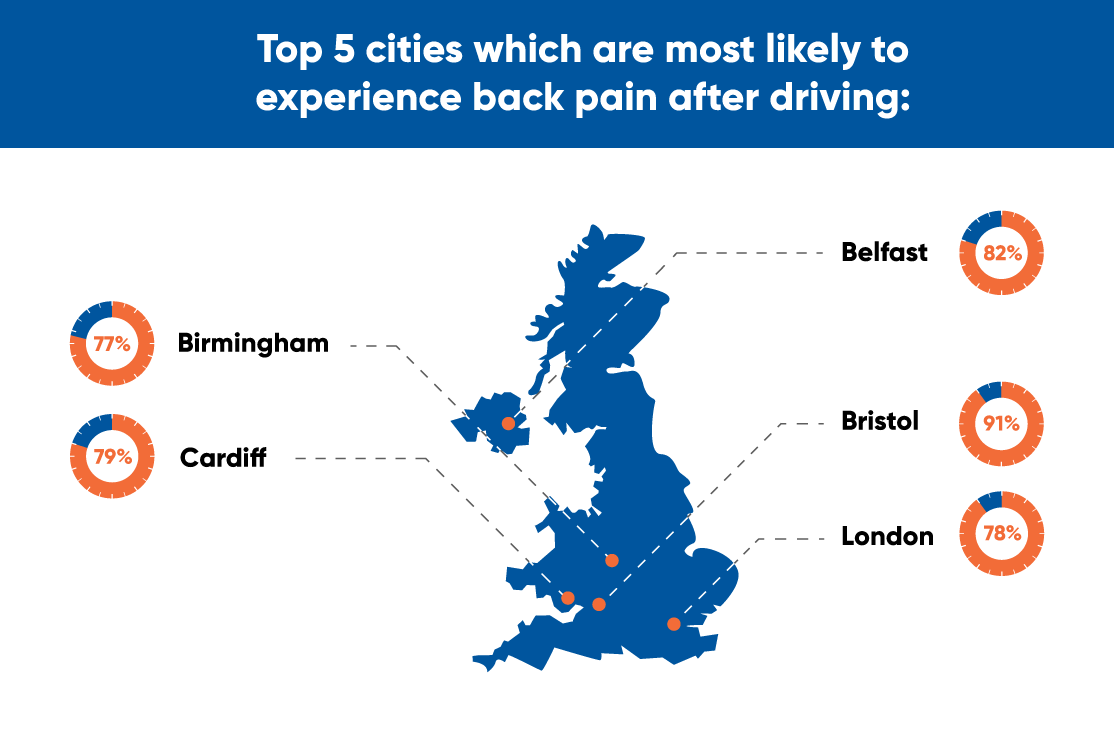 And, when it came to regional differences, the top five worst cities for this problem were:
Bristol: 91% 
Belfast: 82% 
Cardiff: 79% 
London: 78% 
Birmingham: 77%  
How to Alleviate Poor Posture 
The research clearly highlights the connection between the high proportion of those suffering with back pain and those who were unable to correctly identify the right seating position.
To verify our findings, we enlisted the help of a Principal Physiotherapist, Clare Henson-Brown from Bespoke Wellbeing, and Tim Blakey, a Physiotherapist, certified Precision Nutrition coach and creator of Pr1mebody online coaching programme.
Explained Clare Henson-Brown: "Poor driving positions, especially if repetitive or for long journeys, can lead to spinal pain in the neck and lower back. This can create areas of joint stiffness, muscle tightness and altered posture."
Added Tim Blakey: "Awareness is key. Do you slump to one side with your elbow on the centre console/ window/door? Is your seat cushion bulged at the sides? If so, try to balance these out. The key isn't to try and sit with perfect posture 24/7. That's unsustainable and actually impossible. The most important thing we can do is move more. This may mean taking frequent opportunities to get out of the car and walk/ stretch."
If anything, these findings could also be a wake-up call for those who aren't sure how they should be sat behind the wheel, as it might lead to them having issues in the future – particularly if they use their cars a lot.
However, it's not all doom and gloom for those of us who use our cars on a daily basis, insists Claire Henson-Brown: 
Keep the seat as close to the wheel as is comfortable so you can easily reach the wheel with your elbows relaxed 
Always adjust the back rest recline so it supports your spine without leaning too far back 
Ensure all mirrors are adjusted before you start your journey to avoid excessive twisting 
Build in rest stops for long journeys to get out and stretch your legs (every 1-2 hours) 
Outside of the car, we of course recommend you keep a fit and active lifestyle which should include exercises to strengthen your back muscles and reduce tension with stretches
A final tip here is also to purchase a car that you know you'll feel comfortable driving; with Motorpoint you can also, of course, go for a test drive and trial the right seating position first before deciding which make and model best suits you.