40 employees at the UK's largest independent retailer of nearly new cars and vans gathered at stores across the Motorpoint network last week to celebrate some important long service work milestones in 2022.
Chalking up an incredible grand total of 743 years' working for Motorpoint, the vehicle retailer's employees clocked up this long service achievement with 40 team members reaching a range of work anniversaries between 15 to 24 years this year. 
To help mark their career milestones, colleagues came together for a celebration photograph at various Motorpoint stores including Derby, Burnley, Glasgow, and Newport in early July 2022. During the event staff shared some of their favourite stories about their best Motorpoint moments in their careers so far. 
Ryan Cheyne, Motorpoint's Interim Chief People Officer said: "It is fantastic to be able to share this good news story about our long service employees – it is an amazing total to have reached. 
"We were recently named as the Number 1 Automotive Company To Work for by Best Companies and we recognise that our employees are the backbone of our business helping us to build the Motorpoint name to become the largest independent retailer of cars and vans in the UK." 
"Some of our staff were with us at the start when our first Motorpoint store in Derby opened in 1998. We are proud of them and recognise that their loyalty and commitment is crucial to our long-term success as we move into our 25th anniversary year in 2023." 
Friends for life and great working atmosphere 
Commenting on her service anniversary, Customer Experience Marketing Manager, Edem Ankutse who has been with Motorpoint for 20 years and began her career as a Collections Cashier at the Derby store in 2002 said: "I have worked across a range of roles at Motorpoint and my favourite thing is the family atmosphere I have felt in every department/store I have worked at. I have made some friends for life working at Motorpoint. There's been lots of highlights over the last 20 years, but I think getting my first managerial role in Birmingham then winning an award for that role in 2016 was a wonderful moment for me." 
John Hood, now Motorpoint's General Manager of Trade Acquisition joined the company in 1998 as the manager of Motorpoint Derby said: "Since the early days Motorpoint has been forward thinking in its HR approach ensuring that young people coming into the business are able to develop their skills and careers - we have a strong culture of support here at Motorpoint."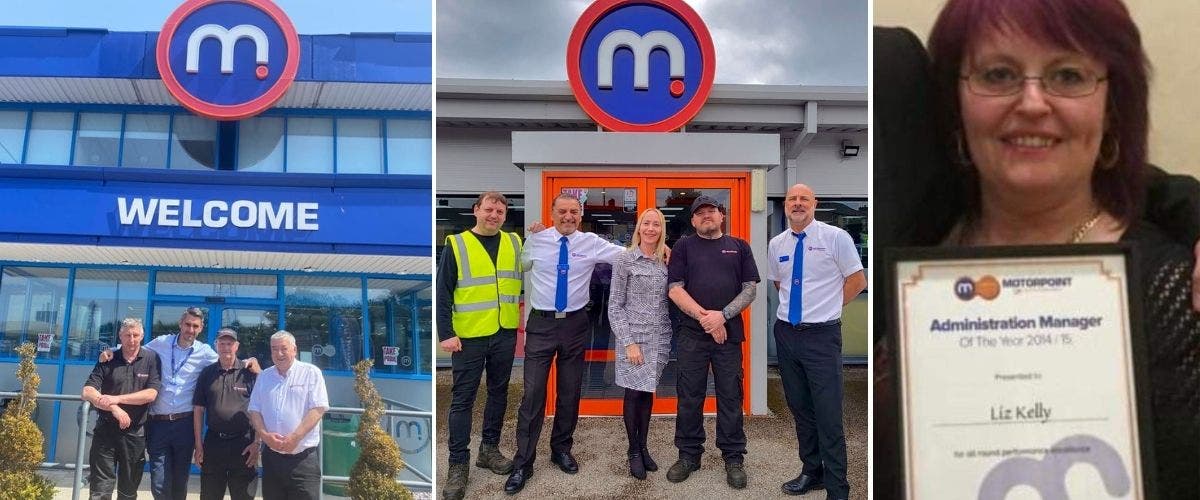 Here's a collection of quotes from some of the 40 people who reached their special work milestones this year – take a read through some of the favourite things and highlights our long service employees have to say about being part of the Motorpoint success story. 
Andrew Smith who has been with the business for 17 years and works in A4C Operations Support said his favourite thing about Motorpoint is that it's a forward thinking, supportive company that realises employees are their greatest asset. 
With the business for 16 years, Regional Operational Support Manager, Liz Kelly said: "My favourite things about working at Motorpoint are the amazing people we have and support network. My biggest highlight was winning Administration Manager of the Year – it was at a Manager's Conference as part of the Car Buyer's Champion Awards. 
Regional Operational Support Manager, Amanda Scott has been at Motorpoint for 18 years and reports that it's definitely the people that make Motorpoint a great place to work. 
She said: "It really is like having a huge family! I've met so many people throughout my time here and made lifelong friends along the way. he extras we get do make a difference – most people I speak to can't believe we get paid to take our birthday off! 
I was 26 when I started as a Temp Administrator… 18 years later, 4 office moves, 5 job titles and 6-line managers later I'm still here and enjoying it more with each year that passes. My memorable highlight was Winning Business Support Manager of the Year and having the award presented in the grand hall at Harry Potter Studio – definitely one I won't forget! 
Now Head of Retail Operations for the West Midlands, Kevin Cartwright says that the best thing about working at Motorpoint is the "people." He said: "From day 1 it's been the people though it's a cliche. From the massive energy and will to win in Burnley, then team Widnes's amazing teamwork and now team West Midlands as we reintroduce the company culture – there are some great characters." 
Carl Stuart who has been a Yard Hand for 21 years at the Derby store said: "My favourite thing about working at Motorpoint is working with good people and getting the job in the first place." 
Registrations Manager, Melanie Walklate, has been working at Motorpoint Head Office for 19 years and says her favourite thing about working at Motorpoint is her team. She explained: "In my team, there are 7 of us and we have a combined length of service between us of nearly 70 years! 
"We have worked together throughout this time always being supportive of each other. From starting my career at Motorpoint nearly 19 years ago with 3 young children I am now watching my team marry and have children themselves." Melanie added: "The biggest highlight for me is seeing the Company grow. When I started here there were only 3 sites and look at us now, who would have thought it back then! A massive achievement which I have enjoyed being a part of! " 
Yard Hand, Carl Hurt, who joined Motorpoint 20 years ago reports that his favourite thing about working at the Derby store is the people he works with and the cars we get in as part of our work. He said: "My highlight is seeing Motorpoint get stronger and bigger and better, a massive achievement." 
Over in Motorpoint's stock control department at the Derby HQ, stock control administrator Stephen Taylor has been with Motorpoint for 19 years said: My favourite thing about working at Motorpoint is the people that I've met and the friends that I've made. I've worked with some great people and made some friends for life. 
"The biggest highlight for me was the 20th anniversary celebrations. A great night with staff from all the sites meeting up and celebrating the fact that Motorpoint was doing well and moving in the right direction." 
 A Logistics Co-ordinator for 16 years, Jon Shelton, who is based at Derby HQ says his favourite thing about working at Motorpoint has got to be the people. 
He said: I've met some great characters during my time here. I've had a quite a few highlights over the years but one that sticks in my mind is when Derby won the Motorpoint sponsored Forest v Derby game, FA cup in 2009." 
Matt Boole, a Preparation Supervisor for 15 years at the Derby store said: "Motorpoint staff are well looked after with good benefits and rewards for us. I started here at 19 years old washing cars and my biggest highlight so far has been working my way up to become a preparation supervisor." 
With 23 years under his belt for Motorpoint, Anthony Wilson, is an Auction4Cars Customer Service Manager/Floating Site Manager he said: My favourite thing about working at Motorpoint is the people I work with and the flexibility and work/life balance I am able to enjoy. 
"My biggest highlight is the success of Auction4cars. From being the only team member to a team four – we are motivated by the value we bring to the business and the way this will continue to grow from strength to strength." 
Now Chief Commercial Officer, John Baird, has been with Motorpoint for 22 years. 
He said: "My favourite thing about working at Motorpoint is the people and the opportunities. 
"I've met loads of friends (and a wife!) working for Motorpoint, employing people with the same values you share creates that connection. I've been fortunate enough to work my way through the business from sales to where I am today, this didn't just happen from my desire to be the best (or have the biggest mouth…. which I do!)" 
"Motorpoint pushed and supported me along the way, I've been on countless training courses both as an individual and part of teams. There will always be opportunities at Motorpoint for anyone that wants it, I didn't join Motorpoint because I liked cars or was excellent at sales (which I was!), I joined because they were a "rebellion" within the sector, were challenging the short-term thinking and had a strong desire to put customers and employees at the heart of every decision that is made." 
"There are 100's of highlights to recall. I would say the business becoming a PLC in 2016, was a huge achievement and just reward for all the effort and sacrifice we'd put in to the previous 15 years. It was recognition of how far Motorpoint had come since we started. The business ethos of choice value and service is still present today and continue to be the foundations as we continue on this ever-changing journey." 
Based at the Glasgow Preparation Centre, Paul Carroll has been at Motorpoint for 19 years and is the Preparation Support Manager. He said: "I have now worked in Motorpoint for 19+ years and my favourite thing is the people, no matter if it the team in Glasgow or any other site, everyone is very friendly, helpful, and always a pleasure to deal with. 
"My biggest highlight working for the company was being given the opportunity to complete my IMI automotive management course." 
Philip Matthews, a Sales Operations Manager who works at the Shelton House operational hub and manage the Online Sales Team has been with Motorpoint for 18 years. 
My favourite thing about working at Motorpoint is the fact that its dynamic growing business, always looking to improve. He said: "I've always felt that we were the disrupter, taking on the main dealers to get great deals for customers…that always excited me and makes me proud of what we've achieved over the years. 
"There's been many highlights but how the online team coped and kept the fires burning during the recent pandemic was really special - they (we) did an incredible job of supporting each other and the customers we looked after during a challenging time." 
For Chris Brown who has been at Motorpoint for 15 years and is now Head of Retail Operations for South Wales his favourite thing about working for Motorpoint is "The people, the team and the family spirit." 
Chris added: The biggest highlight so far is the achievement of winning multiple 'Site of the Year' awards for Newport and Swansea at the annual company awards." 
Lyn Cork, a Yard Hand at the Newport store for the past 17 years says that her favourite thing about working for Motorpoint is meeting different people including customers and staff. She said: "My job keeps me fit and my biggest highlight is that I have never had a day on the sick during my employment!"