SKODA RAPID Car Review
One of the most stylish Skoda's on the road
When it comes to shrewd buys then you won't go far wrong with the Skoda Rapid Spaceback.
From the side profile the Rapid Spaceback looks remarkably similar to the Audi A3, making it one of the more stylish models in the Skoda range. As part of the Volkswagen Group the Skoda Rapid shares some key parts with the Audi, including the same petrol and diesel engines, you just pay a lot less. I'd go for the 1.2 litre TSI petrol engine with its strong combination of reasonable performance and economy - around 55 mpg.
Skoda also has a better reputation for reliability and customer service than Audi in all the reliability surveys, so you can add peace of mind to the Rapid's appeal. On the inside it's a typically well screwed together Skoda, nothing flashy but everything feels in the right place.
* Smart styling * Ultra reliable * Good economy/affordable to run *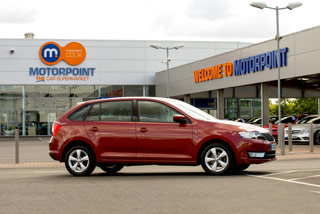 ---