SEAT MII Car Review
The cute city car!
Spanish car maker Seat are enjoying a sales boom across Europe that's making their cars almost as popular as a holiday in the Spanish sunshine.
And the cute Seat Mii city car is one of the models that has driven the sales success. Basically it is the same car as the VW Up, with a different grille headlights and interior trim, they even share the same engines. That's because Volkswagen own Seat and like a good parent, they share things. So you get German quality and precision with a touch of Spanish flair plus the added bonus that the Seat model is cheaper.
The other pleasant surprise is how roomy and grown up the little Seat is inside, you can squeeze two adults in the back and kids will fit in fine. Boot space is a tight 95 litres but that increases to a useful 251 litres with the rear seats folded. Remember, we're talking city car here. Go for the five door if you want more practicality.
I like the clean, uncluttered lay-out of the interior, it is a perfect example of why, in cars, less can be more. It's also fun to drive, nippy for getting in and out of traffic and easy to park in tight spaces. You get the choice of different power versions of a 1 litre engine that does the job.
* Perfect small car for city commuters * Better interior space than you'd think * Economical *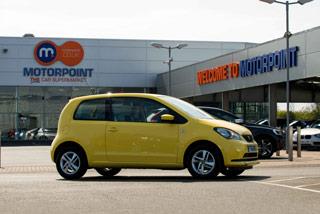 ---