RENAULT GRAND SCENIC Car Review
Versatile people carrier
Renault have lots of expertise in the people carrier sector, they invented it afterall with the original Espace and Scenic models.
The Renault Grand Scenic offers seven seat capabilities, but the final row of two seats really is a kids only zone, which as a result reduces the boot space to shopping bags only. Inspite of this, the Renault Grand Scenic is versatile and a useful contender for a family with three or four small children.
On the road the Renault Grand Scenic drives okay and is ideal for parents on the school run and ferrying lots of kids to those endless after school clubs they like to attend.
The engines fit into the adequate category but I'd go for one of the diesel versions. The Renault Grand Scenic interior is a smart and tidy place to travel with better than average quality materials for a mainstream people carrier.
* Versatile and relatively practical * Good choice of engines * Smart and tidy interior *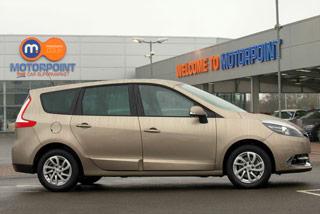 ---