MITSUBISHI OUTLANDER Car Review
Perfect for coping with the rough stuff!
The Mitsubishi Outlander sounds the perfect wheels for buyers wanting a 4x4 to cope with the rough stuff.
Mitsubishi have been delivering strong off road capabilities for years so the 4x4 system is good. It's also a rugged looking 4x4 but not in an intimidating way and at just over 4.6 metres long it's a manageable size when it comes to parking.
The added bonus with the Mitsubishi Outlander is that it can seat seven thanks to a third row of two 'occasional' seats - ideal for kids or when you need extra luggage space.
The Mitsubishi Outlander was developed as a joint venture with Peugeot and Citroen, and the vehicles are almost identical, except for different grilles/headlights and they get their own individual interior instruments, trims and fabrics.It's a bit bland on the inside but well put together with hard wearing materials, making it practical and versatile in equal measure.
The Mitsubishi Outlander has been given an extra boost with a new plug in electric hybrid 2.0 litre version, that pushed the price up dramatically, but I'd go for the 2.2 litre diesel, which is not only hard working but returns 50 mpg - excellent for a 4x4.
* Big on practicality * Seven seater * Best Buy 2.2 litre diesel GX3 AWD *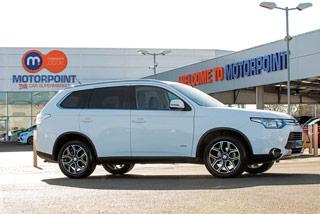 ---
Mitsubishi Outlander in Stock