MERCEDES-BENZ B CLASS Car Review
The affordable Merc
The B-Class is the baby Mercedes that's all about interior space and practicality.
If you are looking for style go for the A-Class, the slightly bigger B-Class's ace card is space. It is slightly longer than the Mercedes A-Class which gives it more head and legroom in the back seats and a bigger boot up to 488 litres that grows to 666 litres with the rear seats folded down. What's more, it shares most of the same interior components and parts with the Mercedes A-Class, which means its just like a Mini Merc on the inside with the fit and finish you would expect.
The drive fits into the adequate category, this is a Mercedes built for cruising and the best engine to go for is the turbo diesel. Like the A-Class the B-Class provides a different and relatively affordable means of saying you own a Merc, especially if you buy nearly new. And the good news is that the latest generation now look a lot more like a real Mercedes, especially from the front.
* Clout of the Merc badge * Practical small car * Quality and reliable engines *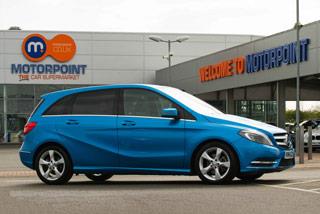 ---