MAZDA 6 Car Review
Large family car that combines looks with practicality
If you are looking for a large family car that combines sporty looks with practicality check out the Mazda 6.
The distinctive and aggressive styling helps the Mazda 6 to stand out, it looks a fun car to drive and if you get the right engine it is.
I'd go for the 2.2 litre diesel. Although its slightly racous under hard acceleration as soon as you pick up speed its refined and has a turn of speed that makes it equally strong on long motorway drives or A roads. For a big car the diesel engine delivers a very acceptable 60 mpg plus. There's also a more refined but sluggish 2.0 litre petrol that sees fuel economy drop to between 45 and 50 mpg.
Mazda interiors have a really sporty edge to their instruments and the layout, but even in the Mazda 6 they are slightly let down by the hard feel of some of the plastics. You get useful amount of space, front and back, and a really big boot make it capable of coping with all the gear the modern family hauls about.
The biggest attribute of the Mazda 6 though is the combination of sporty looks and practicality, which makes it feel just that bit different from its rivals.
* Sporty and practical * Lots of interior space * Huge boot *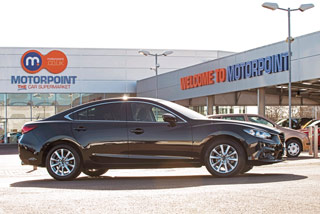 ---