MAZDA 3 Car Review
The family hatchback big on sporty styling
If you want a family hatchback that's big on sporty styling that gets you noticed for the right reasons, check out the Mazda 3.
This is a hatchback with sweeping curves in all the right places and it looks good from every angle, it's like a Japanese Alfa Romeo, just more reliable.
The drive also leans towards sporty if you get the lively 2 litre petrol or 2.2 litre diesel, although the entry level 1.5 litre is a bit more mundane.
If economy is key look no further than the 2.2 litre diesel that returns a bank friendly 60 mpg plus, but the 2 litre petrol is impressive at just over 50 mpg.
On the inside the Mazda 3 underlines its sporty credentials with good use of mock aluminium trim to lift the dark colours of the cabin, with useful rear seat and boot space at 364 litres, rising to 1263 with the rear seats folded.
The Mazda 3 is up against ultra tough rivals headed by the Ford Focus, VW Golf and Seat Leon, but it has the style to put them all in the shade even if it lacks their allround strengths.
* Sporty looks * Economical and lively engines *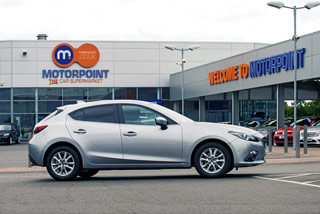 ---