HONDA CR-V Car Review
Big on space
If you are looking for an SUV that's big on space, the Honda CR-V fits the bill.
It's class-leading for interior space and you get a massive boot. If you flatten the back seat it can swallow all kinds of bulky awkward loads, from garden centre purchases to mountain bikes or just the usual family clutter.
The Honda CR-V also features big comfy seats that are like sitting in your favourite armchair, although the cabin has a slightly plastic feel.
The Honda CR-V is one of the most distinctive SUVs on the market thanks to big sloping headlights that merge with an in-your-face large grille, something that gives the Honda a very macho look you'll either love or hate.
Considering its size the CR-V is an easy SUV to drive. A strong selling point for the CR-V is you get Honda's rock solid reliability, together with the choice of 2 or 4-wheel drive, depending on where you live.
* Distinctive styling * Excellent interior space * Top reliability *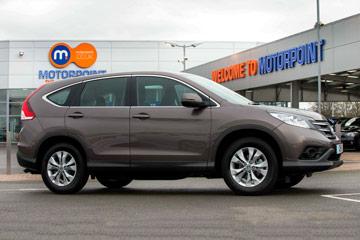 ---