FORD GALAXY Car Review
The magnificent seven-seater!
The Ford Galaxy seems to have been around for ever and it's a favourite set of wheels for private mini cab owners in cities around the country.
It's a solid mix of seven seat versatility that also works well for large families, with a third row seats that can fold flat to increase the Ford's flexibility. And by the usual people carrier standards the Ford Galaxy is a good looking set of wheels.
The Ford Galaxy is particularly well laid out on the inside and you can have several seating options, including both the rear sets of seats folding flat that allows you to swallow the awkward loads that modern families often have to carry.
Another strength of the Ford Galaxy is that it drives really well for such a big vehicle, and it benefits from a strong range of engines, with the new 1.6 and 2.0 litre Ecoboost petrols offering a useful blend of performance and economy between mid 30s to just below 40 mpg. But the 1.6 and 2.0 diesels are the engines to go for as they deliver around 50 mpg and useful acceleration and transform it into a smooth long distance machine.
* Solid all-rounder * Lots of space and a bit of pace * Genuine seven seater *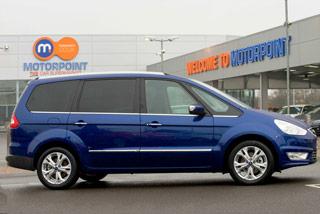 ---