CITROEN GRAND C4 PICASSO Car Review
A stylish people carrier
The Citroen Grand C4 Picasso is not quite a work of art but it's about as good as it gets when it comes to a stylish people carrier.
People carriers are all about space and versatility and the Grand C4 Picasso delivers both, along with deep windows that give driver and passengers a great view. Models fitted with the full length panoramic glass roof make the ride even more enjoyable.
The cabin in the front has a futuristic dashboard with twin screens, along with great practicality and easy to use seven seat formation, although the third row of seats are best for kids. Personally, I like the handy stowage points dotted around the cabin that cope with all the different objects the modern family carry around. Beware that with seven onboard there is room for just shopping bags in the boot, so you'll need a roof box for long trips and holidays.
The Citroen Grand C4 Picasso is one of the best handling people carriers, surprisingly agile for a big vehicle.
* Distinctive styling * Classy/practical interior * Excellent fuel economy *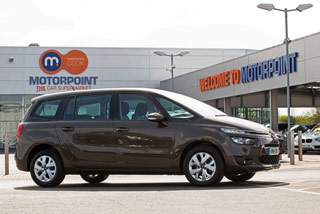 ---