ALFA ROMEO GIULIETTA Car Review
The affordable Alfa
Alfa Romeo remains one of the most exotic brands in motoring, despite the fact it's been a constant under achiever for the past 20 years.
In recent years the Alfa 4C Coupe has been a reminder of just how special Alfa's can be, the only problem is that it costs £45,000 and is out of the reach of normal motorists. The Giulietta hatchback on the other hand is the affordable Alfa, especially as a nearly new buy, which has the style and appeal of the Italian brand in a relatively practical package.
This is the hatchback for family buyers who get passionate about their cars and want to be different than everyone else driving a VW Golf or Ford Focus. I love the flowing curves and the totally individual shield shaped front grille and the eye catching rear lights. Even the name sounds different and very Italian, which is all part of the Alfa appeal.
It's the same on the inside where you get sports car style instruments and a much racier cabin than any normal family hatchback. The driving experience is not quite as good, although both the 1.4 petrol and the 1.6 diesel are lively enough. You have to compromise especially with the lack of refinement at low speeds in the diesel's. But you do get between 60 and 65 mpg which you can't sniff at.
Compromise is something you have to accept with an Alfa. But they have a lure few other hatchbacks can match.
* Great looks * Sporty interior * Reasonably practical *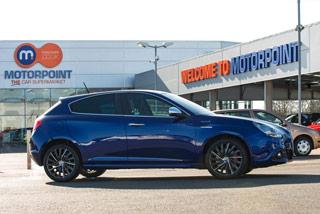 ---