MOTORPOINT VOLUNTEERS SUPPORT WORK OF NATIONAL CHARITY FARESHARE IN NOTTINGHAM'S LENTON DISTRICT
19 July 2022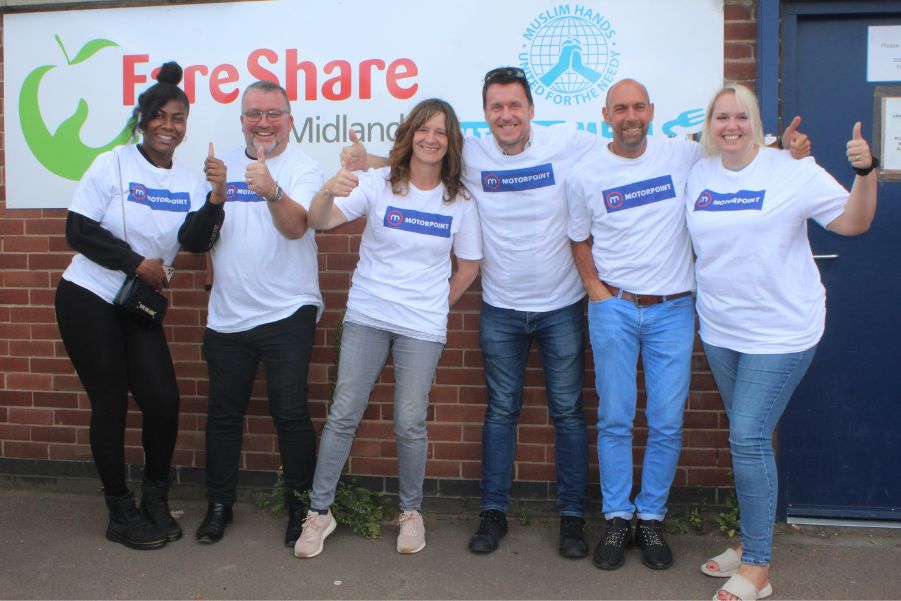 Photos © 2022 Motorpoint
A seven-strong group of colleagues from Motorpoint - the UK's largest independent retailer of nearly new cars and vans – volunteered their time recently to support the work of the food bank charity Fareshare at their Nottingham operation.
A national charity, Fareshare, is located across the UK and has a warehouse in the Lenton district of Nottingham. It collects tonnes of surplus food from local suppliers and redistributes it to hundreds of smaller charities, schools & faith groups who use it to cook free hot meals or provide food parcels for people in need across the East Midlands region.
Fareshare's Nottingham's Volunteer Co-ordinator, Josh Davis said: "We rely on the power of the volunteer community to help us achieve our mission which is to ensure that food surplus can be used to support the most vulnerable people in our communities. The Motorpoint team from Derby were a fantastic group of volunteers, their support helps us to make a difference and we greatly appreciate the time they have given us."
During the volunteer day with Fareshare the Motorpoint team, who are based at the motor retailer's Derby-based HQ, worked in the warehouse packing the food cages ready for delivery to local charities.
Tanya Hutchison, Motorpoint's Internal Communications & Engagement manager said: "It's one of the most humbling experiences you'll ever get involved in one day. It was hard work but rewarding at the same time. A great day for teamwork and finding out about how a local charity is making a big difference for many people across the East Midlands region. Motorpoint is set to launch a major new volunteering initiative and so this is just the beginning."
Neil Woodcock, Motorpoint's Head of Learning & Development added: "It was an insightful day. I was able to see both sides of the operation, spending the morning delivering to charities whilst the afternoon was spent in the warehouse packing. It was great to get out into the community and meet some of the smaller charities that rely on Fareshare's food support to help local people.
ENDS
Find out more about how Fareshare has supported over 10,000 charity and community groups here: https://fareshare.org.uk/what-we-do/
FURTHER INFORMATION
Delia Goldsby, PR Manager, Motorpoint
T: 01332 227239 M: 07750 042586 E: delia.goldsby@motorpoint.co.uk
Notes to Editors:?
Motorpoint is the UK's largest independent car and van retailer specialising in the sale of low mileage, nearly new vehicles from over 30 manufacturers.

Motorpoint was established in 1998 and employs over 900 people across the UK.

Motorpoint has stores in Birmingham, Manchester, Birtley, Burnley, Castleford, Chingford, Derby, Glasgow, Newport, Oldbury, Peterborough, Sheffield, Stockton-on-Tees, Swansea, Widnes, Maidstone, Portsmouth.

New stores in Edinburgh and Coventry are opening soon on 16 September and mid-October respectively.

Every vehicle comes with either the remaining manufacturer's warranty or the Motorpoint Warranty. Each vehicle goes through a stringent safety check and is available to drive away the same day using our Reserve and Collect service.

Motorpoint guarantees Unbeatable Prices for its customer with prices checked every day by our Motorpoint pricing experts.

Motorpoint Price Promise

: Motorpoint is committed to making car buying easy which is why, backed by the Motorpoint Price Promise, Motorpoint will also refund the difference to any customer within seven days of their order if they find the same car from a competitor. As a bonus, Motorpoint also give the customer £50 worth of Amazon vouchers to spend.

Motorpoint also offers a home delivery service covering the whole of the UK mainland for those customers who would prefer not to visit the branch, backed by its 14-day hassle- free, money back guarantee

Motorpoint has been named a Feefo Platinum Service Award winner for 2020

For more information on Motorpoint visit

motorpoint.co.uk

You can find us @motorpointcars and @motorpointvans on our social channels over on Twitter, Facebook and Instagram by using hashtag #Motorpoint.