Motorpoint Snowdog let loose in Saltwell Park in Gateshead
23 September 2016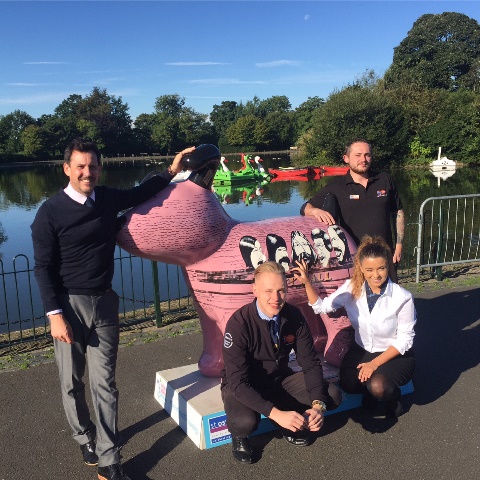 Photos © 2022 Motorpoint
Motorpoint's Snowdog 'Mutt Me on the Corner' has been let off his lead in Saltwell Park in Gateshead
"It's wonderful to see our pooch down by the Boating Like enjoying the fresh air. He looks like he's having a great time"
The giant sculpture, the brainchild of St Oswald's Hospice and Wild in Art, was commissioned by the UK's leading car supermarket earlier this year from legendary folk rock band Lindisfarne to support Tyne and Wear's biggest ever mass-participation, public art event – Great North Snowdogs. Housed next to the Boating Lake in Saltwell Park, 'Mutt Me on the Corner' will be on display to the public until late November.
Motorpoint staff from the company's nearby branch on Durham Road in Birtley took time out earlier this week to visit their pooch and enjoy his distinctive design which was inspired by Lindisfarne's iconic 1971 album 'Fog on the Tyne', which features scenes of the city including the band's spiritual home – Newcastle City Hall.
Matthew Lewis, General Manager of Motorpoint Birtley said: "It's wonderful to see our pooch down by the Boating Like enjoying the fresh air. He looks like he's having a great time. I'd encourage as many people as possible to go to Saltwell Park and say hello to 'Mutt Me on the Corner' – you won't be disappointed. Plus, if you've downloaded the Great North Snowdog app there's a special offer from Motorpoint to anyone visiting our Snowdog."
Motorpoint adopted St Oswald's Hospice as its charity partner last year following the launch of its supersite on Durham Road in Birtley. Based in Gosforth, St Oswald's Hospice is the only children's hospice service providing for families from Northumberland, Tyne and Wear and North Durham with life limiting or life threatening conditions.
In the community
Motorpoint is proud to work with St Oswalds Hospice. For more info on the work they do, please visit www.stoswaldsuk.org.